Alamo Drafthouse's Rolling Roadshow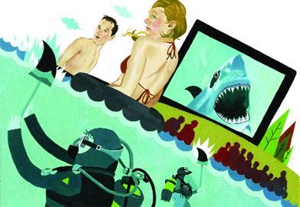 While special theater effects like Sensurround, smell-a-vision and 3D glasses have brought a piece of the real world to the theater, the legendary Alamo Drafthouse of Austin brings its theater to the real world. For the past several years, the Drafthouse's Rolling Roadshow has been a Texas mainstay with 140 screenings to over 100,000 fans on a 50-ft. inflatable, outdoor screen. Past shows included a Jaws screening on Austin's Lake Travis where audience members floated in inner tubes while scuba divers playfully tugged at their feet during the shark attacks.
This year's roadshow—a 6,000-mile, 21-day journey with 12 special screenings—includes the wide open spaces of Utah's Monument Valley for a showing of Once Upon A Time In the West, followed by the original Planet of the Apes on the banks of Arizona's Lake Powell. What could be more perfect than sipping merlot in the California wine country while watching Sideways? And then there's the mashed-potato sculpting contest for the screening of Close Encounters of the Third Kind at Devil's Tower, Wyo. Tim Basham for more information, visit www.drafthouse.com.
dic•tio•nary
Sensurround:
A special-effects device developed by Universal Studios which used sub-audible soundwaves to generate vibrations; introduced in 1974 with Earthquake.
Others Tagged With