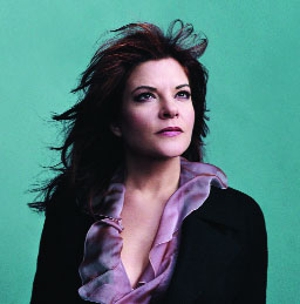 Considering the major role she played in shaping the future for commercial country's female performers, it's always seemed more than a touch ironic that just as the genre's boom happened in the early '90s, Rosanne Cash decided to artistically (as they used to say about her dad's old pal, Elvis) "leave the building." "I don't want to be a star," she bluntly sang on 1990's "Real Woman," a track from her pivotal career-turning album, Interiors—a startling confession from a performer who over the course of the previous decade registered no less than 11 chart-topping singles, and who—along with her then-husband, producer and fellow hitmaker Rodney Crowell—seemed poised to become firmly ensconced as the reigning queen and king of country music.
But as the mostly acoustic, folk-leaning personal songs on Interiors made clear, what Cash longed for was a stability that simply wasn't part of the equation in either her career or her marriage to Crowell. "We're throwing the best parts of life away on street talk, strangers and drugs," she sang on Interiors' "What We Really Want," which, significantly, was the last Top 40 hit of Rosanne Cash's country-music career. After divorcing Crowell in '92 (that part of the story was chronicled on stark album The Wheel), she moved from Nashville to New York and settled in as a much-respected singer/songwriter and has been happily remarried since 1995 to producer/guitarist John Leventhal.
Still, Rosanne Cash's journey as a country artist remains a fascinating one, and the new reissuing of three of her collections from that era by Columbia's Legacy division provides a great opportunity to revisit the work of someone who proved well ahead of the curve on a number of levels. Listening consecutively to 1981's star-making Seven Year Ache, '87's top-of-the-heap King's Record Shop and '90's aforementioned Interiors, one hears the development and full flowering of Cash's talents as a mold-breaking female country songwriter and performer, as well as Crowell's equally forward-thinking approach as a producer.
Take, for example, "Seven Year Ache," a track that's decidedly mature look at the ups and downs of a long-term relationship ("Tell me you're trying to cure a seven year ache") and daringly genre-bending production (full country steel guitar riding over a vamping piano straight out of The Beach Boys' "Don't Worry Baby") was about as far away as could be imagined from the reactionary countrypolitan movement that continued through the 1970s. Or any of King's Record Shop's four mega-hits, including the empowered "The Real Me" ("A woman's her own mystery / Not a shadow of a man") and the delightful reading of Papa John R.'s "Tennessee Flat Top Box." And, as noted, those gripping Interiors tunes. One can only hope that perhaps some young songstress who maybe never heard this music before discovers it—and, like Rosanne Cash once did, re-imagines what country music could be. Given what passes for the real thing these days, we sure could use it.
Others Tagged With