Devendra Banhart - Cripple Crow
XL Recordings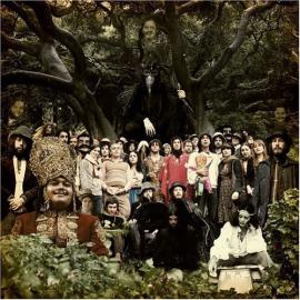 More sedate quirkiness from freakfolk eccentric
For all the instrumental trappings draped atop Devendra Banhart's songs on Cripple Crow—electric guitars, strings, pianos, and drums—it remains Banhart's stylized approach that first attracts the ear. His voice—a pinched, warbly, nasal thing—simultaneously strikes as hyper-affected and completely unselfconscious (and might turn a listener off instantly if heard as the former). As with the two other full-lengths (and five-song split-album) Banhart's issued in the past year, his songs glide on an ever-shifting bed of gentle fingerpicked cross-rhythms.
And, like those releases, Cripple Crow is stacked—22 tracks across 80 minutes. Banhart seems the kind of prodigious songwriter who effortlessly breathes material. Cripple Crow often resembles a dream journal of half-remembered morningtime fragments. When it succeeds, such as the surreal, utopian near-rag of "Some People Ride the Wave" ("Me, I ride the wave of never-gonna-drown!") and the 59-second tone poem "Dragonflies," Banhart taps a magically easygoing energy that seems drawn from San Francisco in the mid '60s (or maybe just the late '90s).
But there's chaff, too. There are no outright misfires, but some songs—"Hows About Tellin' A Story," "I Love That Man," "Lazy Butterfly"—remain mood pieces that never build up enough sense of occasion to find structure within Banhart's listless wistfulness. There, Banhart straddles a tough line between psychedelic beauty and lite crooning. But, who knows? He can't keep up the pace forever. When Banhart slows, Cripple Crow could well reveal itself to be an embarrassment of riches.
Others Tagged With