The Decemberists
The Tabernacle, Atlanta 9/29/05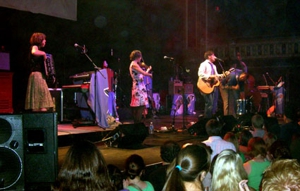 Audience participation at indie-rock shows is a touchy subject. Many people refuse to dance on command. Others stare uncomfortably at their Chuck Taylors when asked to sing in unison. Some even avoid eye contact with band members. A non-responsive audience can be a musician's worst nightmare. That said, soliciting audience participation at a concert requires a delicate balance of grace and determination. Or a giant cardboard cutout of a whale.
At Atlanta's Tabernacle, The Decemberists—rocking under a banner of vintage-fabric birds—held true to their tradition of theatrical performances of epics and ballads. The setup was customary: acoustic and electric guitars, violin, accordion, keyboard, upright bass and drums. The well-read Colin Meloy's quirky voice and violinist Petra Haden's hypnotic background vocals silenced the thick-rimmed specs-and-19th-century-Brit-lit crowd during tracks like "The Bachelor and the Bride" and "Of Angels and Angles." The hook-laden "Sporting Life" and the sassy "16 Military Wives" had the crowd cheering, singing and spilling their beer all over each other. But it wasn't until the proper set's last song, "The Mariner's Revenge," that the audience truly participated.
Perhaps it was because earlier Meloy told the audience, "I don't feel like we've appropriately bonded yet." Or maybe it was that he asked everyone to scream like they were "being swallowed by a giant whale." In any case, the crowd gave in to a fit of screaming—fists in the air—and nervous little headbangs. The Decemberists left the stage on a high note, hardly pretending they weren't coming back for an encore.
The band came back with an unexpected, dancey cover of Electric Light Orchestra's "Mr. Blue Sky." It ended the night with a kitschy dying routine that consisted of banging on instruments and falling to the floor, one by one. And for the first time that night, during a heartbreaking performance of "I Was Meant For the Stage," the lyrics didn't seem so fictional.
Others Tagged With