Elijah Wood
From Hobbit to Hooligan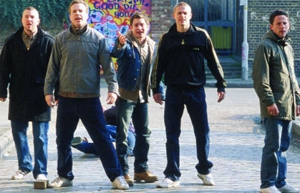 Carrying the lead in a blockbuster sci-fi/fantasy franchise isn't always the ticket to a career as a respected actor—just ask Mark Hamill. But every role Elijah Wood (pictured above, center) has chosen since saving Middle Earth has been for an auteur with a very specific artistic vision. From the manipulative memory-repo man in Michel Gondry's Eternal Sunshine of the Spotless Mind to a mute and mutant cannibal in Frank Miller's Sin City, the 24-year-old has stretched his acting skills well beyond his "good kid" pre-Rings gigs. This year, two films see him wandering further down the indie block, starring in Lexi Alexander's Green Street Hooligans and Liev Schreiber's Everything Is Illuminated.
PASTE: What is it that interested you about these two new scripts?
Wood: They're two very different scripts. Hooligans, I just loved. I wasn't really familiar with that element of English-football culture. And being able to play a character that starts out so innocent and is taken into that world, and ends up becoming one of them by the end of the film was also fascinating for me as an actor. Illuminated was another script that I just fell in love with—a wonderful, human story—very, very funny and very enlightening for each character in the story as they come to their own sense of illumination about themselves. It was a character that was so different from anything I've played before—kind of neurotic and odd-looking, who doesn't deal with human beings very well. Also, getting to work with Liev was something I was excited about doing. I have a lot of respect for what he does as an actor. I'd certainly hope that I'm a better actor after having worked with him. His background in theater is not a world I'm familiar with.
Is that a world you've ever considered? I have. It's so different from film acting. I've had moments where I've experienced something that could be similar. I did Saturday Night Live, which was a completely unique experience for me, being in front of that many people. It's sketch comedy, but it is theatre to a certain degree. There's something so wonderful about that immediacy in the moment.
There is a musical production of Lord of the Rings… [Laughs] That's frightening.
Everything is Illuminated was Liev's first time behind the camera and Hooligans was also the first full-length film for Lexi Alexander. Both directors also wrote their own screenplays. Does it make your job easier to have someone so fully engaged with the vision directing you? Oh, absolutely. Lexi was very, very driven. Same with Liev. It's so important—especially when you're working on something so small with little-to-no money and no time, you obviously need someone at the helm that has the drive and the passion to get it done in that period of time. For me as an actor, I love working most with a director who has that sense of vision. For me, what's even more interesting than a role at hand is simply being a part of an interesting perspective, an interesting artistic vision. Just being a part of the fabric of that. That's definitely true about both of these directors.
What did Lexi do to pull the film together on such a tight schedule? She cast people that fit their roles in such a way that when we all got together, that very tight-knit group represented in the film became a reality, and we all bonded very quickly. And that was all her. We set aside a week for rehearsals, and during that period of time we all became very close and we were more easily able to depict those characters in the film. That was definitely her strong point.
That mentality of a tightly knit group of friends is one of the film's themes… Absolutely. And in that loyalty, that friendship—that was essential to getting the movie made. We needed each other in order to accomplish that. The themes present in the story very much helped us in getting the movie made.
Do you think the loyalty and friendship justifies the violence portrayed in the film? It doesn't. We weren't trying to make a movie that would glorify violence, but we were also trying to honestly depict what it's like for these people. Early on in the fight scenes there is something attractive to the fights, and I think it's important to show that there's something that attracts these people to it. But ultimately, it was important for us to show that there is a price to pay for this lifestyle—to never make that overly attractive or say that the loyalty these people feel in their brotherhood allows that violence to be acceptable. But that's something that's really important about the relationships of these characters. The violence is certainly part of it, but there's something we can all relate to in wanting to be accepted. That sense of family and brotherhood is a large part of why these people are attracted to that lifestyle.
Others Tagged With