Annie
Norwegian Star Gets Blood Pumping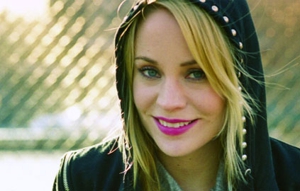 Pop music at its best celebrates human solidarity. Norwegian electro-pop star Annie's single "Heartbeat" fits the bill: over a gently urgent bass pulse and dreamy synths, a simple story about going dancing with friends unfolds, evoking the electricity that sometimes descends, as if by magic, on an average night out. "Feel my heartbeat," Annie coos, and in the song's steady cadence, you do, just as you feel your own.
Anne Lilia Berge Strand came to American prominence in 2005 by way of a rabid Internet fan base, but her first club hit came with 1999's Madonna-sampling "Greatest Hit" ("I heard [Madonna] has danced to it, and I choose to believe that," says Annie), an aggressively funky house track that put her on the map while saluting one of her idols. She also cites Blondie and Tom Tom Club as inspirations, as well as fellow Norwegians like Röyksopp, who produced a couple tracks on her debut Anniemal.
Annie's currently honing her chops on a world tour, so it'll be a minute before she gets to a new album. In the meantime, her contribution to the tastemaking DJ Kicks series will have to tide us over, which finds her mixing two of her own new tracks into Bow Wow Wow, Liquid Liquid and more. Her selection criterion: "This is music I would play to make people dance." Makes sense to us.