Jamie Cullum - Catching Tales
Verve Forecast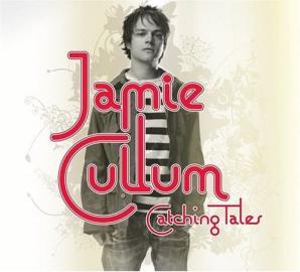 Excessive Cautionary Tale: Jazz-pop piano man plays it safe on sophomore outing
Welcome to the Steinway Renaissance. Not since the early-'70s albums of Elton John, Billy Joel and Randy Newman has the piano played such a prominent role in popular music. Rock stars like Chris Martin and Ben Folds bang out their keyboard melodies in huge arenas, while Norah Jones and Harry Connick Jr. further revive the persona of the sophisticated piano lounge-crooner, selling millions of albums in the process.
Somewhere in between—and straddling both worlds—sits Jamie Cullum, pinup heartthrob, irreverent spiky-haired jazz sophisticate in sneakers, and aspiring pop-star pianist. On Catching Tales, Cullum sticks by the formula that made 2004's Twentysomething such a breakout success, employing a mix of kitschy jazz standards, satiric originals, and covers of atmospheric, ethereal British bands (Doves this time, ?lling in for Radiohead). When your last album sold two-and-a-half-million copies, why mess with a good thing?
The covers here fare better than the originals. To his credit, Cullum works hard to break free of the Sinatra/Connick saloon-singer stereotype. To that end, it's instructive to compare Connick's recent straightforward take on the old Flamingos doo-wop classic "I Only Have Eyes for You" with Cullum's inspired, dub-in?uenced reworking here. The reggae-tinged "Our Day Will Come" is equally impressive, transforming one of the most schlock-?lled hits of the Space Age Bachelor Pad '60s into a celebratory anthem that sounds instantly contemporary. Doves cover, "Catch the Sun," soars impressively. Only Jimmy Dorsey's "I'm Glad There Is You" sounds stale and overworked, drowning in a melodramatic wash of strings (compliments of the London Symphony Orchestra).
The originals are more problematic. Cullum can be a witty lyricist, and on the blues-based "7 Days to Change Your Life" he satirically skewers our quick-?x culture. But it's downhill from there. "London Skies," a romantic ode to rain and grey, lowering clouds, never quite convinces. "Photograph" showcases the Billy Joel-pop side of our intrepid piano man, and uses the conceit of viewing old photographs as a way of lovingly recalling old memories. The memories? Kissing girls who taste like the cigarettes they've stolen from their mothers and vomiting after partaking of some otherwise unidenti?ed "stuff." Ah, the glorious past, seen now through a golden, nostalgic haze. Fortunately, the song is somewhat redeemed by a wondrous coda in which Cullum's formidable jazz-piano chops are displayed at their Oscar Peterson-like best. Cullum aims for profundity on "Oh God" and "21st Century Kid," addressing religion and politics, respectively, but neither song rises above pedestrian clichés.
Cullum appears to be a likeable bloke, Samwise Gamgee reincarnated as an affable jazz/pop tunesmith, but Catching Tales is both a retread of and a slight step backward from his previous work. Twentysomething was heavy on the standards and light on the originals, a trend reversed on his current work. He might want to reconsider his approach next album, or work with a lyrical collaborator. At this point, the tales he's catching just aren't that memorable.
Others Tagged With