Paste's Arthouse Powerhouse 100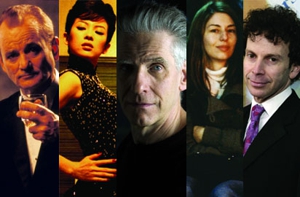 (Above [L-R]: Bill Murray, Zhang Ziyi, David Cronenberg, Sofia Coppola, Charlie Kaufman)
By Tim Porter, Steve Dollar and Tim Basham with Robert Davis, Kate Kiefer and Josh Jackson
Tired of the same-old "most powerful" lists filled with the same mega-celebrities and executives of monolithic, interchangeable corporations? We are, too. So Paste decided to put together its own list of the most important people and organizations involved in making and promoting the movies we love.
Twenty years ago, the films we're most passionate about would've played in "arthouses"—quaint (read: cramped, no-frills, small-capacity) theaters with character, run with a personal touch, but only in the largest Metropolitan areas. Today, arthouses are commonplace in most American cities, and these venues now compete head-to-head with megaplexes showing the latest blockbusters. Their fare is most commonly referred to as "independent cinema," denoting the individual voice exhibited by its makers (but not necessarily denoting their financial independence from corporate entities). And these days, independent film is mainstream. For every Lord of the Rings, Pirates of the Caribbean or Harry Potter (great films, all), there's a Garden State, Lost in Translation or March of the Penguins.
The Paste Arthouse Powerhouse 100 is not simply a list of our critical faves. These entrants help make quality independent film operate at the level it's now achieved. They elevate the craft, draw audiences and keep the engines of commerce running in support of quality, unique voices. This isn't a buzz-list or a box-office tally, but both of those attributes count. We're looking for those with the unique combination of art and commerce that powers the arthouse.
The list also reflects current importance. Key figures in arthouse history (John Sayles, Steven Soderbergh, John Pierson) are absent; some will return as their arthouse activity picks up. We've divided the list into the Creatives (actors, directors, screenwriters, etc.) and the Wheel Greasers (producers, distributors, production companies, etc.).
So, without further ado, here's the 2005 Paste Arthouse Powerhouse 100…
Actors
1. Bill Murray
Recent Highlights: Broken Flowers, The Life Aquatic with Steve Zissou, Coffee and Cigarettes, Lost in Translation
Upcoming Projects: The Lost City (Andy Garcia's directorial debut)
» A staple in the fare meted out by Wes Anderson and now Jim Jarmusch, Murray is the actor most responsible for bringing a new audience to independent film. The former SNL star progressed from riotous caricatures in comedic blockbusters (Caddyshack, Stripes, Ghostbusters, Groundhog Day) to surprisingly subtle, nuanced and waggishly comedic performances in idiosyncratic films. All is forgiven for Garfield and Charlie's Angels.
2. Paul Giamatti
Recent Highlights: Sideways, American Splendor
Upcoming: The Hawk Is Dying, Lady in the Water (M. Night Shyamalan)
» Memorable for so long in so many unmemorable movies, Giamatti now has scored one breakthrough after another. He's an indie Everyman with a touch of the old Woody Allen, one whose neurotic self-regard doesn't always play for laughs. His Sideways sidekick got an Oscar nomination, but it's only a matter of time for Giamatti.
3. Philip Seymour Hoffman
Recent Highlights: Capote, Owning Mahowny, 25th Hour, Punch-Drunk Love
Upcoming: Strangers with Candy (if it escapes lawyer purgatory)
» Hoffman inhabits his characters with such zeal, and so consistently chooses quality material, he even draws audiences for his supporting roles. Paul Thomas Anderson's go-to actor, Hoffman has also lent his considerable talents to the works of Spike Lee, Todd Solondz, Anthony Minghella, David Mamet, Cameron Crowe and the Coen Brothers. When he nabs the Best Actor Oscar in March for Capote, we hope the lead roles start pouring in.
4. Scarlett Johansson
Recent Highlights: Match Point, Lost in Translation, In Good Company, Girl with a Pearl Earring, The Man Who Wasn't There, Ghost World
Upcoming: The Black Dahlia (Brian De Palma), Untitled Woody Allen project
» Since securing an Independent Spirit Award nomination for Manny & Lo at age 12, Johansson went from ingénue to arthouse vogue to Hollywood glamour queen. With a few exceptions (most notably The Island), the young actress's role selection has been laudable. Bonus points for bringing Woody Allen back from the void.
5. Don Cheadle
Recent Highlights: Hotel Rwanda, Crash, The Assassination of Richard Nixon
Upcoming: Tishomingo Blues (directorial debut; Elmore Leonard adaptation)
» Stunning as a character actor enlivening Steven Soderbergh and P.T. Anderson films, Cheadle showed his leading-man clout in Hotel Rwanda—and got an Oscar nomination and IFP Gotham Award to boot. Next? He directs.
6. Laura Linney
Recent Highlights: The Squid and the Whale, Kinsey, P.S., You Can Count on Me
Upcoming: Jindabyne, Driving Lessons
» A classy workhorse of an actress who chooses interesting projects, Linney elevates any film she graces. She's unstoppable, thriving without flash or blockbuster roles.
7. Terrence Howard
Recent Highlights: Four Brothers, Hustle & Flow, Crash
Upcoming: Idlewild (musical starring André Benjamin)
» Any actor would kill to have the career boom Howard's enjoying. The charismatic performer gave Sundance fave Hustle the sex appeal it needed to bumrush the multiplexes, and he won't be stopping there.
8. Juliette Binoche
Recent Highlights: Bee Season, Hidden, Caché, In My Country, Chocolat
Upcoming: Breaking and Entering (Anthony Minghella)
» An arthouse icon since the mid 1980s, the graceful French actress has more than a Cannes-do résumé: Her presence in a film almost guarantees its quality. Hollywood is unkind to women over 40, but "La Binoche" is busy as ever.
9. Charlize Theron
Recent Highlights: North Country, Monster
Upcoming: The Brazilian Job
» You thought she was arm candy; turns out she's Meryl Streep. Another Oscar for North Country? The South African is no stranger to stardust, which sure doesn't hurt her indie moves.
10. Gael García Bernal
Recent Highlights: Bad Education, The Motorcycle Diaries, Y Tu Mamá También, Amores Perros
Upcoming: The Science of Sleep (Michel Gondry), Babel (Alejandro González Iñárritu)
» This young Mexican heartthrob (named a "Male Revelation" by the 2003 Cannes jury) spices up the arthouse by plying his wares in bold, original films.
11. Naomi Watts
Recent Highlights: Stay, I Heart Huckabees, The Assassination of Richard Nixon, We Don't Live Here Anymore, 21 Grams
Upcoming: King Kong, The Painted Veil
» Though not above genre films (The Ring), Watts has been a forceful, mesmeric presence since David Lynch cast her in Mulholland Dr.
12. Zhang Ziyi
Recent Highlights: 2046; House of Flying Daggers; Hero; Crouching Tiger, Hidden Dragon
Upcoming: Memoirs of a Geisha
» She flies through the air with the greatest of ease, speaking body language that transcends subtitles. Earthbound, she's just as compelling. China's greatest export may become a one-woman cultural revolution.
13. Audrey Tautou
Recent Highlights: A Very Long Engagement, Amélie, Dirty Pretty Things
Upcoming: The Da Vinci Code
» Released in U.S. arthouses weeks after 9/11, Amélie became a cultural phenomenon and one of the highest-grossing foreign-language films of all time. It also made Tautou a sentimental favorite in Indiewood.
14. Chloë Sevigny
Recent Highlights: Broken Flowers, Melinda and Melinda, Shattered Glass, Dogville
Upcoming: Manderlay (Lars von Trier), 3 Needles (with Sandra Oh, Sarah Polley, Lucy Liu, Olympia Dukakis and Stockard Channing)
» Kids, Boys Don't Cry, The Brown Bunny—risky, if not outright salacious, choices have characterized Sevigny's career. And fortunately, they pay off more often than not.
15. Tom Wilkinson
Recent Highlights: A Good Woman, Separate Lies, Eternal Sunshine of the Spotless Mind, Girl with a Pearl Earring, In the Bedroom
Upcoming: The Night of the White Pants (in a rare comedic starring role), The Last Kiss (written by Paul Haggis, starring Zach Braff)
» After 20 years of character-actor obscurity, Wilkinson gained new exposure in The Full Monty. His career really took off after his 2002 Oscar nomination for In the Bedroom; he's appeared in over a dozen films since then. Though a delight in smaller roles in films from Shakespeare in Love to Eternal Sunshine, Wilkinson deserves more meaty roles a la Bedroom.
16. Jake Gyllenhaal
Recent Highlights: Jarhead, Brokeback Mountain, Proof, The Good Girl
Upcoming: Chronicles (David Fincher)
» Gyllenhaal caught the critics' attention with October Sky and then became a cult favorite with Donnie Darko. Graduating to more adult content, the young star has not one, not two but three Oscar-buzz-worthy late-2005 releases.
17. Ralph Fiennes
Recent Highlights: The Constant Gardener, The Chumscrubber, Chromophobia, The Good Thief
Upcoming: The White Countess (final Merchant/Ivory collaboration)
» After stumbling in Red Dragon and Maid in Manhattan, this two-time Oscar nominee returned in 2005 to his home in the arthouse (with leave to play He Who Must Not Be Named—and we'll all crash our megaplex neighbors for that one).
18. Kate Winslet
Recent Highlights: Finding Neverland, Eternal Sunshine of the Spotless Mind, Iris
Upcoming: Little Children (Todd Field)
» After Titanic, Winslet could've been Queen of the World! Mercifully, she chose to sail straight for indie waters and, in the process, added two Oscar nominations (for Iris and Eternal Sunshine) to her previous two (for Titanic and Ang Lee's Sense and Sensibility).
19. Gwyneth Paltrow
Recent Highlights: Proof, Sylvia, Possession, The Royal Tenenbaums
Upcoming: Running With Scissors
» Don't hate her because she's beautiful. Paltrow's name helps get movies made, and she's routinely proven her adeptness at acting and script selection.
20. Parker Posey
Recent Highlights: A Mighty Wind, Personal Velocity
Upcoming: The OH in Ohio, Adam & Steve, For Your Consideration (Christopher Guest), Fay Grim (Hal Hartley)
» The oft-crowned "Queen of Indies" has abandoned her subjects with increasing regularity but she always returns.
Arthouse Emergent: Actors
1. Amy Adams - After several years on TV and in light comedic film roles, Adams wowed critics with her performance in Junebug, which garnered her a Special Jury Prize at Sundance and a Gotham Award nomination.
2. Joseph Gordon-Levitt - The former 3rd Rock star delivered powerfully in two outstanding 2005 Sundance entries, Mysterious Skin (released last May) and Brick (bowing next March).
3. Jamie Bell - He's not even 20, and he's already racked up a string of notable credits since his debut in Billy Elliot. Though this year's The Chumscrubber and Dear Wendy have met mixed reviews, Bell receives great marks for his lead performances. Next, he adds Peter Jackson, Clint Eastwood and David Mackenzie to his list of bosses.
4. Camilla Belle - Belle's portrayal of strong-willed 16-year-old Rose in Rebecca Miller's The Ballad of Jack and Rose sung to critics and earned her a Gotham Award nomination.
5. Lou Taylor Pucci - Pucci's performance in Thumbsucker—his first leading role—did anything but suck, earning him a Best Actor nod from Berlin and a Special Jury Prize at Sundance.
Directors
1. David Cronenberg
Recent highlights: A History of Violence, Spider
Upcoming: London Fields (adaptation of Martin Amis' novel)
» With a Cannes Golden Palm nomination for what's now his second-highest-grossing film (after The Fly), it's been a historic year for Cronenberg. He's a visionary whose graphic sensibility isn't limited to the hallucinatory scenarios he's infamous for (Videodrome, Naked Lunch, The Fly, eXistenZ); his touch is just as surgically precise when he's pleasing crowds.
2. Fernando Meirelles
Recent highlights: The Constant Gardener, City of God
» A critical sensation with the Oscar-nominated City of God, Meirelles presents compelling stories with visual panache. The English-language Gardener brought his moxie to an even broader audience in the U.S.
3. Jim Jarmusch
Recent highlights: Broken Flowers, Coffee and Cigarettes
» Cannes favorite from first (Stranger Than Paradise) to last (Flowers), Jarmusch is the iconic iconoclast. A throwback to the days of patronage, the Ohio-born director finances his films with overseas investors who attach no strings. With $14 million in domestic box-office receipts, Jarmusch scored what is, for him, box-office gold on Flowers by teaming up with Focus Features and adding Bill Murray to his long line of impressive cast members (Johnny Depp, Forest Whitaker and ensembles including Cate Blanchett, Steve Buscemi, Roberto Benigni, Tom Waits, Gena Rowlands, Winona Ryder and Rosie Perez).
4. Michael Moore
Recent highlights: Fahrenheit 9/11, Bowling For Columbine
Upcoming: Healthcare doc Sicko
» The J-Lo of liberal populism, Moore may be an over-merchandised motormouth who still couldn't un-elect W, but he's the father of the "doc-buster" in an era when a documentary on penguins can kick the ass of a Michael Bay wannabe asskicker.
5. Alexander Payne
Recent highlights: Sideways, About Schmidt
Upcoming: Nebraska
» Who else could turn a movie about an alcoholic loser and his philandering buddy into the romantic comedy of the year? Payne's keen social satires are an actor's best friend.
6. Wes Anderson
Recent highlights: The Life Aquatic With Steve Zissou, The Royal Tenenbaums
Upcoming: The Fantastic Mr. Fox
» Made the world safe for Owen Wilson, adopted Bill Murray as his muse and created whole new dimensions of comic dysfunction. Perhaps the most unique of his peers, Anderson ambitiously one-ups himself each time out but never forgets to entertain.
7. Gus Van Sant
Recent highlights: Last Days, Elephant, Gerry
Upcoming: The Time-Traveler's Wife
» As indie as he wants to be, Van Sant only pretended to be a feel-good kinda guy long enough to bankroll his more esoteric projects. One part Avedon and one part Warhol, he's our most above-ground underground filmmaker.
8. Paul Thomas Anderson
Recent Highlights: Punch- Drunk Love, Magnolia
Upcoming: There Will Be Blood
» A demiurge of storytelling wielding a gifted hand with actors, Anderson's biggest shortfall is that he very nearly makes a century plant look prolific.
9. Richard Linklater
Recent highlights: Before Sunset, Tape, Waking Life
Upcoming: A Scanner Darkly, Fast Food Nation
» No slacker, Linklater could pass for a one-man Texas film industry with a career that's wide open and full of surprises. Moves so seamlessly between prestige and popcorn that you forget there's a difference.
10. Sofia Coppola
Recent highlights: Lost in Translation, The Virgin Suicides
Upcoming: Marie-Antoinette
» Perhaps the only Oscar-winning director under 35 to have a wine named after her, Coppola has proven herself in her family's other business. Her feminine sensibility sets her apart from the Hollywood boys' club, while her friendships with hipster music icons make for great soundtracks. Will there be room for Sonic Youth when she tackles period piece Marie-Antoinette?
11. Jean-Pierre Jeunet
Recent Highlights: A Very Long Engagement, Amélie
Upcoming: Life of Pi
» A decade after Delicatessen, Jeunet recaptured—and then some—his own arthouse magic in Amélie and kept his hold for A Very Long Engagement.
12. Hayao Miyazaki
Recent Highlights: Howl's Moving Castle, Spirited Away
» Mixing fantasy and technology with real-life emotion, Miyazaki's animation has reached beyond cult status, culminating in his Best Animated Feature Oscar for Spirited Away.
13. David O. Russell
Recent highlights: I Heart Huckabees
Upcoming: A comedy with Wedding Crasher Vince Vaughn
» If wit were money, Russell would be a billionaire. His impeccable track record means he can get away with flighty indulgences and make us like it. Also, he never hesitates to super-size his casts with marquee names. If they're not, they will be. Just ask Clooney or Ice Cube.
14. Niki Caro
Recent Highlights: North Country, Whale Rider
» A strong woman making films about strong women, Caro also knows how to tug the heartstrings. And North Country looks to be her second film in a row to garner a Best Actress Oscar nomination.
15. Pedro Almodovar
Recent Highlights: Bad Education, All About My Mother, Talk To Her
Upcoming: Volver
» Spain's favorite rebel is unafraid to shock audiences with exaggerated sexuality, a general flouting of cinema conventions and Carmen Miranda's sense of color. This Oscar winner is widely considered the most influential Spanish filmmaker since Luis Buñuel.
16. Lars Von Trier
Recent highlights: Dear Wendy (writer), Dogville
Upcoming: Manderlay
» His austere methods compel such high regard that Really Famous Stars like Nicole Kidman and Björk go to Scandanavia and willingly submit to his eccentric whims. Not everyone's cup of grøgg, but a seminal force who's always provocative.
17. Michel Gondry
Recent highlights: Eternal Sunshine of the Spotless Mind
Upcoming: The Science of Sleep (with Gael García Bernal)
» Can take a stack of Legos and make a prize-winning rock video, or guarantee you never look at Jim Carrey the same way again. As much magician as director, Gondry shuffles complex screenplays like a deck of cards and makes us wonder how he did it.
18. Alejandro González Iñárritu
Recent highlights: 21 Grams, Amores Perros
Upcoming: Babel
» Put Mexico on the cinematic map with bold storytelling and visceral technique. Put Gael García Bernal on the path to international stardom. Put Hollywood's A-list in a long line to work with him.
19. Mark Forster
Recent highlights: Stay, Finding Neverland, Monster's Ball
Upcoming: Stranger Than Fiction (comedy starring Will Ferrell)
» Though his latest is polarizing audiences and critics, Forster has exhibited incredible staying power. His micro-budget debut Loungers won the audience award at Slamdance. His follow-up, Everything Put Together, earned a Grand Jury nomination at Sundance and the "Someone to Watch" Independent Spirit Award. Monster's Ball then won Halle Berry her historic Oscar, and Finding Neverland scored seven Oscar nominations.
20. Woody Allen
Recent highlights: Match Point
Upcoming: Another comedy with Johansson
» Allen scripted the template for the arthouse comedy with Annie Hall and continued as one of America's foremost auteurs for the next couple decades. His reputation and audience has faded somewhat—his work has become as repetitive and tiresome as his characters' neurotic stutters. But in Scarlett Johansson, he's found a new muse, and we predict he'll also find a renewed and growing audience.
Arthouse Emergent: Directors
1. Miranda July - July's debut Me and You and Everyone We Know racked up awards from Cannes to Sundance and announced the 31-year-old as a major creative force.
2. Phil Morrison - With a stellar ensemble and an eye (and ear) for detail, Morrison crafts a subtle, resonant examination of family tension and cultural divides in Junebug.
3. Bennett Miller - Miller won awards at the 1999 Berlin Film Festival for The Cruise, his 76-minute documentary on Timothy "Speed" Levitch. Nearly seven years later, he unleashes Capote. It was worth the wait.
4. Ira Sachs - His Forty Shades of Blue took home the top dramatic prize at Sundance, over Hustle & Flow, Junebug, The Squid and the Whale, Thumbsucker, Loggerheads, Brick and others. 'Nuff said.
5. Mike Mills - In his feature-film debut, Thumbsucker, the music-video director transformed what at its bare bones is a tired genre film and made it fresh and vital. Please, please take note, Hollywood.
Other Creatives
1. Charlie Kaufman (Screenwriter)
Recent Highlights: Eternal Sunshine of the Spotless Mind, Adaptation
Upcoming: Another project with Spike Jonze
» Andy Kaufman is indeed dead, but clearly he's found a portal from the afterworld into this other Kaufman's head and decided to bring along Andy Warhol and Salvador Dali.
2. Christopher Doyle (Cinematographer)
Recent Highlights: Three… Extremes, Eros, 2046, Hero, Rabbit- Proof Fence
Upcoming: Lady in the Water (M. Night Shyamalan)
» Always shooting from the hip, Doyle considers himself the Keith Richards of cinematography. His compelling use of color and light in nature brings an artistic and authoritative power to film.
3. Paul Haggis (Screenwriter)
Recent highlights: Crash, Million Dollar Baby
Upcoming: The Last Kiss, Flags, Honeymoon with Harry
» Since Clint Eastwood bet on Haggis' boxing story, the former TV writer is the million-dollar writer. His screenplays give box-office punch to heavyweight themes.
4. Jim Taylor (Screenwriter)
Recent highlights: Sideways, About Schmidt
Upcoming: The Winter of Our Discontent, Tupperware!
» He's gone four-for-four with Alexander Payne, sharing last year's Oscar for screenwriting. Taylor's aim is so true, he can be forgiven the occasional Jurassic mishap. Next up: Two scripts he'll direct himself.
5. Roger Deakins (Cinematographer)
Recent Highlights: Jarhead; The Village; House of Sand and Fog; Levity; A Beautiful Mind; O Brother, Where Art Thou?
Upcoming: The Assassination of Jesse James By the Coward Robert Ford, Hail Caesar (another Coen Brothers film)
» Deakins uses the camera lens like a time-and-space machine, putting the audience where the director needs it to be. They may be arthouse films, but the look is pure blockbuster.
6. Jon Brion (Composer)
Recent Highlights: I Heart Huckabees, Eternal Sunshine of The Spotless Mind, Punch-Drunk Love
Upcoming: There Will Be Blood (Paul Thomas Anderson)
» His work with artists like Aimee Mann, Fiona Apple, Kanye West, Nickel Creek and Sam Phillips gets the most attention, but his Grammy-nominated scores and soundtracks have been integral parts of benchmark films.
7. César Charlone (Cinematographer)
Recent Highlights: The Constant Gardener, City of God
» Charlone infused Meirelles' breakthough films with breathtaking visual beauty and power. In between the two projects, he shot hi-def digital video for Spike Lee's 2004 Showtime movie, Sucker Free City.
8. Amanda Scheer-Demme (Music Supervisor)
Recent Highlights: House of D, Mean Girls, Garden State, Freaks and Geeks
» "Lifestyle Producer," Demme holds court with Hollywood's elite at her Roosevelt Hotel bars and she spots trends the über-trendy will soon set. But her first love is music supervision, and she's helped assemble the all-important soundtrack for a number of important arthouse films.
9. Mark Mothersbaugh (Composer)
Recent Highlights: The Life Aquatic with Steve Zissou, Thirteen, Lords of Dogtown, The Royal Tenenbaums
Upcoming: The Ringer, Johnny Appleseed
» Danny Elfman and Mark Mothersbaugh were frontmen for two of the most original New Wave acts of the '80s—Oingo Boingo and Devo, respectively. As a film composer, Elfman may have the higher profile (Corpse Bride, Spider-Man, Chicago) but Mothersbaugh owns the arthouse with his anomalous-sounding scores.
10. Julian Fellowes (Screenwriter/ Director/Actor)
Recent Highlights: Separate Lies, Vanity Fair, Two Brothers, Gosford Park
Upcoming: Stanny
» The Egyptian-born actor-turned-screenwriter Fellowes won an Oscar for Gosford Park, his first feature-film screenplay. He made his debut as writer/director in September with Separate Lies, affording Tom Wilkinson a rare turn at leading man (alongside Emily Watson).
Wheel Greasers
1. Netflix
Nothing has done more to further the growth of independent film than its widespread availability on DVD. It not only opens the arthouse to a vastly expanded audience, but it also changes the financial model so studios are more willing to take risks on titles that clearly won't recover their costs in theatrical run. Though it controls roughly 10 percent of the rental market, the Internet giant Netflix accounts for one-third to one-half of independent rentals, putting it at the center of this change. Recently, the service signed exclusive distribution deals with filmmakers such as Hal Hartley and organizations like the Cinequest Film Festival, and is reportedly set to directly finance and produce indie films.
2. Cannes Film Festival
Recent highlights: L' Enfant, Hidden, Broken Flowers, Don't Come Knocking, A History of Violence, Manderlay, Last Days
» Ever the stuff of legend—controversy, contracts scribbled on bar napkins, and Palme D'Or grandeur, Cannes is at once global marketplace and media feeding frenzy. It's the place to make a name—or break it. And without the success d'estime its juried competition confers, it's hard to imagine the successes of Spike Lee, Jim Jarmusch, Michael Moore, Gus Van Sant and scores of others.
3. Bob and Harvey Weinstein
Recent highlights: Finding Neverland, Sin City, Garden State, Proof, Kill Bill Vol. 1 & 2
Upcoming: Fahrenheit 9/11-1/2, Sin City 2, The Passion of the Clerks
» The last-minute purge of Weinstein-era Miramax films hasn't helped their reputation, but it's been a good millennium for the guys who originally paved the path from arthouse to megaplex. Now that their divorce from Disney is of?cial, the Weinsteins have launched their namesake media company. This Miramax 2.0 already has a dozen-plus projects humming and abiding hook-ups with signature directors they put on the marquee (and vice-versa). Goodbye Mickey Mouse. Say hello to the Big Cheese.
4. The Sundance family of organizations
Recent Highlights: Hustle & Flow, Me and You and Everyone We Know, DIG!, Born into Brothels, Maria Full of Grace
» Never mind the grumblings about hype, celebrities, schmoozathons, corporate sponsorships, overcrowding and the like—acceptance at the Sundance Film Festival is still the Holy Grail for independent filmmakers. Director Geoffrey Gilmore and his staff never cease to bring groundbreaking films to a key industry audience. Founder Robert Redford has also assembled an important group of supporting initiatives and organizations, from the Sundance Institute's Filmmaker Lab to the Sundance Channel.
5. Toronto International Film Festival
Recent Hightlights: Saving Face, Hotel Rwanda, Ray, Whale Rider
» Toronto is easily the most movie-mad city in North America, and its annual fall festival is a glorious tribute to that mania. Too much is never enough at this ever-more-sprawling fête. Alongside previews of the more intelligent studio blockbusters, the meticulous programs offer super-sized sections for documentaries and all manner of world cinema, and the festival's narrower selections often introduce future Kaurismäkis and Kieslowskis on the cusp of their breakthroughs.
6. Focus Features
Recent Highlights: The Ice Harvest, Brokeback Mountain, The Constant Gardener, Broken Flowers, Eternal Sunshine of the Spotless Mind, The Motorcycle Diaries, 21 Grams, Lost in Translation
Upcoming: Brick, Winter Passing
» Universal's specialty unit has taken a conservative approach under James Schamus and David Linde. Limiting its releases to a dozen or fewer each year, Focus is responsible for some of the most important recent films and an amazing ratio of hits to duds.
7. Sony Pictures Classics
Recent Highlights: Capote, Hidden, Thumbsucker, Junebug, House of Flying Daggers, Bad Education, The Fog of War, The Triplets of Belleville, Goodbye Lenin!
Upcoming: Don't Come Knocking, The White Countess
» American independents have overtaken foreign-language films at U.S. arthouses, but SPC continues to keep the international flame alive—even as co-presidents Tom Bernard and Michael Barker shift their attention to domestic films.
8. Bob Berney / Picturehouse
Recent highlights: Last Days, Downfall, The Passion of the Christ, Whale Rider, Monster, My Big Fat Greek Wedding, Y Tu Mamá También, Memento
Upcoming: Tristram Shandy: A Cock and Bull Story
» At Newmarket and IFC Films, Berney put together an impressive string of arthouse blockbusters. Last March, HBO and New Line formed joint-venture Picturehouse, rolling Fine Line (Maria Full of Grace, American Splendor) into the division and buying Newmarket to get Berney. His string of arthouse hits has slowed lately, but he'll rebound.
9. 2929 Entertainment
Todd Wagner and Mark Cuban turned their entrepreneurial proclivities to independent film by buying Magnolia Pictures (Enron, Control Room), Rysher Entertainment (which owns Sex and the City rights), Landmark Theatres (largest U.S. arthouse chain) and an interest in Lions Gate. They also produce movies through production subsidiaries and are partners in the HDNet cable networks. HDNet Films set Tinseltown abuzz in September when it announced a partnership with Steven Soderbergh to produce low-budget digital films and release them simultaneously to theaters, on DVD and on the HDNet movie channel.
10. Fox Searchlight
Recent Highlights: Millions, Sideways, I Heart Huckabees, Napoleon Dynamite, Garden State
Upcoming: The Ringer
» The triumvirate of president Peter Rice, marketing head Nancy Utley and distribution chief Stephen Gilula have struck on a combination of original productions and marketing/distribution efforts that has been pure gold—though their 2005 slate has fallen far short of 2004's.
11. Academy of Motion Picture Arts and Sciences
No question, the Academy regularly makes egregious omissions (no nomination for Paul Giamatti, to cite one). But with the ceremony's massive viewing audience and coveted seal of approval, the Oscars always spotlight some great arthouse fare, giving a lucky few the biggest exposure of their careers.
12. Warner Independent Pictures
Recent highlights: Good Night, and Good Luck; March of the Penguins; A Very Long Engagement; Before Sunset Upcoming: A Scanner Darkly, Duck Season, For Your Consideration
» Its bust-out stars won't need to rent tuxes on Oscar night; they'll already be wearing them. Record-breaking docs aside, this two-year-old distributor consistently clicks with smoke-filled dramas and stress-free comedies.
13. IFC
Recent highlights: Me and You and Everyone We Know, Fahrenheit 9/11, My Big Fat Greek Wedding, Y Tu Mamá También
Upcoming: The Notorious Bettie Page
» Eleven years after it launched as a cable network showcasing independent films 24/7, IFC has sprouted into a giant umbrella: the organization produces, distributes and, now, exhibits—with the opening of the IFC Center in NYC.
14. ThinkFilm
Recent Highlights: Murderball, The Aristocrats, Born Into Brothels, Tell Them Who You Are, The Story of the Weeping Camel, Festival Express
Upcoming: Untitled Eddie Izzard documentary
» Former Lions Gate head Jeff Sackman launched ThinkFilm to support more challenging films. Its roster of dramas (Where the Truth Lies, Palindromes) have at times been too challenging for audiences, critics and censors. But it has murdered with its documentary slate.
15. Lions Gate
Recent Highlights: Three… Extremes, Happy Endings, Grizzly Man, Rize, Hotel Rwanda, Crash
Upcoming: Akeelah and the Bee
» Major demerits for foisting on us one unimaginative horror-genre flick after another, bonus points for the nontraditional marketing strategy resulting in surprise hit Diary of a Mad Black Woman (but more points off for its schlock-value).
16. John Sloss / Cinetic Media
Recent highlights: Super Size Me, DIG!, Napolean Dynamite, The Fog of War
Upcoming: A Scanner Darkly
» The go-to guy for just about any Sundance sensation, lawyer Sloss and his consulting firm Cinetic Media have proven invaluable to a generation of indie filmmakers.
17. Venice International Film Festival
Recent highlights: Brokeback Mountain, Mary, Good Night, and Good Luck, Finding Neverland, Vera Drake, 21 Grams
» The world's oldest film festival featured a record 11 U.S. films in 2005. Its 2004 world premieres nabbed 16 Oscar nominations, a record for the festival.
18. U.S. Film-Festival Circuit
In terms of getting the attention of distributors, no U.S. festival can compete with Sundance. But for giving filmmakers a chance to hone their craft and audiences a rare chance to see a wide variety of indie film, the combined effect of the hundreds of festivals held across the county each year is enormous. From established names (Telluride, Slamdance, Seattle, Chicago, San Francisco) to rising stars (Nashville, Nantucket, Miami, Cinequest, CineVegas), we are indebted.
19. Scott Rudin
Recent highlights: Closer, The Life Aquatic with Steve Zissou, I Heart Huckabees, The Hours, Iris
Upcoming: Freedomland
» At age 29, Rudin left his post as president of 20th Century Fox to produce his own films. Though he works on major mainstream releases (Sister Act, School of Rock), he's mostly assembled movies that play both the megaplex and the arthouse.
20. Participant Productions
Recent highlights: Good Night, and Good Luck; North Country; Murderball
Upcoming: American Gun, The World According to Sesame Street
» Founded by Jeff Skoll (eBay), the company has a mandate to affect social change. And they're doing so without sacrificing art or craft to polemics.
21. Ted Hope
Recent highlights: American Splendor, 21 Grams, Eternal Sunshine of the Spotless Mind
Upcoming: Fay Grim, The Hawk Is Dying
» The Good Machine co-founder now heads This Is That, where he continues to nurture original talents and produce smart, challenging entertainment. Sundance loves him, but so do audiences—even ones that don't know a crouching tiger from a hidden dragon.
22. Albert Berger & Ron Yerxa
Recent highlights: Bee Season, The Ice Harvest, Cold Mountain, I Am Trying to Break Your Heart
Upcoming: Little Miss Sunshine, Little Children, Nebraska
» Under their Bona Fide Productions banner, this pair has a high-end track record including work with Soderbergh, Payne and Minghella. Their projects range from broad comedy to blue-chip literary adaptations.
23. Paramount Classics
Recent highlights: Mad Hot Ballroom, Hustle & Flow, Intimate Strangers, Prairie Wind
Upcoming: Ask the Dust
» Founded in 1998, the company has consistently lagged behind other arthouse studio subsidiaries and now it must rebuild after Paramount decided to clean house. A pair of rare high-pro?le acquisitions at Sundance and Slamdance offered the division much-needed box-office success.
24. Bob Yari
Recent Highlights: Thumbsucker, Crash
Upcoming: The Illusionist, The Hoax, Tishomingo Blues
» Yari's plan to build a successful enclave of film companies, all producing lower-budget films, seems to be working. He brings two important ingredients to his film-production success—money (he made billions in real estate) and the ability to attract big names to artistic films with small budgets.
25. Samuel Goldwyn films
Recent Highlights: MirrorMask, Pretty Persuasion, The Squid and the Whale, Saint Ralph, Super Size Me
Upcoming: The Secret Life of Walter Mitty
» No super-sizing in store for this production/distribution company. They successfully operate well below the level of the studio arthouse divisions, thank you very much.
26. Berlin International Film Festival
Recent highlights: Paradise Now Before Sunset, Intimate Strangers, Good Bye Lenin!
» One of the oldest, largest (180,000 tickets sold) and most organized festivals in the world, Berlin also hosts the European Film Market, making it an even more attractive event for filmmakers.
27. Christine Vachon / Killer Films
Recent highlights: Far from Heaven, One Hour Photo, Hedwig and the Angry Inch
Upcoming: The Notorious Bettie Page, I'm Not There: Suppositions on a Film Concerning Dylan
» Impossible to imagine the transgressive joys of directors Todd Haynes and Todd Solondz without her, producer Vachon is actively shaping a new decade of adventurous movies that display a canny, questioning appreciation of American pop culture.
28. Michelle Byrd and IFP/NY
Byrd has served nine years at the helm of the Independent Feature Project, which provides needed infrastructure for independent filmmakers. With its IFP Market and Conference, it helped Miranda July get support to transform her rough ideas into the hit Me and You and Everyone We Know. One of the few significant resources for uncompleted films, its acceptance of raw footage from Mad Hot Ballroom helped the filmmakers land an agent.
29. Dawn Hudson / Film INDependent
Hudson led the charge in the controversial move to split IFP/Los Angeles from its sister organizations across the country. As the group behind the Independent Spirit Awards (the Oscars of Indiewood) and the Los Angeles Film Festival, the newly renamed Film Independent (or FIND) has become one of the highest profile non-profits supporting independent film.
30. Daniel Talbot, New Yorker Films
Recent highlights: Moolaadé, My Architect, The Son
» This veteran exhibitor and distributor might as well have invented the arthouse concept. Remember your favorite Fellini or Wenders movie? Not without Talbot, who continues as a force in the DVD era.
31. Roger Ebert
Thumbs up and hands down, Ebert has done more to bring arthouse films to the attention of the general public than any other single voice in the media. The first film critic to receive a Pulitzer for arts criticism and the only one to receive a star on the Hollywood Walk of Fame, he's been increasingly criticized for his celebrity profile and underestimating his audience. But his approval can help get an unsigned film distributed and an obscure one become an arthouse hit.
32. Michael London
Recent highlights: Sideways, Thirteen, House of Sand and Fog
Upcoming: The Illusionist
» London takes on a diverse range of projects that connect powerfully with moviegoers. The former Los Angeles Times staff writer has no less than seven new movies in the hopper, including outings with Edward Norton and Sam Jones (I Am Trying to Break Your Heart).
33. The Criterion Collection
Taking great care in its selection, restoration and packaging of classics old and new, The Criterion Collection provides an important stamp of approval on key DVD releases.
34. Wellspring Media
Recent highlights: Palindromes, The Beat That My Heart Skipped, Kings & Queen, Tarnation, Red Lights
Upcoming: Unknown White Male
» This theatrical and DVD distributor adores edgy stuff and contemporary French-speaking auteurs (Godard, Desplechin, Dumont), picking up work less-nervy outfits ignore. Moviegoers are richer because Wellspring lives up to its name.
35. Sheila Nevins
Recent highlights: Spellbound, Bus 174, Last Letters Home
» As president of HBO's Documentary and Family divisions, Nevins is known as the "dominatrix of docs." She oversees a coveted platform for massive exposure that's led to a shelf of Academy Awards—and has every aspiring Michael Moore clamoring for her approval.
36. New York Times / Starbucks
Every Friday, The New York Times reviews every film opening in New York that week. Of course, many arthouse films never leave Manhattan—except on DVD. Now film buffs from Peoria to Portland can walk into one of their many local Starbucks, pick up a New York Times and add intriguing films to their ever-expanding Net?ix queue. It's never been easier to heed the words of all-knowing critics.
37. HBO Films
Recent highlights: Last Days, The Holy Girl, Maria Full of Grace, American Splendor
Upcoming: The Notorious Bettie Page
» Through its many partnerships, HBO is a strong force in the ?lm industry. Its in-house ?lm division—which produces original programming for both the network and theaters—has developed a strong track record of critically acclaimed programming, from Band of Brothers to Gus Van Sant's latest works.
38. Richard Peña / Film Society at Lincoln Center
He's program director for the New York Film Festival, which has been a cinematic royalty-maker since the heady days of the 1960s—and can supply a crucial pre-release spotlight, whether your name is George Clooney or Hong Sang-soo.
39. Elvis Mitchell
Mitchell is the very definition of ubiquity in the film world. Just try avoiding running into him at any major film festival. The entertainment critic for NPR's Weekend Edition since its inception, Mitchell is also a visiting lecturer at Harvard University and hosts KCRW's The Treatment. His appreciation for arthouse fare is evident just in the list of Treatment guests in October: Mike Mills, Noah Baumbach, Curtis Hanson, Philip Seymour Hoffman and David Cronenberg. The former New York Times critic also hosted Independent Focus for IFC and has written for innumerable publications.
40. SXSW Film Festival
This indie breeding ground is no mere sidebar to Austin's sprawling SXSW music festival. It's a mega-happening in its own right—an alternate universe of moviemaking. Under the leadership of Matt Dentler, the festival has risen in profile as a launching pad for documentaries like Spellbound. It's one major narrative-film signing away from the upper echelons.
41. American Film Institute
Its AFI Festival (now coordinated with the American Film Market) and SILVERDOCS festival host a number of key U.S. premieres in the heart of Hollywood. Recent world premieres include Monster and Monster's Ball. The institute's workshops, programs, conservatory and awards also provide valuable resources and recognition.
42. Tribeca Film Festival
Robert De Niro's brainstorm has evolved into so much more than an American Express commercial for post-9/11 Lower Manhattan. Eclectic, inclusive and exhaustive, it's become an important "first-look" fest for documentaries and debut features.
43. indieWIRE
Online since 1996, indiewire.com is one-stop shopping for indie info: from news and gossip to interviews and reviews. It's an indispensable community resource.
44. Palm Pictures
Recent highlights: DIG!, Crónicas, Director's Label series
Upcoming: The Mother of Invention: The History of Jamaican Music
» Island Records founder Chris Blackwell's media outfit is synergy in motion, combining film, video, music and web projects while backing the work of innovative types like Michael Almereyda and Spike Jonze. Palm is also the "label" behind this issue's "Director's Label Roundtable" (p. 76).
45. Zeitgeist Films
Recent highlights: 10 on Ten, The Corporation, Since Otar Left
Upcoming: Sophie Scholl: Die letzten Tage
» An American home to far-flung visionary types as well as docu-rabble-rousers, Zeitgeist strives to reflect our times and open minds. The company's aggressive efforts on The Corporation following film's Toronto debut paid off.
46. Kino
Recent highlights: OR (My Treasure), Watermarks
» Kino International and Kino on Video specialize in bringing world cinema to American audiences. Kino's restorations (including Fritz Lang's M, The Art of Buster Keaton and the 50th-anniversary reissue of The Bicycle Thief) are also important contributions.
47. Docurama
Founded by Steve Savage and Susan Margolin in 1999, this home-entertainment label has assembled an astonishing collection of new and classic documentaries—including more Oscar-nominated docs than any other distributor. Last January, Docurama partnered with the Sundance Channel to bring its original productions and acquisitions to DVD.
48. Chris Gore / Film Threat
The impish host of IFC's Ultimate Film Fanatic has turned cult-film fandom into a kind of gonzo visionquest with his long-running magazine Film Threat (now a web-only publication, Filmthreat.com). Two decades after he first published out of his Royal Oak, Mich., bedroom, Gore has become an unlikely, and wonderfully subversive, tastemaker.
49. National Film Board of Canada
For over 60 years, the NFB has produced and distributed more than 10,000 films, which have garnered over 4,500 international awards (including 11 Oscars, most recently for Chris Landreth's 2004 animated short, Ryan). Best known for its documentaries, animation and short films, the organization received its own honorary Oscar for its "commitment to originate artistic, creative and technological excellence."
50. James Quandt
As senior programmer of the Cinematheque Ontario (a year-round part of the Toronto International Film Festival Group), Quandt is responsible for some of the most important retrospectives that have traveled around the world in the last 10 years. He's currently putting together one on Roberto Rossellini.
Arthouse Emergent: Wheel Greasers
1. Eric Kopeloff - Recent highlights: Stay, Pretty Persuasion, Monster's Ball
» Closely affiliated with Marc Forster, who has Will Ferrell comedy Stranger Than Fiction on deck, the producer is rapidly moving into the big time.
2. Alamo Drafthouse - From its film selection to its dine-in service and overall vibe, the original Drafthouse in downtown Austin is one of the coolest theaters anywhere. The cinema/eatery has begun expanding by offering franchise opportunities.
3. Jeffrey Abramson / Gen Art - Through the Gen Art Film Festival, Gen Art's year-round screenings and his general advocacy for indie filmmakers, Abramson has become an important figure in the New York film community.
4. Green Cine - One of the largest web-only competitors to Net?ix, the rental service specializes in arthouse (as well as anime and B-movie) fare. Its selection of foreign films surpasses all its larger competitors, and it offers a streaming service. (greencine.com)
5. David O. Sacks - The PayPal creator entered the movie biz by financing Thank You For Smoking, the Jason Reitman film that sold at Toronto for $6.5 million to Fox Searchlight (amid a signing controversy with Paramount Classics).
Others Tagged With