The Electric Company
Television About Reading, Uncertainty and Multicolored Bellbottoms: a Tiny Essay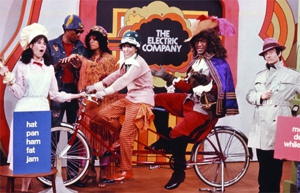 (Above [L-R]: Judy Graubert, Morgan Freeman, Lee Chamberlin, Rita Moreno, Bill Cosby and Skip Hinnant)
Way before the U.S. Department of Education played journalistic payola with Armstrong Williams, even prior to its compassionate encouragement of many a presumed Paste reader's student-loan remittance, it had a hand in suggesting that the nonprofit Children's Television Workshop create a zesty literacy vehicle like The Electric Company. Which is a good thing for all fans of existentialism and absurdism on DVD, for you have been held hostage too long by Gus Van Sant's best intentions.
Kiddie programming has been the last bastion of depressing Irish/French playwright Samuel Beckett's influence for a while now—consult the un-ending ending of an episode of Teletubbies ("bye-bye" for four minutes!) or the suspenseless mysteries of Blue's Clues, and savor their painful lessons about the redundancy, hypergesticulation and minutiae that pepper our adult lives. But the arrival of the four-disc Best of The Electric Company should out these pretenders to the throne.
October 1971: Nixon. Vietnam. Children of careerist divorcees, dropped off at religious daycare centers, eating cheese-flavored, fish-shaped crackers. Console televisions tuned in to a show about the fragility of language. In a skit more sensitive to synonyms than most collegiate emails, a pair of lonely clowns sharing a bicycle drive each other crazy as their utterances fail to approximate the words they need. A man binds himself in a gag and beams at us in a skit about the multivalence of the letter "G" being as confusingly pliable and inviolable as gender or God. "Love Of Chair" recurringly spoofs theatricality, forcing drama from an unmoving protagonist's willingness to vegetate. A cartoon plumber dies upon having to answer the same question too many times. The clueless and senile J. Arthur Crank is a nod to British industrialist and film producer J. Arthur Rank. The couple Gus and Gert are disembodied voices whose words float in darkness. Stanley Kubrick is homaged twice—"Thus Spake Zarathustra" booms as a monolithic vowel sound stupefies aliens, and an impulsive sentence-constructing computer named Stanley is a HAL 9000 to his human foils. A svelte Morgan Freeman channels Dennis Hopper's hippie-harlequin persona into a lite-jive guru named Easy Reader who prefers the finite fixity of the page to the logorrheic capacities of the mind, singing, "I groove on all the words around / As long as they are written down."
On later episodes, a doctor sings about his patients' pain. A Blacula scares people from his doorstep and tutors viewers from his Jacuzzi. In a synergistic 1974 move, Spider-Man joins the show. His almost kinky segments suggest a perverse mime, or flamboyant Cirque du Soleil gimp, and they come shrouded in the show's insistence on uncertainty. "Where are you coming from? Nobody knows who you are," his theme song intones, and even when he soundly defeats the bad guy, a narrator prods, "Or does he?" David Lynch couldn't take over Sam Raimi's current franchise and make the character less scrutable than The Electric Company does. In his debut, Spider-Man steals a comic book from Crank, and beats a man against a wall for presenting him with a rubber-glove sandwich.
I was part of the generation of youngsters who watched this show, and trust me, we yelled pure words back at the screen, enjoying language as a weird system of abstract signifiers in which we were caught, like the couple at the end of Noah Baumbauch's Kicking & Screaming whose own names sound foreign and ridiculous to them as they drink and listen to Jimmie Dale Gilmore on the jukebox. An ironic hipster bar's incidental flatscreen is probably the best context for watching this show as an adult, what with the stately decadence of its Polyphonic Spree-versus-go-go aesthetic, Bill Cosby's "drunk" ad-libbing and the cast's reliance on cue cards (they are indeed reading to their audience about the importance of reading). The clothes are sensational, the nostalgia intoxicating, the optimism intimidating, the music more stimulating than a purple dinosaur's minions dare dream, the language an abyss and despair universal, but we're probably still a generation away from a T-shirt emblazoned with "If you can read this, thank a television."
Others Tagged With