Talking Heads - Brick
Rhino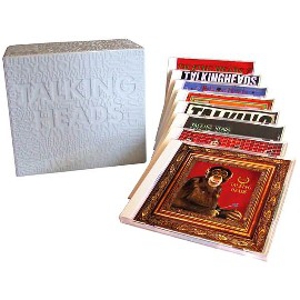 Fear of Music Technology: DualDisc format renders meaty set of reissued Talking Heads a dubious investment
In the summer of 1995 I got into a brief, not-so-amicable debate with an indie-rocker friend of mine over the importance of Talking Heads in rock history. Commercialized MTV crap, he sneered; David Byrne is an art-school geek who can't find his vocal range. Not like my friend's beloved Radiohead. Radiohead, as in "Radio Head," the sixth track on Talking Heads' True Stories album, from which Thom Yorke and co. swiped their moniker to begin with. Of course, I know this now, music scribe that I am, and just how I would've used this information to twist my Sebadoh-loving, thrift-store-shopping, indie-snob buddy into submission is, to this day, the subject of occasional self-indulgent flights of hypothetical schadenfreude.
But I digress. In fact, my Jaguar-strumming companion's misconception was partially justified, if only because Talking Heads' sprawling influence over the rock landscape tends to be obscured by the late-career success of their record Little Creatures, with its hit singles and videos and beguiling hooks. But before this, in the late '70s and early '80s, the most compelling intellectual frontman since Lou Reed—and the funkiest white rhythm section that never recorded at Muscle Shoals—collaborated with Brian Eno on several groundbreaking albums (without which there would be no Achtung Baby, Odelay or OK Computer). The Talking Heads not only occupy a prominent seat in rock's pantheon, it's hard to imagine the last 25 years in music without them.
So now Rhino has released Talking Heads' entire studio output, remastered in both stereo and 5.1 surround, eight discs in all, stuffed into a small white "brick." The packaging is attractive, and the content is a boon for completists and casual fans alike. Each disc is in the DualDisc format: one side is a CD, with bonus tracks, and the other a DVD with the 5.1 mix and a handful of videos. If ever there was an argument for the durability of the Heads' unique contribution to 20th-century popular music, this is it. But there's a catch.
The DualDisc format has proven somewhat controversial. The thickness of the disc had to be increased beyond the Philips/Sony CD specifications, and does not carry the official "CD" label. The CD side of the disc is actually unplayable on some systems, particularly PCs and car stereos. Nevertheless, a number of record companies, including—ironically—Sony/BMG, are getting behind the format, with the hopes that such "value-added" products will increase demand for physical discs and mitigate the effects of online piracy. So far the consumer response has been positive, but when considering an investment of nearly $150 for eight separate discs, small caveats become a major concern. One might legitimately question the wisdom of releasing such an important collection on such a young, unproven format.
One might also complain about the little things, if one has a mind to, and the little things pile up a little too fast. The videos average about three per disc, which makes for an inconvenient viewing experience. To enjoy "Burning Down the House," a live performance of "Once in a Lifetime," and an excellent early outdoor performance of "Pulled Up," one must switch discs three times, or else rip the DVD content to a single disc, in which case one has yet another disc to keep track of, assuming a DVD burner is available. In addition, the cases are not labeled across the spine, making it impossible to find a particular title without dumping the contents and shuffling the discs like a deck of cards. The track listings are on the back pages of each insert booklet, the credits are confusing, and the extra copy tells us little beyond the fact that Heads keyboardist/guitarist Jerry Harrison thoroughly enjoyed creating each and every one of these 5.1 mixes.
Which brings us to the main reason most folks will purchase the Brick. I confess I find 5.1 mixes only mildly interesting and mostly superfluous to the enjoyment of music. There's something inherently solipsistic about a 5.1 mix, an obsessive connoisseurism that runs counter to the raw, communal, celebratory spirit of rock 'n' roll. But these discs, particularly Fear of Music, Remain in Light and Speaking in Tongues, are peculiarly suited to the surround experience. Brian Eno's polish and ambience paradoxically enhance the live feel of the tracks. Listening, you get the sense of being thrust among the players in the middle of a performance, and almost feel obligated to pick up an instrument. On tracks like "Burning Down the House" or "Life During Wartime," it's just about impossible not to. I recommend the guiro.
With its packaging and format problems, The Brick won't replace Rhino's 2003 box set Once in a Lifetime as the definitive Talking Heads collection. And perhaps the biggest caveat of all is the fact that Rhino is going to release each DualDisc separately later this year. If you're trepidacious about the format, you might wait and purchase one at a time, minimizing your financial risk. That said, the bonus material and 5.1 mixes alone make the discs more than worth the average $18 apiece, and in this era of changing formats and record-industry anxiety, it's the most any fan could expect.
Others Tagged With