Snow Patrol
The Tabernacle, Atlanta, Sept. 6, 2006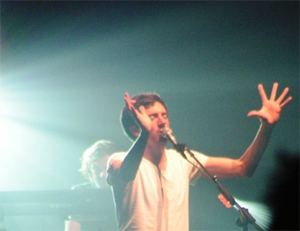 By the third song, Noel Gallagher would have been in a purple rage. And by the fourth, he would have stormed offstage, the unsatisfied, jeering fans be hanged. Such were the frustrations thrown at Snow Patrol on the opening night of their U.S. tour, at Atlanta's Tabernacle.
Equipment issues can bring out the best and worst in a live act. But the hardy Scots and Northern Irish in Snow Patrol shone after malfunction after malfunction that, perversely, endeared them even more to a crowd who'd previously endured two cancellations just to get to this gig.
The show started promisingly, with a miasmic whoosh from M83—appropriately chosen walk-on music—which segued perfectly into the signature guitar riff of "Spitting Games." By the second song, "Wow," the band was clicking, its wall of shoegazer-inspired fuzz lent more impact by the former Baptist church's open spaces as lead singer Gary Lightbody's anthemic melodies swept out like searchlights in a heavy fog.
But then technical gremlins began to bedevil the band as guitars and amps began to fail. "My guitar sounds like shit," Lightbody complained as he coaxed a leaden chord from his Marshall stack. With transatlantic flight difficulties ("when you travel people are gonna lose your shit"), apparently the band was forced to operate largely on rented gear, and it was starting to show in Lightbody's gangly gesticulating.
Unlike lesser contemporaries, however, Snow Patrol persevered through an evening that must be every band's nightmare. Mid-set, the band arrived at current single "Chasing Cars," but was forced twice to re-start it. Then, once underway, bassist Paul Wilson's amp completely cut out through a verse as he slammed his instrument into the rig.
As roadies worked harder than usual to earn their night's wages (final approximate body count: three amp heads, two cabinets, two mics and a bump to one roadie's head from the swinging neck of Lightbody's cursed axe), the band gamely struggled through about 15 songs as the evening's dynamic palpably turned into one of "let's get through this together."
At one point, a flustered Lightbody, charming more Yanks with his Celtic lilt than he likely realized, asked, point-blank for an ovation so he'd feel better about the evening. The crowd cheerfully obliged.
At the encore, despite saying how much he hated playing songs twice, Lightbody unfurled "Chasing Cars" a second time in penance, with all equipment behaving this time. Then he promised the patient, now triumphant, crowd a return appearance and disgustedly tossed his rented (now purchased) guitar to the punters in the first few rows.
Others Tagged With