Band of the Week: Glossary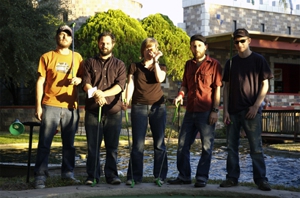 Hometown: Mufreesboro, Tenn.
Fun Fact: Bright Eyes' Conor Oberst once declared Glossary his favorite band.
Why It's Worth Watching: Glossary has been making well respected but underappreciated southern indie rock since the late twentieth century. The band's latest album (and one of the year's most stirring releases), For What I Don't Become, should change all that.
For Fans Of: Drive-By Truckers, Lucero, The Hold Steady

Nowadays, it sometimes feels like rock bands rarely speak for the working class. Joey Kneiser, Glossary's principle songwriter, knows the attendant challenges of being a rock 'n' roll singer all too well. "When I started writing For What I Don't Become," says Kneiser, "I wanted the songs to represent where we were as a band and try to answer whether or not I'm doing the right thing by pursuing something as crazy as a life in music. What's worth spending the only life you get pursuing? Is contentment really attainable? Are your surroundings the source of your unhappiness or will it just follow you wherever you go?"
Glossary's oeuvre is ripe with some fine journalism, but For What I Don't Become contains the band's best. Whether meditating on mortality ("Headstones and Dead Leaves" and "Time Rolling"), love ("Poor Boy"), or America's ever-encroaching claustrophobia ("American Bruises"), For What I Don't Become beautifully captures the essence of what it's like to be young and full of hope despite short time and long odds.
There is a precedent for this: Glossary's previous album, 2003's How We Handle Our Midnights was embedded in the nocturnal - a missive from the "post-work" part of the day. If that album was a long night out, For What I Don't Become is the next day. Says Kneiser: "Midnights was Friday night, this records is Saturday afternoon, and the next record [will be] Sunday morning."
Recorded by Centro-Matic's Matt Pence at his Denton, TX studio For What I Don't Become sets itself apart from the alt.country pack with arrangements that soar with exuberance matched only by the lyrical content. The band makes sharp, arm-locked turns together. Acoustic guitars give way to the slow crackle of an amp feeding back. Pedal steel, keys and percussion join the sway while Kelly Kneiser's harmonies quell the chaos that threatens every bend. Whether burning slow or brimming with a distinctly southern swagger, every song breathes determined. For What I Don't Become is the album to quit your job to.
Others Tagged With