Band of the Week: Deerhunter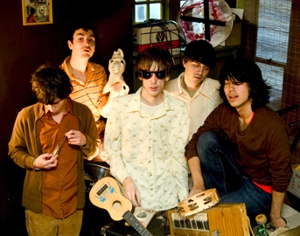 Hometown: Atlanta, Ga.
Fun Fact: Friends of artsy noisemakers, Liars, Deerhunter has also earned the respect of fellow Brooklyn expatriates Yeah Yeah Yeahs; Karen O calls the band's live show a "religious experience."
Why It's Worth Watching: Deerhunter's blend of psychedelic rock and avant-garde noise paired with its unpredictable live performances is helping to make it one of the most talked-about bands of 2007.
For Fans Of: Liars, early Velvet Underground, surrealism

Over the last 20 years or so, Atlanta has developed into a flourishing breeding ground for R&B and hip-hop. The city has opened its arms to many up-and-coming artists such as TLC, Usher, Lil' Jon, T.I., Gnarls Barkley's Cee-Lo, OutKast — the list is endless. To a certain extent, then, it's not stretching the truth to say that the avant rockers of Deerhunter stick out a bit, inasmuch as they're leading Atlanta's youthful and thriving rock 'n' roll scene.
Well before the new year even began, the quintet was lauded as one of the bands to watch in 2007. And before its highly-anticipated second full-length, Cryptograms, was released this week on Chicago label, Kranky, blogs eagerly visited the band's MySpace page to listen to unreleased tracks. It's fairly obvious that Deerhunter has entered that intangible and oft-prickly realm known simply as "buzz." But these guys didn't start a band to gain popularity.
"It's nice. We won't say it's not nice," says drummer Moses Archuleta. "We did work hard, and it's nice to see our hard work paid off, but we don't feel any different."
The recognition from various media outlets is flattering and all, but the members of Deerhunter much prefer individual attention from adoring fans in the audience who can understand and appreciate the group's particular outsider perspective. "I want to appeal to kids who look different," vocalist/guitarist Bradford Cox says. "[I want to] appeal to gay kids who are marginalized in the community, people who look out of place."
Deerhunter's anti-cliché approach has helped the band form a strong relationship with Liars, an innovative rock group known for changing its sound with each subsequent album. Guitarist Aaron Hemphill has even admitted that he misses touring with Deerhunter. "We had a kinship with them," Cox says. "I like to see artists dismantle their whole setup, and that's how we got along with Liars because I never met people I connected with so much."
In spite of the positive feedback, Deerhunter has also dealt with its share of harsh criticism. But the band has collectively taken heed to the fact that its music will produce a polarized effect. These five guys are not going to stop making the music they want to only to pander to the masses.
"We don't have any pressure," Cox says. "Our label is [lenient] and we can do whatever we want. We'll always be who we are, and we see no possibility of crossing over."
Others Tagged With