Amazing Grace
Celebrating William Wilberforce's Fight Against Slavery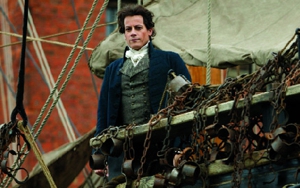 William Wilberforce is hardly a household name. "He didn't kill anyone, you know, so nobody remembers him," quips Amazing Grace screenwriter Steven Knight. "Even in the U.K., very few people would immediately recognize his name." Ironically, Knight is referring to the pioneering reformer who largely drove the abolishment of slavery in Britain 200 years ago.
To acclaimed director Michael Apted (Coal Miner's Daughter, Seven Up), Wilberforce was hardly obscure. He'd known of a script circulating about Wilberforce well before he agreed to direct Amazing Grace. "I'd actually already passed on it," he says. "But I think they were desperate to make the film in time for the 200th anniversary of the anti-slave trade act. I knew someone very well at Walden that came to me and said, 'What would it take for you to come on board?' And I said, 'It would have to be completely re-written.'"
Apted had met writer Steven Knight (Dirty Pretty Things) in Los Angeles and mentioned the project to him. Knight was excited to get involved. The studio was equally delighted. "From then on, it was like going through a series of green lights," remembers Knight. "It was great."
Apted was drawn to Wilberforce's growth from pure idealist to principled pragmatist, hoping it would resonate with modern politicians who seem incapable of being the latter. "I wanted to do a positive film about politics, but I found it impossible to find a suitable contemporary subject," says Apted. "So when this story came up, I thought, 'Maybe this is the answer.'"
The original screenplay was a straightforward biopic on Wilberforce's life, but Apted and Knight sensed that the larger story of the abolitionist movement was more compelling. Both are British and keenly interested in this pivotal period in their nation's history. During the late 18th century, men in their 20s were being elected to Parliament for the first time and pushing for sweeping societal reforms. The country was experiencing a time of simultaneous heightened social awareness and debauchery.
"It was a bit of Camelot," says Knight. "They weren't from an underprivileged background but they seized power unusually young with a basically humanitarian agenda." In fact, Wilberforce's campaign was one of the first where popular opinion affected Parliament's decision. "That generation started politics as we know it now."
The restructured film poignantly captures Wilberforce's life of struggle—with relationships, illness, personal doubts and national unease—against a backdrop of political opposition. He's a champion of the oppressed; a natural fit for actor Ioan Gruffudd. His previous roles tend toward historic characters like Horatio Hornblower and Sir Lancelot—"I have a face for it, I guess," he muses, without a hint of irony—but he has recently appeared as superhero Mr. Fantastic in Fantastic 4. As Wilberforce, though, he gets to be a historical superhero.
"This is my proudest moment so far as an actor; he's such a broad character," says Gruffudd, who not only delivers passionate discourses in the House of Commons but also sings in rowdy barrooms. "Wilberforce famously had an amazing voice," he chuckles. "I'm sure the producers had a quiet word with my singing teacher to see if I was capable of carrying a melody."
"You wouldn't dare depict the real Wilberforce," says Knight, who found the man a fascinating study. "On the one hand, if you read what he wrote, you get this impression of a staid, respectable, stodgy character. But if you read what other people wrote about him who knew him personally, he had chaos everywhere. Once fixed on an idea, he was totally committed, but the day-to-day running of his life didn't really concern him." A Dr. Doolittle-type character, Wilberforce constantly entertained vagrants and wild animals as houseguests, stuffed books in his pockets, and harbored a complete inability to fire anyone. He suffered from colitis and struggled with using the prescribed opium, yet in the end he outlived most of his friends and fathered six children by his wife, Barbara (played in the movie by Romola Garai).
Despite his helter-skelter personal life, Wilberforce maintained a single-minded commitment to the abolishment of slavery. His dedication was motivated by his conversion to Christianity, a fact that the filmmakers neither mask nor overemphasize. "What I loved about this script is that it's not in any way preachy," says Gruffudd. "This is just part of his makeup; from his Christianity and his humanity came his passion for the cause."
Framing a movie around one of the most famous songs in the world seems like a gamble as well, but Apted swears it's "not a rip-off; it's an organic title." The author of the song, John Newton (veteran actor Albert Finney), was a former slave trader haunted by the faces of 20,000 slaves he personally sold, and he acted as a mentor to Wilberforce.
Though 200 years old, the story's images and ideas call to mind modern-day social injustices. Recognizing the parallels, the studio decided to launch the Amazing Change campaign to raise awareness about current human slavery and encourage moviegoers to emulate Wilberforce. (See sidebar.) But Apted didn't want to create a two-hour sermon about the failures of the West. "Nobody wants to pay eight dollars to be told they're not paying attention," he observes. So the film focuses on what one person can accomplish, given enough perseverance.
No one can accuse Apted of being socially unaware. Beside the follow-up to his documentary Married in America and the upcoming film Goal! 3, he's releasing a documentary called The Power of the Game, detailing the ways soccer, a truly international sport, has impacted societies across cultural boundaries in six specific storiesgoodcharlot. "It's women's rights in South America, it's racism in Europe and it's slavery in Africa, where young footballers are shipped off and dumped or used."
With Amazing Grace, Wilberforce is ultimately a maverick reformer whom filmgoers won't easily forget. "He carried on doing one thing that seemed stupid to carry on doing," says Knight. "And in the end, he succeeded."
Others Tagged With