Charlie Louvin
The Ghost Highway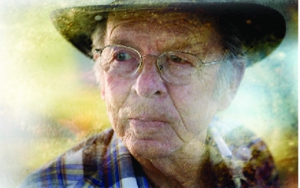 Charlie Louvin is haunted by a voice inside his head, the high-tenor harmony voice of his brother Ira, dead now 41 years.
Even today, Charlie acknowledges, he unconsciously takes a step backward from the microphone stand at those points in the song where Ira would lean forward and chime in with his part. Charlie hears that sweet Alabama tenor, maybe a third or a fifth above his own, even if no one else in the auditorium can.
"Anytime and every time I sing a song," he confesses, "I can hear his part, even though he's not there. I ain't never found nobody who can duplicate Ira's part. A lot of people imitate him, but no one can sing a harmony like he could. I hope someday the Japanese invent something that I can wear on my head, and whatever I hear in my head will come out. That would be great."
Until the Japanese invent the Ghost Voice Amplification Helmet, the rest of us can only guess at the sounds inside Charlie's head. The best guesses are informed by the recordings The Louvin Brothers made for Capitol between 1952 and 1963. Top 10 country singles such as "When I Stop Dreaming," "I Don't Believe You've Met My Baby," "You're Running Wild" and "Cash On The Barrel Head" created the eerie impression that two people had blended their voices so closely that they almost became one person. That "almost" was crucial, however, for that combination is the ultimate aim of every relationship—whether the two people are siblings, lovers, bandmates, or just pals.
That string of classic singles inspired such close-harmony duos as Don & Phil Everly, Gram Parsons & Emmylou Harris, Wynonna & Naomi Judd, Alison Krauss & Dan Tyminski, and Roger McGuinn & Chris Hillman. Through The Everly Brothers, that influence extended to John Lennon & Paul McCartney and Paul Simon & Art Garfunkel. The list of singers who signed up for the 2003 tribute album, Livin', Lovin', Losin': Songs of the Louvin Brothers, includes Harris, Krauss, Dolly Parton, James Taylor, Linda Ronstadt, Rodney Crowell, Merle Haggard, Johnny Cash, Glen Campbell, Patty Loveless, Vince Gill and Dierks Bentley.
On his new solo album, Charlie Louvin, the singer is joined by such younger admirers as Elvis Costello, Jeff Tweedy, George Jones, Tift Merritt, Tom T. Hall, Marty Stuart and Will Oldham. None of them, though, can replace the ghostly voice of Ira. In fact, the most riveting moment on the album comes not on the celebrity-guest remakes of the old songs but on "Ira," a new song Charlie sings by himself.
Elvis Presley's old guitarist, Chip Young, and Earl Scruggs' grandson, Chris Scruggs, open the song with gentle, midtempo picking. Then Charlie—in the frail, wavering voice of a 79-year-old man—croons to his late brother, "You were the king of Sand Mountain." It's a reference to the plateau in northeastern Alabama where Ira and Charlie Loudermilk grew up on a 40-acre farm, helping their father raise cotton, corn, cane, peanuts and potatoes. Their bond was forged during the long summer days, when they would work from can't-see-in-the-morning till can't-see-at-night. After a day like that, there was a tremendous release in listening to the family's hillbilly 78s and imitating them on their own instruments—Ira's mandolin and Charlie's guitar. In 1947, after they'd already been singing professionally for five years, the 23-year-old Ira and the 20-year-old Charlie changed their stage name to The Louvin Brothers. It would be another eight years before they achieved their ultimate goal of performing on the Grand Ole Opry radio program.
"Alabama to the Opry was the second hardest road," Charlie sings on the new song; "the worst was me losing you and singing all alone." In 1963, after 11 years as one of the biggest acts in country music, Charlie had had enough of Ira's drinking, womanizing and temper, and the younger brother walked out on the act, launching his solo career with Top five single "I Don't Love You Anymore" as Ira struggled to get his life on track. He was finally making some headway—he'd been sober awhile, he'd recorded several singles and his fourth marriage seemed to be taking hold—when he was killed in a car crash in Williamsburg, Mo., on June 20, 1965. The irony was rich enough for a country song; it wasn't Ira who was driving drunk that day, it was the other driver.
When Charlie warbles that the hardest thing he ever faced was losing his brother and singing all alone, the stab of despair in his voice is all the sharper for it being difficult to admit. It was never easy being the younger brother of Ira Louvin, a man of immense pride and little generosity. It was worth it, though, to create that harmony, that sound of two siblings blending so closely that they nearly—but not quite—became one voice.
The sound still resonates in Charlie's head, and he addresses his big brother's ghost on the new song's chorus: "Ira, I still hear you, off in the distance, your sweet harmony. Ira, I still miss you. There'll never be another, 'cause you can't beat family." The chorus begins with hopeful expectation, as if Charlie believes the voice in his head might respond, but it ends in weary fatalism, as he realizes it never will.
"Do I miss him?" Charlie asks sharply. "Of course, I miss him. How would you like to do without your brother, your wife or one of your children? If something happened to them, you'd miss them." As he sits in his rural home near Manchester, Tenn., halfway between Nashville and Chattanooga, Charlie clearly aches from the empty spot left by Ira's absence. At the same time, he refuses to minimize what an aggravating pain in the ass Ira could be.
"I wrote that song 'Ira,'" he explains, "about a year-and-a-half ago with the Laclaire Twins, a couple of good entertainers from around here who sound a lot like The Louvin Brothers and The Everly Brothers. They came over to my house one day and asked me, 'Why haven't you ever written a song about your brother in heaven?' I told them, 'Because I never associated Ira with heaven.'"
"When he was straight, he was golden," Charlie allows, "as nice a person as you could ever meet, and probably as good a songwriter as ever lived. But he couldn't stay straight for long. If we were out for 10 days, after the second day, he'd be drinking and ready to go home. It got to the point where I'd say, 'You're not getting a red cent till the tour is over and you go home with me.' I never did learn how to handle a drunk. You can knock them down—and there was some of that, too—but that doesn't solve it."
The Louvin Brothers were pigeonholed as a gospel act, even when they signed with Capitol in 1952. But they knew they had to break into the secular country charts if they were ever to make a full-time living at music. All they needed was the right song.
"On most of the songs, my brother needed an idea to write about," Charlie recalls, "so I furnished a great number of the titles. If you gave him a song title, he could write you a song in five minutes. I listened to people talk and to the radio and TV; when someone said something that gave me an idea for a song, I'd write it down and later give it to Ira. One day I got an idea from Ira himself when he was talking about his latest broken love affair.
"I've been married to the same woman for 57 years, and if I can't get along with her, I can't get along with anyone, because there's none better. But my brother didn't have very good luck with women; he had four different wives." Charlie doesn't mention that, in 1961, Ira's third wife shot him three times after he tried to strangle her with a phone cord in a drunken argument. "One day Ira said, 'I've always dreamed of having a happy life.' He never did have a happy life, but I thought, 'When you stop dreaming, you don't have any reason to get up in the morning.' That was how the song 'When I Stop Dreaming' was born."
When The Louvin Brothers recorded the song in 1955, it burst into the country Top 10 and secured them an invitation to join the Grand Ole Opry, an honor they'd been craving for years. They were soon on the road as part of a package tour assembled by Colonel Tom Parker: The Louvin Brothers, The Carter Sisters with Mother Maybelle and a new act by the name of Elvis Presley. The Louvins were the favorite country group of Elvis' mother, and he would always stand in the wings and watch Charlie and Ira sing. Until, that is, the hot-tempered Ira, angry that this young kid was getting all the attention from the crowds, picked a fight with Elvis backstage one night.
Tom T. Hall—who joins Bobby Bare Sr. and Charlie Louvin on the new album for a version of The Delmore Brothers' "Blues Stay Away from Me"—saw The Louvin Brothers' live show several times in the '50s. Hall was a young disc jockey in Kentucky in those days before he became a successful Nashville songwriter and singer, and he thought the Louvins were the "biggest brother thing" of all time. Their show wasn't just about sweet singing, he says; there was also some shaking, rattling and rolling going on.
"I have heard people say that Ira Louvin was the first Elvis," Hall says. "He didn't just stand there on stage; he moved around a lot and the women liked it. [And the Louvins] did something else very unusual: They would trade parts at different parts in the song. Charlie would go from the low part to the high, and Ira would go from the high to the low. It gave their music a very unique sound."
The lifelong closeness that makes brother acts sound so good is the same thing that makes them squabble and break up. You know each other's voices so well that you can blend beautifully, but you also know each other's annoying habits so well that you want to kill each other. Just think of all the successful rock 'n' roll bands famous for feuding siblings: The Everly Brothers, The Kinks, Creedence Clearwater Revival, The Blasters, Oasis, The Black Crowes.
"It's something that happens between brothers," Charlie philosophizes. "One brother doesn't want the other brother telling him what to do. Ira and I worked up what I thought was the solution: I'd take care of the business, and he'd take care of the music. But even that didn't work. We'd be on stage and he'd ask me under his breath, 'What do you want to sing next?' I'd give him a title, because I always had a title ready, and he'd turn around and say, 'Why do you want to sing that damn thing?'
"Mostly, though, it was the drinking. I was a non-drinker, and Ira was a big-time drinker. Any time that you feel that you have to have a drink to do your job, you're fixing to destroy your job. It was a problem everywhere. One of the Delmores was a drinker; one of the Stanleys was a drinker; one of the Wilburns was a drinker. It just goes on and on."
The tension eventually began to take its toll. The duo had its sixth and final Top 10 single in 1958, and its 12th and final Top 40 hit in 1962. Ira began showing up for gigs drunker than a skunk, but when word got back to Nashville, it was always that "The Louvin Brothers were drunk," tarring the innocent Charlie with Ira's sins. The final breaking point was the travel arrangement.
"I won't ride in a car driven by a man who's been drinking," Charlie explains, "and Ira knew that. He made sure he had an ample supply of [drink] when we finished a job or got ready to go anywhere, so I'd end up driving all night. He'd sit there next to me and say, 'As soon as I get off this blankety-blank trip, I'm going to quit this business. I don't know what you'll do, probably work in a service station.' I heard that put-down plenty of times. "After an especially bad night in Kansas City, it took some doing to get him out of bed so we could leave for Watseka. On the way to Illinois, he must have said a dozen times, 'You've heard me say this before, but I'm quitting this rotten business.' So I said, 'You've never heard me say this before, but you're right. This is the last date we'll work together.' And it was."
It was 1963, and Charlie laid the groundwork for a solo career. He patched things up with the Opry, which had banned Ira from the backstage. He got the Capitol contract changed from a Louvin Brothers deal to two solo deals, and he took his wife and his parents on a vacation to Florida.
"When we got back," he continues, "Ira called me and said, 'What time are we on the Opry tonight?' I said, 'What do you mean, "we?" I'll be on the Opry tonight by myself. I told you we were finished.' He said, 'Ah, you know that was just the old whiskey talking.' And I said, 'Every time you speak it's the whiskey talking.'"
Charlie's solo career was an immediate success. The single, "I Don't Love You Anymore," went to #4 in 1964, and he had 16 Top 40 country hits between then and 1974. His warm baritone was still immensely appealing, but it wasn't the same without the high harmony that he could only hear in his head. Ira, meanwhile, recorded several solo singles for Capitol, but they weren't hits. And before he could go back into the studio again, he was struck down by that drunk driver.
In 1971, Chris Hillman told Gram Parsons, his former bandmate from The Byrds and flying Burrito Brothers, that he'd found this terrific singer in Washington, D.C., named Emmylou Harris. Parsons tracked Harris down at a small club in Georgetown called Clyde's. It was pouring outside, and only five people were in the audience, but Parsons was so impressed that he went backstage to meet her. There, among the beer kegs, he tested her to see if she could sing harmony on his favorite country songs. She could. Soon he was playing her all his favorite country recordings, especially those by Charlie and Ira Louvin.
The Louvin Brothers became her new heroes, and when Harris finally got a chance to record an album for Warner Bros. in 1975, she included the Louvins' "If I Could Only Win Your Love." It became her very first country hit, going to #4 in 1975. It gave her an entry to country radio that had eluded Parsons, The Byrds, The Eagles and all the other California country-rockers. Harris went on to record at least half a dozen Louvin Brothers songs, including "When I Stop Dreaming," "You're Learning" and "Every Time You Leave."
"Later, I got to know Emmylou," Charlie says, "and she sang on some of my sessions. She told me the first time Gram played a Louvin Brothers song for her she wanted to know, 'Who is that girl singing the high part?' and Gram told her, 'That's not a girl; that's Ira Louvin.'"
Harris touted the Louvins to every interviewer who would listen. Tift Merritt was one of many young musicians who read those interviews growing up and who bought Louvin Brothers records as a result. Merritt put many of their songs on a cassette tape she wore out on long road trips with her early bands. So she jumped at the chance to sing on "Grave on the Green Hillside" on Charlie's new album.
"I had one of their albums called Tragic Songs of Life," she recalls. "That's the thing about The Louvin Brothers; they were dead serious. The unadorned simplicity they used in their storytelling is the heart of what songwriters are trying to do. 'You're Running Wild' is like the best song ever. We worked up 'You're Running Wild' with my band, but it's not easy for guys to sing that second part."
Charlie's new album, to be honest, is not all that great. His 79-year-old voice is but a tattered remnant of the glorious instrument it once was, and he doesn't even attempt close harmony on most of the tracks. In fact, he wasn't even in the studio when many of the guests, including Merritt, recorded their parts. No, to appreciate The Louvin Brothers' achievement, you have to go back to their original recordings, and the best place to start is the 1995 Razor & Tie compilation, When I Stop Dreaming: The Best of the Louvin Brothers. All 24 of the songs on the disc come from the duo's brief, 11-year tenure on Capitol Records. There might have been more if Ira had straightened himself out and the duo had reunited, but the car wreck ended that possibility.
What might have the second act of The Louvin Brothers sounded like? The only person who knows is Charlie Louvin, and the answer is a ghost harmony trapped inside his head. "I think we might have gotten together again," Charlie says in a low, careful voice. "He was getting his ducks in a row. I don't think he liked what was happening. It could have happened, but that's not the way it was supposed to have been."
Others Tagged With