Band of the Week: Menomena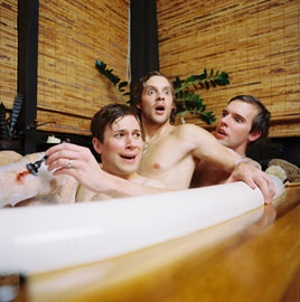 Hometown: Portland, Ore.
Fun Fact: Menomena possesses a fetish for album art. The band's 2003 debut, I Am the Fun Blame Monster! (the title itself is an anagram for "The first Menomena album"), comes with an 80-page illustrated flipbook, and the recently-released Friend and Foe sports a fantastic, chameleonic cover.
Why It's Worth Watching: Menomena's brand of loop-based pop is twice as experimental as most of its peers, and yet somehow thrice as catchy.
For Fans Of: TV on the Radio, Flaming Lips, Clap Your Hands Say Yeah

On paper, Menomena seems to hail from a different time and another planet Danny Seim, Justin Harris and Brent Knopf have been friends since high school and all live within 15 minutes of each other, yet the trio rarely finds the time to gather, let alone record as a band in the same location.
"Each of us has all the songs available to us on our hard drives, and every week or every other week we'll synchronize those to make all the sessions current, and then we continue to add ideas to each other's songs," explains pianist/guitarist/vocalist Knopf. "When it comes time to finalize the mixes, then two or three of us will be there at the same time. Occasionally, we will all record together in the same room."
If the hard drive is Menomena's canvas of choice, then its paintbrush is a computer program fondly referred to as Deeler (short for digital looping recorder). As an undergraduate at Dartmouth, Knopf hand-crafted the software as a tool to aid live performances but never dreamed the bug-filled jerry rig of an invention would have the applications it does.
Simply put, Knopf and his bandmates use Deeler to record fragments of music and then mix and match the best of that material into a collage-like loop of sound. "When we started Menomena, I converted [Deeler] from a MIDI-only application to an audio waveform one, and ever since, we've been using it more and more to write our songs," Knopf says. "We used it on almost every track on Friend and Foe."
Although Menomena's recording approach may be digital, all those ones and zeros can't hide the raw talent present in such a promising band of twentysomethings. Knopf, drummer Seim and multi-instrumentalist Harris are all primarily self-taught, a fact you'd never know from listening to the gorgeous orchestration on Friend and Foe's heavily-experimental latter half. "One day, Justin was like, 'Yeah, there was a sax on eBay, so I bought it,'" Knopf recalls. "I was like, 'Uh, do you know how to play sax?' and he was like, 'No.' Only months later, there was a saxophone in the band."
Likewise, the Portland rockers may be all about drive-swapping and mouse-clicking, but important decisions must still be made live and in the flesh. "When strong-willed people that have very different methods work together, inevitably there's gonna be conflict," Knopf says. "When you're working with someone so closely, they uniquely have the ability to make your day incredible or to ruin your day. In a way, it's kind of like being married."
Others Tagged With