Life, Camera, Action
'Look Upon Me! I'll Show You the Life of the Mind!'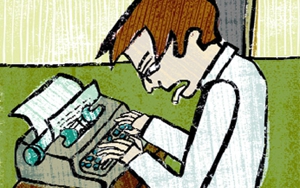 As a visual, kinetic medium, cinema isn't particularly well suited to exploring the work of a writer—the silent ordeal of stringing together words and sentences and the mental exercise of trying to reach out from the page to interact with a reader's thoughts and feelings. No matter how vibrant the prose, the act of writing is about as cinematic as a box of rocks.
But that hasn't stopped filmmakers from trying, at least superficially, to depict writers' lives. Countless films revolve around mild-mannered scribblers surrounded by insanity that must, one day, be captured on the page. They may be caught up in adventures beyond their control, as in Misery, Barton Fink or Swimming Pool, or they may be the agents of their own mayhem, as in His Girl Friday or Fear and Loathing in Las Vegas. Or they may fall somewhere in the middle, like the famous writer in Capote and Infamous.
But these movies focus on the gathering of raw material, not the writing itself. They show us the mining of clay instead of the sculpting, or they sum it up briefly with a shot of a typewritten manuscript placed confidently on an editor's desk (the best work he's seen in ages). They're not insightful about the process, but who can blame the filmmakers for avoiding the drudgery? As the writer played by Jack Nicholson in The Shining says—or types, repeatedly, for days—"all work and no play makes Jack a dull boy."
Stranger Than Fiction, Adaptation and the Danish film Reconstruction subject their characters to the turbulence of the writing process, directly and self-consciously, but the emphasis is not on the creator; it's on the characters, poor souls trapped in the dim space between the ink ribbon and the page, suffering the whims of an omniscient wordsmith. Movies like Memento have such aggressively unconventional story structures that they can't accurately be called literary—they're pure cinema—but the best of them clearly draw ideas from written fiction: The heavily symbolic screenplay for Hiroshima Mon Amour was written by a novelist, Marguerite Duras, and Pulp Fiction's very title reveals its origins.
WHEN THE SPACE TIGHTENS
My favorite film about writing is Chantal Akerman's The Man With the Suitcase, though I've only seen it once. It's about a woman who borrows a friend's apartment to write, unaware that someone else will be using the apartment—a man who arrives with a suitcase and who, by all appearances, intends to be there for a while. On paper, it's fodder for sitcoms or pulpy movies like the aforementioned Swimming Pool.
But Akerman has a long-running obsession with personal space, especially the way it relates to a person's identity, and her ideas are especially fitting in this context. I've heard the film called a comedy, but it doesn't seem funny when the woman stops working and holes up in her room, hiding from the man, listening to his every move, monitoring his comings and goings so she can sneak out for a breath of fresh air or a trip to the shower or the kitchen. Seldom do we see her working, and, yet, unlike many movies about writers who never write, this one is aware that the situation is choking her. Film critic Anthony Lane has said that writing ought to be wedged into real life; that writers are probably at their best when made to huddle in stairwells. Maybe so, but for some of us that's an existence on the edge, dangerously close to not writing at all, not breathing at all. Akerman's story clearly has a feminist undercurrent—the man who goes about his life, cooking, shaving and working, is barely aware of the woman who bends, who crumbles, to accommodate his presence—but it's also a painfully true look at the life of a writer for whom space and freedom are oxygen.
At the end, the man takes his suitcase and leaves for good, the film closing with the joyous sound of a typewriter and a shot of the woman—played by Akerman herself—working. Working! I'm not sure if the end marks Akerman as an optimist or simply a realist, but either way it's a release. The conditions have arisen, miraculously, that allow the writer to write.
Sadly, The Man With the Suitcase isn't available on DVD, and it's rarely screened in the U.S. because no one has bothered to subtitle the French dialogue. When I saw it at California's Pacific Film Archive, an employee read an English translation into a microphone to help us understand the film's few words. So this movie about the fleeting moments that writers crave is itself hanging in a muffled state of hesitation.
Nevertheless, it's locked in my brain, and I should be sleeping instead of writing, so now I'm off to bed to dream a movie-dream and, with any luck, write again tomorrow.
Others Tagged With