Brothers in Arms
Luke, Andrew and Owen Wilson Make a Movie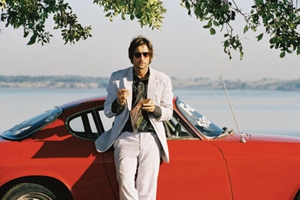 For a screenwriter, a comparison to a literary giant would normally be received as a tremendous compliment. But Luke Wilson takes it in stride—especially when the sarcastic remark is coming from veteran actor Harry Dean Stanton, who stars with Luke and his brother Owen in The Wendell Baker Story. The film, written by Luke, is also co-directed by the oldest Wilson brother, Andrew.
"Harry Dean would complain about me to Owen and Andrew and say, 'Hemingway claims I can't change this line,'" recalls Luke. "And I'd say, 'Look, Harry Dean, I'm all for changing a line if it makes it f—ing better! Otherwise just do it as is!'"
In spite of many such exchanges, Luke says, "it was the best time I've ever had in my life, including Royal Tenenbaums, Rushmore and Bottle Rocket."
"We've forgotten the tough stuff," counters Andrew.
In the film, Luke plays reformed con man Wendell Baker who, upon his release from prison, takes a job at a retirement hotel run by Owen Wilson's character. The cast also includes Seymour Cassel, Will Ferrell, Kris Kristofferson, Billy Joe Shaver, Eddie Griffin and Eva Mendes.
Unsurprisingly, some of the film's best moments are delivered by Stanton and Cassel, whose characters reside in the hotel. Luke would frequently spar with Stanton, whose roles in films like Repo Man and Paris, Texas have earned him near-legendary status. At one point, Luke says he'd forgotten that these were older guys and that shooting a late-night walking scene filled with dialogue might be a little harder for them. "I just thought they hadn't done their homework," says Luke. "I was talking to them the way I talk to a friend, and you forget that Harry Dean is almost 80; Seymour's 77. I'm so lucky they even did it."
So after numerous takes, he began to prompt the actors off-camera. "I was barking lines out to them. And they said, 'That's not the way we work'. And I was saying, 'Well, what the f- do you want to do if you don't have the dialogue memorized? We don't got time for this bullshit!' And I glance over, and there's Lance Armstrong, the one day he decides to visit the set. This great champion, and he knows me as this guy that yells at old people."
The entire film was shot in and around Armstrong's hometown of Austin, where Owen met Wes Anderson while attending The University of Texas in the early '90s. With help from Luke and Andrew, they made a short film called Bottle Rocket that was picked up by Sundance and then developed into a full-length feature, directed by Anderson and co-written by Anderson and Owen. (The two teamed up again for Rushmore and also The Royal Tenenbaums, for which they received a Best Original Screenplay Oscar nomination in 2001.) Portions of The Wendell Baker Story feel similar to early Wes Anderson films, especially Bottle Rocket. "I'm glad to get roped in with those other movies," says Luke. "But it wasn't really done intentionally. I think it's just one of those things where you get people that are kind of related or super-close, so you get similarities."
While Luke now makes his home in Los Angeles, he says of Texas—where the Wilson brothers were born and raised, and a place prominently featured in the film—"It's never lost its luster for me. In 12 years or so being in L.A., I think I have about two or three really close friends that I would include in with Andrew and Owen. My friends I grew up with always say 'Yeah, Luke's never changed and we don't mean that in a good way.' I mean I don't have any interest in, like, hanging out with Madonna."
Screenwriting is something Luke has seriously taken to heart. There's a line when Cassel's character convinces Wendell to go get his woman (Eva Mendes) back from Dave Bix (Will Ferrell). "And not just because you don't like the idea of some dude sweating on her!"
"I can't remember where I got that but I feel like it's the kind of thing I have to have overheard. And I feel like that's where so many good lines come from. To me the lesson is to always keep a notebook. I can remember reading about Sam Shepard carrying a notebook around." Instead of finding music to fit the finished film, Luke included specific songs in his script, including first-rate cuts from albums by Bob Dylan, Beck, Mick Jagger and Johnny Cash, among others. "I was always conscious while writing, searching for stuff that I love."
The film had been sitting in what Andrew referred to as "Hollywood purgatory" for a few years because the first two studios producing it went out of business. "We did work hard on it, and it did take a long time for it to come out," says Luke. "It's just a simple, free-wheeling comedy. It's not like it's this incredible epic or something. It's just a simple movie about a simple guy."
To read Luke Wilson's comments on the cast he worked with on The Wendell Baker Story, read this article's sidebar here.
Others Tagged With