Parker Posey
Loving the spin she's in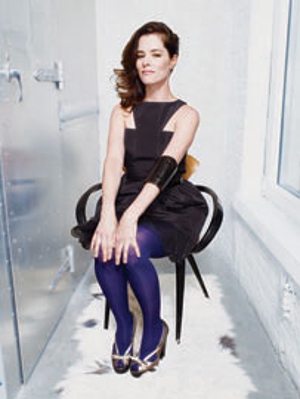 Parker Posey is twisting herself into a pretzel.
OK, maybe you wouldn't call it a pretzel. More like Winged Victory ornamenting the hood of a vintage Bentley, zooming through the English countryside with some petulant rock dude in the driver's seat. No, hold up. That's almost cheesy. And the peculiar vectors the lithe actress is bending her limbs along, as the late-afternoon light pours through massive windows in an endless loft facing the Hudson River, are not cheesy at all. They are… transformational. Parker Posey is busting out her crazy new yoga moves—just a spur-of-the-moment thing before the photo shoot. Only it feels like an every-moment thing. You can easily imagine that on any given afternoon, anywhere in the world, the petite actress might bolt up from her makeup chair in an excitable swirl and do what she's doing right now.
She has her left foot against the wall, and she's pointing her right knee forward, like Wonder oman crouching to leap off a skyscraper. She's improvising these little motions with her hands, too, which may be part of the technique imparted to her on a recent visit to New Mexico, ancestral home of crash-landed Martians, the hydrogen bomb and, apparently, the kick-ass yogi who taught one of America's most congenial screen presences how to become human origami. "Oh yeah!" Posey exclaims, gesticulating while somehow holding her arcane pose, which doesn't look nearly as painful as it does improbable. Gracie, her three-and-a-half-year-old Bichon-Maltese mix, looks on in canine wonderment. "And then we had to go like this…" She purses her lips, pushes tongue to palate, and mimes a mosquito: Zzzzzzzuhtttttt!
No, Posey is no stranger to buzz. She's generated it her entire professional life, beginning in 1993 with her major film debut in Richard Linklater's Dazed and Confused. As Darla Marks, the whipped-cream wielding scourge of incoming freshmen girls at an Austin, Texas-area high school, she made an immediate impression amid a cast of future all-stars that included Matthew McConaughey, Ben Affleck and Joey Lauren Adams. Not long after the film's release, Posey was at a Halloween party in New York and saw someone dressed up as the gum-smacking, rainbow-denimed Darla. Voila! She was now a hipster icon. It's a status the urbane Mississippi native has sustained through 50 subsequent films, an array of big and little pictures in which she's displayed an unabashed vivacity her peers can't touch. That many of these films are cult favorites—like Party Girl (1995), The House of Yes (1997) and each of Christopher Guest's mockumentaries (most notably 1996's Waiting for Guffman)—gives Posey some added cachet when she turns up in the occasional suburban multiplex spectacle, an FX-laden Blade, Scream or Superman sequel here, a hanky-soiling You've Got Mail there. Even the least of these "money jobs" becomes instantly more pleasurable—and somehow knowing—during Posey's transit across the frame. Audiences love her because she charges up idiosyncratic characters with a charming mix of chin-up pluck and vulnerable humanity.
Such qualities loom large in Posey's latest ventures, which offer varying perspectives on some common themes. If, for years, the actress has been cast in a consistent light, applauded as the archetype of a certain freewheeling New York sensibility, she's eager to shake that up. As the namesake of Hal Hartley's Fay Grim, Posey revisits her role in that cult-film-of-all-cult-films, Henry Fool (1997). Her character is now a single mother and a neophyte spy, who chases clues from Queens to Berlin to Istanbul in pursuit of the vanished Henry and the mystery of his curious notebooks, now believed to be linked to the terrorist attacks of Sept. 11, 2001. It's as unlikely an international action thriller as anyone could imagine (cars blowing up in a Hal Hartley movie?), and perhaps—even in its talky, cerebral way—it gives Posey her "Bond Girl" moment. But it's also the story of an emotional quest, which requires she be seen as a fully grown woman, not a glammy gamine in a weightless pas de deux with I Love the '90s! zeitgeist. Likewise, in Broken English, the new thinking-gal's chick flick directed by Zoe Cassavetes, Posey takes on a role that's a logical fit for her 38 years. Her Nora is much like the '90s' "party girl" after the party's over: Single and bored with her job as a hospitality wiz at a trendy hotel, she has a passionate encounter with a raffish French guy, and has to decide if she wants to follow him to Paris.
"It's an every-woman-who-is-our-age kind of story," says Cassavetes, the 36-year-old daughter of American independent-cinema legends John Cassavetes and Gena Rowlands (who plays Nora's mother in the film). Making her feature debut as a director, with only 20 days to shoot in New York and Paris, Cassavetes had even more than usual riding on her lead performer. Posey was pretty much the only name on her list. "I like her whole inner life," she continues. "Parker's one of my favorite actresses ever. I've been to every play and every movie. I felt like I knew her. In the fantasy casting world, I thought maybe Parker would do it. Then I had tea with her for three hours and we didn't even talk about the movie. finally, I asked her, 'Do you think you'd like to do it?' And she said, 'Yeah, let's do it.' Like that!"
We follow Cassavetes' lead and meet Posey for tea one afternoon near Chelsea, at her favorite macrobiotic restaurant. There, we consume several cups of a brew called Mu 16, which according to our menu contains licorice, ginseng, peony root and a dozen other herbal essences—Mu 16 is not only flavorfully addictive, it induces a faint glowing sensation. There's a lot of talk, though not much about movies, which somehow seems logical. Posey has just returned from one of her "money jobs"—she plays Jessica Alba's big sister in a remake of the Hong Kong horror flick The Eye, in which a corneal transplant goes very, very wrong. There will, apparently, be lots of blood and screaming and creepy interludes, though as Posey puts it, "I'm glad I could just do the sister and be kind of clueless."
But Posey's trips to the American Southwest had a cosmic effect on the actress, plunging her into some serious Eastern discipline. "New Mexico was cool," she begins, as we await the kale, brown rice, salmon and various root veggies that will soon blanket the small tabletop. "I hung out. I got into the whole Ayurvedic thing. It was really cool. I quit smoking and stopped drinking coffee. I just want to balance myself holistically and see what different foods do what to me." She pauses momentarily.
"I have a parasite," she confesses.
Did you give it a name? Like Bobby?

"I haven't named it yet. But I think it looks like a gremlin, like a microscopic gremlin. Maybe there are a lot of them. They like certain kinds of foods, like sugar and wheat. It's really hard. At first, I was really craving it. Wheat is in everything; sugar is in everything. I'm eating cereal. But I gave it up. I was drinking chai lattes from Starbucks. They're full of sugar. It's a sugar drug. But, yeah—I had some cool things happen over there. I liked Albuquerque a lot. Great flea markets."
Don't forget Route 66.

"Route 66. They had a Route 66 oven mitt. I almost got it; I should have gotten it. I just like that kind of hippie-burnout scene. It really is an enchanted place. I was flying down the freeway just exhilarated at the no-traffic."
Posey also drove to Taos and visited the Hanuman Temple, and in Santa Fe she befriended an Ayurvedic chef named Prakash. She also bought souvenir socks. "[They] had a snake on them," she says. "They had an alien, too."
Do you believe in extraterrestrial life?

"I was reading this book called Close Encounters of the Fourth Kind," she says. "It's really, really good if you want to believe in that stuff. There's a UFO convention, and no one's ever gotten together to explain what an abduction is. C.D.B. Bryan—he's like a legit writer—he went there and then he follows these women. He decides to go live with some people out there and see for himself. It was around then that I put the book down because I got scared. I had dreams of conehead aliens when I was little. Before Saturday Night Live did it. And then they came out with them, and I went on to be a glorified extra in the movie. When everyone else was laughing, I was scared. I remember I was in the garage, and they were surrounding me." Posey takes another sip of Mu 16, and her instant of childhood terror evaporates with a perfectly Parkeresque rejoinder. "Maybe it explains my parasites."
Her extensive travels to foreign-location shoots for Cassavetes and Hartley might've been enough to cause at least some indigestion, but—more importantly—they seem to mark a turning point that began a couple years back with Posey's appearance in Rebecca Miller's Personal Velocity, moving beyond ingenue-type roles. The arc may continue on television now that Posey is starring in the pilot for a new Fox sitcom, The Return of Jezebel James. Conceived by Amy Sherman-Palladino (The Gilmore Girls), the show casts her as a divorced children's author who asks her younger sister to carry her child. Though she's previously guested on Will and Grace and Boston Legal, Posey has never cottoned to prime time. Clearly, she's up for new adventures. After all, it's ironic that someone so identified with New York would have to hopscotch around the world to find two of her most significant roles.
"The kind of role that would have been good for her 10 years ago—she doesn't want to do those anymore," says Hartley. As singular in his filmmaking as Posey is in her acting, the director was an early admirer. He cast Posey for a small part in 1993's Flirt not long after she graduated from SUNY-Purchase, where her fellow alumni included Stanley Tucci, Nick Gomez, Wesley Snipes, Edie Falco and Sherry Stringfield, formerly of E.R., who was Posey's roommate. While every struggling actor takes parts in no-budget independent efforts, Hartley notes that Posey had a nose for winners. "She knows when something is right for her. A lot of the films she did unpaid got distributed. I think she did like four out of 10 that way. She's good at reading scripts."
Hartley has offered Posey many parts through the years that she's turned down. "She's the first to say, 'There needs to be someone younger than me,' or 'somebody more together than I am.'" Fay Grim has been looming for several years. "We used to joke while we were making Henry Fool that it would become an ongoing series," he says. "It would be our own personal Star Wars."
Fay Grim is yet another of Hartley's dialogue-rich projects. Bouncing along to its own uncanny frequency, it requires a keen grasp of rhythm. This, Hartley says, comes naturally to Posey. But the challenge cuts both ways. "It's been the big ambition of mine to make the Parker Posey movie," he says. "And it needs to be bigger than life because she's just that dynamic."
Posey—whom co-star Jeff Goldblum likens to Martha Graham in her innate feel for on-camera movement—pretty much holds down every scene, carrying a twisty plot that tangles mock-literary intrigue with 9/11 conspiracies and the heightened, absurdist tone at which Hartley excels.
"Oh, I love him," Posey says. "He's so special."

What's so special about him?

There's a long pause. Posey leans back for a second or two.
"He's a musician, you know? He writes music. And he's also a great writer. He's highly intelligent. He's a natural at screenwriting—and he paints. He's such an artist. He really is. That's why he's talked about, and misunderstood, and people have such strong reactions to his work. He's also studied film. He's… you know, he's a real… dork! And he loves women. He loves to see them move. And he's got a great sense of humor. You show up and you are shown what to do and where to move when, and when to say your lines, and it's all about creating a certain energy around a character."
As talkative as she is, the actress isn't given to extensive dissection of her onscreen experiences. She'd rather share her iPod earplugs with you and play music critic, championing her favorite new bands, like Texas outfit Midlake and clever Swedish popsters Peter Björn and John. She dials cautiously through the mp3 menu to make sure you're hearing just the right song, then watches intently for your reaction. And she also wants to know what you've been listening to lately, eagerly scribbling down your suggestions. Posey gets her cues from Greenwich Village record mecca Other Music, whose clerks become happy tastemakers when she strolls through their door. And, upping her musical cred even more, Posey has sung backup for ex-boyfriend Ryan Adams, and she picked up mandolin for her role in A Mighty Wind, later guesting on a Dandy Warhols record.
Of course, she loves to talk about other people's movies ("Miller's Crossing. Oh my God. Marcia Gay Harden is so amazing in that!"), or what it was like drinking tea with strangers on a ferry in Istanbul, or the feeling she got walking around various European cities. "I went back to Paris with Zoe's movie twice," she says. "It's a sad place to go alone. Really, really sad. I'll never go there alone again. Both of the parts were women alone looking for someone, so, yeah, that shades everything. In Berlin, I didn't care that much about speaking the language. There's something a little more introverted about Berlin than Paris. You can be more removed. They have words that translate to 'I'm so happy I could jump off my roof of this building and kill myself.' There's a word for that! Germans are very intense people … Did you know the actual word for flight attendant translates to 'juice pusher?' Isn't that bad? We say 'stewardesses' and everyone flips out."
The concept of solid roots has become more significant for Posey amid her recent travels. Born in Baltimore, she was raised in Monroe, La., and Laurel, Miss., where her father, a Vietnam veteran, ran a Chevrolet dealership. High school sucked for her, as she mentions in the behind-the-scenes footage from the Criterion edition of Dazed and Confused. She wasn't a domineering Darla, but the kind of kid for whom small-town life was lacking necessary stimulation. The background, though, has served her well. Who can forget the yearning of her Missourian Dairy Queen waitress in Waiting for Guffman? Or fail to note, in her bubbling loquaciousness, something inherently Southern? Skipping away to college in upstate New York was just the ticket. "It was a great state school for acting," she says of SUNY-Purchase. "They took on special people. The SAT, ACT, [I figured] I didn't need those for what I'm doing—Mom and Dad!—And I didn't."
Ever since, Posey has been a habitué of the city more or less. Mention her name to almost any socially active New Yorkers who watch movies and they'll probably tell you about the time they saw Parker walking Gracie in Union Square—"She was wearing Burberry"—or spotted her at the Brooklyn Museum, or in St. Mark's Books, just around the corner from the old apartment she fixed up on East 10th Street.
"I always wanted to live here," she said to me once, on another occasion, after she'd been in one of those little movies almost nobody saw. "Something about it always excited me. You can be a loner here and still be surrounded by people. You can really live your life like a story, and fly by the seat of your pants. Or you can stay home and order in. You can consume as much experience as you can stand. There's a lot of risk. I like risk."
Later, while amusing her publicist and makeup artist, Posey recounts a dream. She was outside and she was cold, and an old man approached her, offering his coat. Once she wraps it around her shoulders, though, she realizes that it's kind of smelly. She looks at the man and realizes that he's a bum. "I'm homeless," she thinks to herself, suddenly realizing that she's just like her unwashed benefactor. Maybe such subconscious stirrings are part of why she's thrilled to finally own a house, which she recently purchased upstate, near Hudson, N.Y. "I'm going to be a nature mama," she promises. "That's a dream. A garden. I just spent my first weekend there. It gave me such a sense of home."
For now, Posey is—as ever—in motion. Whether due to the ancient and sacred healing arts of the Indian subcontinent, her excitement at having gathered up Gracie for the afternoon's adventure, or her free-spirited vavoom, the actress bounds through a world most people view from their couches. It's no wonder that on Sunday afternoons in Istanbul, when the rest of Fay Grim's cast and crew were off watching Turkish baseball games, Posey made her pilgrimage to the city's Sufi monastery to watch the monks, also known as the Whirling Dervishes.
"I love that," she says. "Sufi stuff is so beautiful. It was so gorgeous I can't even tell you, just to see these people in this meditation. They're all dressed up and they start this churning, one hand out to God the other hand out to mankind. And the cone they wear on their heads, the cone is the ego, and it symbolizes the release of the ego. When they turn they're just a complete vessel of energy. They are nothing and they give out everything! They're in a trance. I was so moved I was crying. It was sooooo beautiful. I love that kind of devotion. … I practiced spinning at the hotel later, and I fell down in the lobby."
Clearly, the path to becoming a Sufi adept is as long and tricky as the one to becoming a great American actress. Of course, a little grace and charm never hurts.
A girl working in the hotel lobby ran to the fallen tourist's aide. "She told me, when you practice, you must close your eyes," Posey says. "If you close your eyes, you see God. Isn't that lovely?"
Others Tagged With