Dispatch
Reuniting for the Greater Good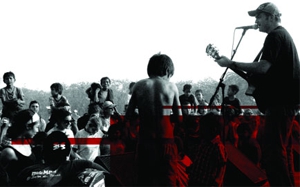 Click here to return to the issue 33 cover story home page.
Brad Corrigan is crouching on stage, surrounded by amps, speakers and microphone cables. A crowd of rowdy college students dances below him while his Puerto Rican percussionist, Reinaldo de Jesus, and Brazilian bassist, Tiago Machado, settle into a Latin/reggae beat. Smoke drifts over them.
Only the smoke isn't fake machine-pumped concert smoke. It's the real thing, streaming from a 40-foot-high ridge behind Corrigan, where piles of trash have been burning all afternoon. The stage is a flatbed trailer. The rowdy, dancing students all have Nicaraguan kids perched on their shoulders, laughing and grinning and swatting at each other in the dust and haze. And Corrigan is squatting so a little cross-eyed boy—who looks about two years old, has a belly distended from malnutrition and isn't wearing any shoes—can strum his guitar while Corrigan fingers the chords. They laugh at each other. A few seconds later, Corrigan pops back to the mic and continues the song, in Spanish.
He's putting on a full-fledged rock concert in Managua, Nicaragua, literally in the middle of a trash dump. The North Americans in the audience are Corrigan's friends and family, plus a few busloads of college students on a spring-break service project. The Nicaraguans enjoying the show are residents of La Chureca, a shantytown community located in the dump itself.
It's a far cry from Madison Square Garden, where Corrigan will soon take the stage with Pete Heimbold and Chad Urmston, his old bandmates from eclectic cult-favorite indie trio Dispatch. The group is briefly reuniting for Dispatch: Zimbabwe, a three-night benefit concert, with all proceeds going to organizations fighting disease, famine and social injustice in the embattled African nation. Though these shows aren't until mid-July, they've already made history. Dispatch is the first indie band to headline and sell out the Garden. Originally conceived as a one-night set, tickets for the concert were gone within the first 30 minutes of sales. So two more nights were added. They, too, sold out immediately. The band was offered additional dates but turned them down.
Which leads us to the nagging question: Who are these guys? Dispatch began in 1995, when Corrigan, Heimbold and Urmston met as students at Middlebury College in Vermont. They quickly earned a dedicated regional fan base, playing show after show in Boston and New York, and releasing several studio and live albums on their own label. They became known for their difficult-to-categorize, rock-roots-reggae fusion, intricate harmonies and instrument swapping (all three shared singing and songwriting duties, including Corrigan, who's generally identified as Dispatch's drummer). The trio hit its stride during the Napster file-sharing heyday, and within a few years—after the sale of a few hundred thousand independently released CDs—had become a word-of-mouth sensation on the East and West Coasts.
Then they more or less broke up in 2002, officially closing shop in 2004 with The Last Dispatch, a free outdoor performance at the Hatch Shell in Boston. An estimated crowd of 110,000 people—far more than the attendance for Phish's farewell concert at Coventry just a few weeks later—showed up from as far away as South Africa and Australia. It's generally considered to have been the largest independent concert in music history. The guys were stunned. "We went out on top," Corrigan says.
Then it was over. All three embarked on solo projects. Urmston now heads up State Radio. Heimbold records as Pete Francis. Corrigan tours as Braddigan.
Which leads to yet another question: What's with the trash-dump rock show?
"Music has always been the most powerful conveyor of social justice," says Corrigan, who's spent the last three years dividing his time between music and a humanitarianism fueled by his Christian faith. His platform as a musician, he says, allows him to tell the stories of suffering people and overlooked communities.
The dump village, La Chureca, is one of them. Its families typically subsist on less than a dollar a day, earning money by picking out recyclable aluminum and plastic from the garbage. Many of their kids are addicted to sniffing glue; the cheap high masks their hunger. Young girls are forced into prostitution to provide extra income for their families. And it all takes place among this heartbreakingly apocalyptic landscape of garbage, smoke and ashes.
The concert there is the culmination of "Día de Luz" (Day of Light), during which Corrigan and his volunteers spent an afternoon working and playing alongside the people of La Chureca. He organized this event to bring attention to the devastated community, hoping to do for it what Dispatch will do this month for the crisis in Zimbabwe. And while a trash dump is no one's idea of a passable concert venue, it does have a certain Dispatch-y feel to it—a grassroots-style, root-for-the-underdog idealism.
While neither Urmston nor Heimbold were able to attend Corrigan's event, both have long identified with the activism behind it. "The three of us always talked about how music can be an avenue for awareness of suffering in the world," Heimbold says. "It's the best art form for that."
Urmston echoes that sentiment. "For the little man trying to make his voice heard, music can give a voice to the voiceless," he says. Part of the Dispatch legacy is the establishment of The Elias Fund, a nonprofit educational and community-development organization for Zimbabwean youth. The organization grew out of the popularity of the band's song "Elias," which Urmston wrote about a gardener he met while living in Zimbabwe in 1994. Among other things, the fund is providing scholarships to educate the real-life Elias's sons.
"We started it, but the fans took hold of it," Heimbold says of The Elias Fund. "Music brings people together. It's healing."
And yet music's healing power wasn't strong enough to keep Dispatch from calling it quits at the height of its popularity. What was it that prohibited these three guys—all humanitarians, all dedicated to making the world a better place—from getting along with each other? Why couldn't they make it work? Their answer is simple: the same idealism that connected them also led to their demise.
"We always said we'd stop playing when the band, as a business, got in the way of our friendships," Urmston says. "We maintained it on the power of genuineness with each other. We wanted to stay honest. But when we stopped in 2002, that honesty and sincerity were around the corner from walking out on us." He attributes it to the vast transitions people undergo between those early college years and real-world adulthood. "We grew into different people from age 19 to 27. Different personalities, different ideologies, different career goals. We were an equal partnership, but we weren't in the same boat. We didn't have a captain. It was time to stop."
Today the guys live in different cities—Corrigan in Denver, Heimbold in New York, Urmston in Boston—yet they remain close. They keep up with each other's families. They've been known to sit in on each others' gigs when their traveling and performance schedules match up. They briefly reunited on stage in late 2005, when Corrigan invited State Radio and Heimbold to contribute tracks to The Relief Project, a live benefit CD and concert he put together.
"All of us still love and support each other, but we appreciate our differences," Corrigan says. "Zimbabwe is so off-the-charts in terms of the need there, we can set aside those differences for three days."
While a Dispatch reincarnation or reunion tour has never been something the guys seriously considered ("I don't want [the cast of] Seinfeld to get back together either," Corrigan says), the success of their farewell concert made them aware that, as a band, they had a lot more power than as three individual artists. "The Boston show blew our minds. What kind of money could we raise if we got back together?" Urmston says. "Initially, I was up for it as long as it was for a good reason."
They found that reason in Zimbabwe, through their connection to The Elias Fund. "The three of us have friends there," Corrigan says. "They tell us what they've seen."
"We'd all been keeping up with the atrocities happening in Zimbabwe, and the lack of humanity there," Heimbold adds. "I read almost every day about the inflation, the starvation, the disease." Separately, all three are able to list the sickening stats that have piled up during the last few years of Robert Mugabe's rule. Skyrocketing inflation and unemployment rates have resulted in severe poverty and near-starvation for millions. Coupled with recent droughts and the spread of HIV, a once-prosperous country has become a desperately poor one. "After Rwanda, we said this kind of thing would never happen again," Corrigan says, "but no one seems to be intervening. We totally have the ability to swing a spotlight over there."
And it may not end with Zimbabwe. All three band members indicate that this may be the first in a series of Dispatch reunion concerts—one, perhaps, every couple of years—for a greater cause.
"Music is so universal," Urmston says. "It's a gateway. It lets us start a dialogue about issues that are important to us, that need to be discussed and brought to the surface." Along with his good friends and former bandmates, he's hoping Dispatch: Zimbabwe will have that effect. "But if people just like the music, you know, that's cool, too."
For more information, visit EliasFund.org.