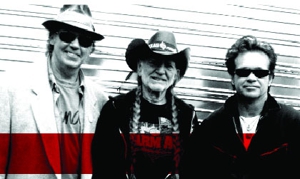 Click here to return to the issue 33 cover story home page.
It began in summer of 1985 at Live Aid, the U.S./U.K. Ethiopian famine relief concert, with a passing comment from Bob Dylan. Surveying the masses gathered at Philadelphia's JFK stadium—knowing it was being broadcast globally—he offered, "Wouldn't it be great if we did something for our own farmers right here in America?"
Willie Nelson, John Mellencamp and Neil Young—the latter in the midst of recording roots-country album, Old Ways—were listening. The collision between increasing industrialization, the rising cost of equipment and falling crop prices had thrown family farming, what many considered the foundation of the United States, into crisis.
Each week, 330 family farms were being lost. The generation-upon-generation heritage of land worked to feed the nation buckled under the harsh reality of the increasing costs of doing business.
So the three musicians decided that something had to be done. Calls went out to experts, friends and artists. "We have to keep the family farmer on the land," said Young vehemently. "This is the backbone of our country. … If we lose that, we lose everything."
On Sept. 22, 1985—less than six months after Live Aid—it came to pass: Farm Aid, a fund-, awareness- and community-raising concert at the University of Illinois football stadium. On that cold, rainy day in Champaign, Young, Nelson and Mellencamp were joined by Dylan, Tom Petty, Roy Orbison, Eddie Van Halen and Sammy Hagar, Merle Haggard and a host of others for an all-day show that began a two-decade-plus commitment.
Since then, Farm Aid has raised $29 million, convened conferences for family farmers, provided counseling, support and disaster relief, affected Congressional legislation and remained a nagging reminder about profit margin versus an investment in the quality of our sustenance. "The fight to save family farms isn't just about farmers," explains Nelson, reaching beyond the obvious to define the larger impact. "It's about making sure there is a safe and healthy food supply for all of us. It's about jobs from Main Street to Wall Street. It's about a better America."
Along the way, Farm Aid began the Good Food Movement, offering grants to build connections between farmers and consumers—a cornerstone for "locally grown" food movements, where sustainability is key. Family farmers are more concerned with maintaining the soil, because it's their heritage and livelihood. That means fewer chemicals and healthier food on everyone's tables.
It also means the convergence of socially conscious musicians at shifting venues across the nation—Lincoln, Neb.; Ames, Iowa; New Orleans; Louisville, Ky.; Indianapolis, Ind.; and Tinley Park, Ill. In 1990, Elton John provided a defining moment of compassion, flying in as his friend Ryan White, the first child stricken with AIDS, lay dying, to sing a hushed "Candle In The Wind." But so have Stevie Ray Vaughan, Beck, Don Henley, Bonnie Raitt, Steve Earle, Crosby, Stills & Nash, Paul Simon, The Highwaymen (Johnny Cash, Waylon Jennings, Kris Kristofferson & Nelson), Bruce Hornsby, Dwight Yoakam, Phish, the Allman Brothers, John Prine, Emmylou Harris, Sheryl Crow, Billy Bob Thornton, Brooks & Dunn, Lucinda Williams and Los Lonely Boys, amongst many others.
In 2001, Dave Matthews joined the troika of founders as a guiding member, but this musical Mount Rushmore strives to keep the focus on the issues: ensuring a safe, healthy, fresh food supply and maintaining a legacy of commitment to the land. With 80 cents from every dollar going into programs, Farm Aid gives a collective voice for the net of small farmers whose struggles often preclude their individual ability to be heard in the fray. Farm Aid is a reminder of the consequences of a domestic farm policy that supports setting market prices according to the needs of multi-national agribusiness, rather than recognizing that it's really about what we're putting in our bodies. There are long-term health consequences beyond the P&L statement.
For more information, visit Farmaid.org or call 1-800-FARM-AID.