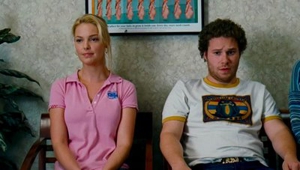 Director: Judd Apatow
Writer: Judd Apatow
Cinematographer: Eric Alan Edwards
Starring: Katherine Heigl, Seth Rogen, Leslie Mann, Paul Rudd, Jason Segel, Jay Baruchel, Jonah Hill, Martin Starr
Studio/Running Time: Universal Pictures, 129 mins.

"She don't care what her mama said, no
She's gonna have my baby
I'm taking all I have to take
This taking's gonna shake me"
-Kings of Leon "Knocked Up"

In 2005, The 40 Year-Old Virgin helped turn Steve Carell into a 40-year-old box office star. Bringing much of the same cast, sans Carell, writer/director Judd Apatow is back with the fresh and hilarious Knocked Up.
Ben Stone (Seth Rogen) and his three slacker housemates have some lofty goals: Get high, get laid and get an adult website started, though getting a real job is not a priority. When Ben has a one-night-stand with the beautiful and ambitious Alison (Katherine Heigl), who is out celebrating her promotion on E! Entertainment Television, it becomes obvious at the morning-after breakfast that alcohol makes for strange bedfellows. The couple is reunited a few weeks later when Alison realizes she's pregnant and wants to have the child. Ben decides to support her and an out-of-necessity romance begins.
Although the story is mostly a vehicle for some great site gags and rollicking dialogue, Ben's struggle to make the transition from childhood to manhood - despite the fact that he's already an adult - will resonate with a lot of guys. With sparkling performances from Rogen and Heigl, Apatow once again shows his sharp eye for talent and continuing knack for hits.
Others Tagged With