Pirate Radio On the Rise
Brave (Foolhardy?) Dissidents Defy the Feds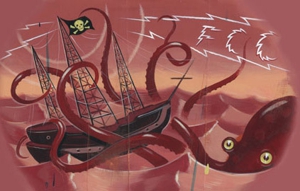 As you read this, a man named Monkey is loose in the hills of San Francisco.
Monkey. That's his nickname, his handle if you will. He won't tell me his real name because for the past 11 years he's been one of 33 staffers running an illegal radio station, playing a cat-and-mouse game with the FCC. And when you tangle with the Feds, you tend to keep a low profile and end up with aliases like, well, Monkey.
But he's out there. And if you tune in to Pirate Cat Radio 87.9 FM you will hear him and his fellow renegade DJs like Pixie and Dr. Hal put on shows for devoted Bay Area and Los Angeles Basin listeners. There's no doubt people are listening.
That's right, illegal radio, pirate radio, microbroadcasting, low-frequency radio transmission—call it what you will—is back after what seems like a Millennium's snooze.
Maybe you thought the pirate-radio craze peaked sometime around 1990's Pump Up the Volume and rolled back into the flotsam of 20th Century outlaw pop culture. If so, you'd be wrong. According to the FCC, and if you're to believe the general low-frequency buzz and chatter, there are at least 100 24-hour-a-day pirate radio stations in the U.S., out there working microphones, building transmitters, sharing designs, cranking out tunes and conducting interviews.
"It's hard to really tell how many stations are out there because of the nature of pirate radio," Monkey says. "Sometimes they're quiet. Not all go 24-hours-a-day."
But they're out there, say people like Monkey, and they're creating an off-the-grid selection of not-ready-for-prime-time radio and setting it loose over the open airwaves. Imagine a million little Christian Slaters (aka "Happy Harry Hard-ons"). But this isn't Hollywood and Monkey is no Happy Harry.
FCC on the Prowl
According to the Federal Communications Commission, a record 185 unlicensed radio pirates were fined or warned by the FCC in 2006, up from 151 in 2005 and 92 in 2004. fines can be as high as $100,000 and up to one year in jail.
The FCC Enforcement Action Summary, a comprehensive online database consisting of media reports and FCC statistics, reports that in 2005 there were five raids, 89 "visits," 44 letters, three convictions, six seizures and no fines. In 2006 there were six raids, 129 "visits," 112 letters, five convictions, six seizures and 13 fines for $134,500. One month into 2007, there was already one raid, one "visit," one arrest, one seizure and two fines totaling $10,500.
"I definitely see a rise," Monkey says. "I see more and more people getting into this kind of broadcasting." And he doesn't mean CBS or NPR.
Mary Jones, who, with Jeff Pearson, worked for eight years on the documentary Pirate Radio USA—which premiered at the Austin film Festival this year—also sees an overall increase. "I would think there's more of it going on the last couple years given the current political situation and increase of media conglomerations," she says. "There are fewer voices and a growing need for more voices."
To combat the rise of radio-pirate activity, the FCC has boosted its 2007 budget by more than $1 million and has created a fleet of mobile units to seek and detect offenders, and conduct raids. But the 333-person enforcement bureau, which polices everything from rogue faxers to illegal cable and telephone operators, still has an overflowing plate.
According to Monkey, the station has 10,000 listeners on its website PirateCatRadio.com and has operating expenses of about $800 a month. Through two well-hidden transmitters, Pirate Cat Radio can be heard through most of San Francisco—from Palo Alto to Marin County and throughout the L.A. Basin.
Legal justification?
As the number of listeners grows, Monkey and his merry band of pranksters at Radio Cat have been holding off repeated letters from the FCC demanding the station cease and desist. The secret weapon? An obscure Federal law that the station cites each time they are contacted by the FCC:
Title 47 Section 73.3542 of the US Code of Federal Regulations reads, "Authority is granted, on a temporary basis, in extraordinary circumstances requiring emergency operation to serve the public interest. Such situations include: emergencies involving danger to life and property, a national emergency proclaimed by the president or the Congress of the USA; and the continuance of any war in which the US is engaged and where such an activity is necessary for the national defense or security or otherwise furtherance of the war effort."
"So," says one of Monkey's colleagues to a local reporter. "As long as we have a war in Iraq or a war on drugs we're OK."
Stephen Dunifer, the global grandfather of pirate radio—who fought a decade-long battle with the FCC in the federal court system to keep Free Radio Berkeley on air—says the boost in numbers is more a combination of intensified interest by the FCC coupled with a small boost in the numbers of illegal stations. But he doesn't agree with playing cat-and-mouse with the Feds using an obscure law. "It's a cop out," he says. "I think they should be up front and say it's a free-speech issue. It's a free-speech issue, and something needs to be done about it. Our own free radio is one answer."
Dunifer now heads TUPA, Transmitters Uniting the People of the Americas, which teaches how to start and operate pirate radio stations at a cost of about $2,000.
Like Dunifer, Monkey believes that the FCC can spend all it wants on shiny new vans that seek out illegal radio broadcasters ("It's just more high tech toys for them to play with"). Monkey takes a strong-chinned approach. "The only thing that's taken us off the air is the landlord when he threatened to evict us," he says. "Never the FCC."
So Monkey isn't worried. And while he'll tell you he got his simian tag in junior high school, he won't for one second consider sharing his real name. For now, he's keeping a low profile.
Others Tagged With