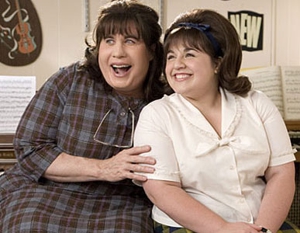 Director: Adam Shankman
Writers: Leslie Dixon, John Waters, Mark O'Donnell
Cinematographer: Bojan Bazelli
Starring: Nikki Blonsky, John Travolta, Christopher Walken, Amanda Bynes, Zac Efron, Michelle Pfeiffer, Queen Latifah, James Marsden
Studio/Running Time: New Line Cinema, 117 min.

"Look at that little girl
Look like a Georgia Peach
She doing that thing
From her head to her feet
Oh, they got that thing
On American Bandstand."
-Buddy Guy "American Bandstand"

Hollywood never ceases to surprise. This time, they've taken the director of some embarrassingly mediocre films (Adam Shankman: Cheaper by the Dozen 2, The Pacifier, Bringing Down the House), combined his efforts with the inventive talents of a truly twisted independent filmmaker (John Waters: Pink Flamingos, Polyester) and made the most refreshing and enjoyable musical of this century—Hairspray.
Adapted from the 2002 Broadway musical, which was adapted from Waters' 1988 film, Hairspray follows teenager Tracy Turnblad (Nikki Blonsky) as she pursues her dream of being a dancer on The Corny Collins Show, Baltimore's version of American Bandstand. In spite of being ridiculed for her obesity, Tracy falls in love, becomes a wanted fugitive and integrates her community—all at once. Her mother Edna (John Travolta) attempts to hold her back before having an awakening of her own by leaving the house for the first time in years. Mother and daughter are soon dancing their way through the adversity of 1960s racism.
Travolta is wonderful as the insecure and demure Edna, giving a thoroughly impressive performance. But Blonsky is the true star of the film. Not since Judy Garland in The Wizard of Oz has a young girl charmed and endeared herself so effectively in a musical. But don't assume Hairspray to be your standard, white-bread comic opera. In keeping with the spirit of Water's original script, which included plenty of sexual innuendo despite its PG rating, double entendres run rampant in this modern day version. Michelle Pfeiffer is supremely villainous as the station manager who wants Tracy off the show, and Amanda Bynes is adorable as Tracy's best friend who falls in love with a black man named Seaweed (Elijah Kelley), much to the dismay of her puritanical mother (Allison Janney). The film's songs jump with enthusiasm from the opening number to the closing credits and are tempered by moments like Queen Latifah's "I Know Where I've Been," which is movingly sung during a civil rights protest march.
Summer film-going is often known for its effects-laden, terror-yielding blockbusters. Despite the current saturation of just this sort of release, the simple-but-glorious Hairspray tops them all.
Others Tagged With