Ingmar Bergman dies at age 89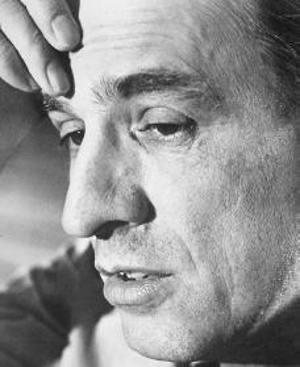 Ingmar Bergman, the greatest Swedish director and one of the hallmarks of art cinema theaters for the past 50 years, died earlier this morning at his Faro island home near the coast of Sweden. A cause of death is not yet known but it's believed to have been from natural causes related to his age.
Bergman was noted for bringing a personal, almost novelistic quality to films previously unknown. While he had been directing plays and even some films for several years at the time, his breakthrough came in 1950 with Summer Interlude (Sommarlek). With this effort, telling the story of a summer love affair fated to end miserably, Bergman seemed a fully confident artist working with both editing and mise-en-scene to create expressionistic works. It was with his 1957 work, The Seventh Seal, though, that brought Bergman international acclaim and transitioned him to explore the worlds of death and religion rather than romance. The film's famous portrayal of a game of chess with Death became one of the most well-known - and parodied - scenes in cinema history.
Following this up, Bergman released the brilliant Wild Strawberries the very same year, telling the story of a director much like Bergman himself. From 1958-1963 he directed The Magician, The Virgin Spring, Through a Glass Darkly, Winter Light, The Silence and more, showing himself to be amazingly prolific in a series of masterpieces. He continued writing and directing films, as well as plays, for the rest of his life, "retiring" his film career with perhaps his greatest achievement and most autobiographical work, Fanny and Alexander, which went on to win the Academy Award for Best Foreign Film. Since his retirement Bergman has continued directing films for television as well as plays. His latest release came out in 2003, Saraband, a sequel to an earlier work shot in DV.
Bergman's death was reported by his daughter Eva Bergman and came as a surprise to a public not expecting anything. Though the director had claimed that Saraband would be his last film, no one expected that it would truly be the last they would see from him. Bergman's critical opinion has waned a bit during the last decade, as critics have taken more of a liking towards directors with a focus more on formal aspects and less on storytelling, but regardless of this Bergman's effect on cinema the world over cannot be overstated. The "poet with a camera" will be sorely missed.
Related links:
Criterion's box-set of Bergman films
Ingmar Bergman on IMDB
Senses of Cinema on Bergman
Got news tips for Paste? Email news@pastemagazine.com.
Others Tagged With