Simpsons Movie free mp3, Homer on Leno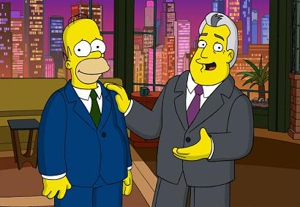 As we close in on the last week before The Simpsons Movie's release, the publicity machine is throwing out its last few gimmicks. The first, and less notable of these, is a free mp3 from the film's soundtrack being released here. Unfortunately the film's not a musical so anyone wishing to hear another "Monorail" or "Cut Every Corner" will need to wait for the next season to come on (or, alternately, to buy a copy of the just announced third Simpsons compilation album, The Simpsons: Testify, coming out September 18). Still, something can probably be learned from the release. The song's title is "Trapped like Carrots," which is simultaneously descriptive and confusing. The film's soundtrack will be released on July 24 and its other tracks include "Doomsday Is Family Time," "Clap for Alaska" and what's sure to be a crowd pleaser "Thank You Boob Lady."
The other news coming out about the Simpsons-verse is that Homer will be making an appearance on "The Tonight Show with Jay Leno" on July 24. Whether this will be a quick cameo, an interview, or something else entirely is unknown, though there is some indication it will be a monologue. Perhaps the picture above gives some hint. Jay Leno last worked with The Simpsons when he guest starred in episode 5410 "The Last Temptation of Krust" and assisted in getting tangles out of Krusty's hair.
With all of this promotional hubbub, it's important to remember that the main event occurs on Friday, July 27 when the film premiers.
Related links:
Paste's earlier report on Simpsons Movie publicity
The Simpsons Movie website
Early impressions on the film from the Guardian
Got news tips for Paste? Email news@pastemagazine.com.