Will Oldham and Zach Galifianakis make video for Kanye West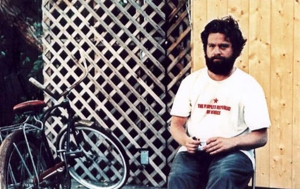 Making the rounds today (like a virus) is Kanye West's latest video. But before you assume that this is another everyday video announcement from a musical artist, take note that West asked hilariously hirsute comedian Zach Galifianakis to helm the "alternate" follow-up to the Chicago rapper's rather ho-hum clip for "Can't Tell Me Nothing."
This is not a first for Galifianakis, though. His original project was Anita Baker's "You Bring Me Joy," followed by a rendition of Fiona Apple's "Not About Love" (with Apple starring in the latter as well). According to an intriguing interview with Impose magazine, West saw the Baker video and decided to put the bearded funnyman to use. Said Galifianakis:
"I'm shooting Kanye West's new music video here at the farm. He asked me to do it. He doesn't want to be in it, but he sent me this new song and then asked me to make a video for him here at my farm. He saw me do stand up a few weeks ago here in Los Angeles, and we chatted after the show. [He] asked me if I would come up with something. So we've been going back and forth trying to figure out what I'm going to do with the song. So I'm figuring that out here at my farm."
The rural theme carries across the video to fine effect. Some moments to keep an eye out for:
* Oldham acting generally street throughout, mugging for the camera and holding down Young Jeezy's signature "haha" fantastically
* Young ladies dressed like Heidi, dancing in slow motion
* Oldham grinning maniacally (or is he just cracking up?) during the dark scenes
* Galfianakis spitting...lyrics, chewing tobacco and fruit
There's plenty more, but you should go watch the clip at KanyeWest.com. And for those of you who would like to procrastinate from something for a good, oh, eight hours or so, there are currently 123 other videos involving Galifianakis on YouTube. Good news: Many of them are quite funny. Bad news: You're going to get fired from your job.
Related links:
Zach Galifianakis interviews Fiona Apple
Kanye West - Late Registration
Bonnie 'Prince' Billy - The Letting Go

Got news tips for Paste? Email news@pastemagazine.com.
Others Tagged With