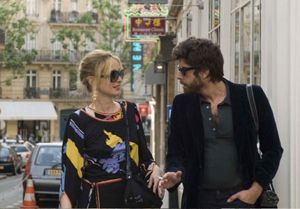 Director: Julie Delpy
Writer: Julie Delpy
Cinematographer: Lubomir Bakchev
Starring: Julie Delpy, Adam Goldberg, Marie Pillet, Albert Delpy
Studio/Running Time: Samuel Goldwyn Films, 96 mins.

"I love Paris every moment
Every moment of the year
I love Paris, why, oh, why do I love Paris?
Because my love is here
She's there, she's everywhere
But she's really here"
-Cole Porter "I Love Paris"

Thirty years have passed since Woody Allen brought us the Oscar-sweeping Annie Hall (Best Picture, Best Actor and Actress for Allen and Diane Keaton and Best Screenplay for Allen and Marshall Brickman). And if Allen's neurotic Alvy and Keaton's Annie had borne children it's a good bet they would have turned out like Marion (Julie Delpy) and Jack (Adam Goldberg) in 2 Days in Paris, a quirky and amusing film directed and written by Delpy.
After vacationing in Venice, the New York couple stops into Paris to visit Marion's parents for two days. At first, Jack's neuroses, ranging from hypochondria to paranoia, threaten to overwhelm the relationship. But we soon learn that Marion has a few psycho-disabilities of her own, often related to a history of past lovers who, to the annoyance of Jack, continue to pop around every Parisian corner. It doesn't help that Marion's parents had both been free-spirited love children of the '60s. (An especially hilarious and small subplot revolves around the Paris grave site of Doors' frontman Jim Morrison.)
At times the film's effectiveness is shaky at best, but as the characters develop, we become more attached, culminating in a very satisfying ending. Delpy works through a profusion of emotions in the film -- sexy, witty, bitter, jealous and sometimes disturbing. It is also arguably Goldberg's best work, perhaps even his pivotal break-out role. As a writer, Delpy proves that her shared Oscar nomination with Richard Linklater and Ethan Hawke for Before Sunset was well deserved. Hopefully her Allen-esque directing style is only a hint at what's to come.
Others Tagged With