Creepy Wizard of Oz remake in the works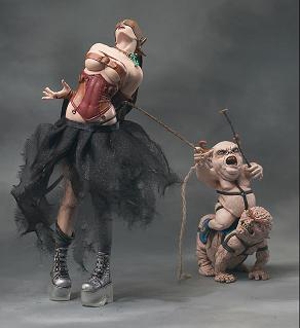 Remember those happy munchkins singing and dancing with Dorothy in The Wizard of Oz? Or how about that happy Michael Jackson singing and dancing around Diana Ross in The Wiz? In either case, the upcoming film from screenwriter Josh Olson (A History of Violence) and the creator of Spawn Todd McFarlane looks to have very little in common with those earlier efforts to adapt Frank L. Baum's children's classic.
In 2003 McFarlane released a line of figurines based loosely around the Oz books but with a darker twist to the story...and not just a little bit darker. The Toto figurine, for instance, looks far more like a balrog from Lord of the Rings than an adorable Cairn Terrier. Paulson saw those figurines and they inspired him to pitch Warner Bros. on a film based on the idea.
"My pitch was 'How do we get people who went to Lord of the Rings to embrace this?' I want to create (an interpretation) that has a 2007 wow factor. You've still got Dorothy trapped in an odd place, but she's much closer to the Ripley from Alien than a helpless singing girl," McFarlane told Variety.
While some kinks are still being worked out in the film, such as the exact tone (Olson commented on how he wished the film to be closer in tone to the Harry Potter than Seven), the project should be going into production soon with both Warner Bros. and Village Roadshow Pictures backing it.
Related links:
The line of figurines that inspired the film
The original report on Variety
The Village Roadshow
Got news tips for Paste? Email news@pastemagazine.com.