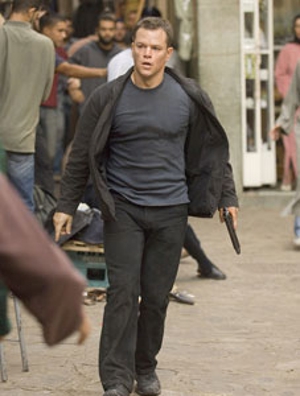 Director: Paul Greengrass
Writers: Tony Gilroy, Scott Z. Burns, George Nolfi
Cinematographer: Oliver Wood
Starring: Matt Damon, David Strathairn, Joan Allen, Julia Stiles, Albert Finney
Studio/Running Time: Universal Pictures, 111 min.

"There's a man who leads a life of danger
To everyone he meets, he stays a stranger
With every move he makes another chance he takes
Odds are he won't live to see tomorrow."
-Johnny Rivers "Secret Agent Man"
Matt Damon returns as the recovering amnesiac and ex-CIA agent Jason Bourne in The Bourne Ultimatum, the third film based on Robert Ludlum's best-selling series on the spy who won't die - much to the disappointment of U.S. Intelligence.
Although he comes across as an average Joe (albeit a Joe who can easily disable and disarm half a dozen of the agency's best), Bourne's ability to out-think, out-maneuver, and just plain out-smart the security of several countries is what makes this series so popular. He is the bizarro James Bond, in that where Bond's style demands attention, Bourne's actively avoids it. And where Bond would easily risk his life for his country, Bourne merely wants the nation to leave him be.
In sporadic flashbacks we see Bourne's conversion and learn the role his original commander (Albert Finney) had in his transformation. Joan Allen and Julia Stiles both return as two of the few agents who don't want Bourne dead, unlike David Straithairn's character, who runs an operation intent on protecting those at the top from secrets Bourne unknowingly holds. Meanwhile, Damon stays authentic to character, struggling to find his true self while defending his life at the same time. As spy flicks go, The Bourne Ultimatum is the perfect "chaser" to this successful series.
Others Tagged With