Warcraft film announced, sans Uwe Boll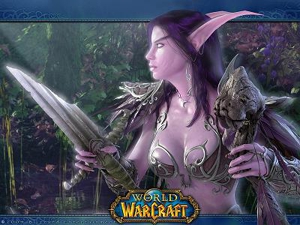 This past weekend, Blizzard Entertainment announced the development of a Warcraft film, one of the most valuable intellectual properties in video games, and released a press release on the picture yesterday. The film is being developed by Legendary Pictures, the company who brought 300 and Batman Begins to the silver screen. "Many companies approached us in the past, but it wasn't until we met with Legendary Pictures that we felt we'd found the perfect partner," said Blizzard's chief operating officer.
The Warcraft series debuted in 1994 as a somewhat simplistic rehash of Westwood studio's Dune II with a setting ripped off from the Warhammer series (itself a kind of odd retelling of Tolkien's world combined with steam punk elements). With the release of Warcraft II: The Tides of Darkness, though, the series began to branch away from its formulaic past and offered a benchmark in real time strategy games. This was followed up by an expansion and later a sequel, but the series' culmination in what can only be described as a worldwide phenomenon, World of Warcraft, was what brought the series truly to the masses. Today World of Warcraft is the most popular massively multiplayer online role playing game of all time, with over six million current subscribers. Hell, earlier this week came the announcement that South Park will be packed with a World of Warcraft Trial, so expect several hundred thousand more a month from now, as if Blizzard really needed them.
"It's not always the case that interactive game properties lend themselves to proper adaptation to film," said Legendary Pictures' chief creative officer. This is a bit of an understatement, as without even counting Uwe Boll's oeuvre as "films" or "movies" or "vaguely watchable," the fine tradition of video game to film adaptations has brought us Super Mario Bros., Mortal Kombat and Street Fighter.
While the film's cast, director and pretty much all other details are still unknown, at least it sounds like both companies are treating the film seriously rather than slinging a few bucks in Boll's direction and seeing what crap comes out. "We are intending to approach this as we would the adaptation of a best-selling novel: respect the essece of all that it is but also build upon that fertile base while translating it into a new medium," said Jashni. What is known is that the film has $100 million budget, is live action and that the studio plans to release it in 2009. All signs point to this for once not being a complete travesty, but we'll have to see how things develop from here before getting too optimistic.
Related links:
Paste's EIC on WoW
Blizzard's official press release on the film
Legendary Pictures' site
Got news tips for Paste? Email news@pastemagazine.com.
Others Tagged With