Country Music HoF explores Hank Williams' legacy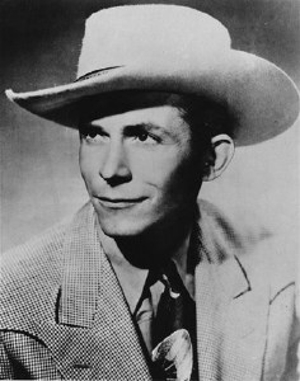 Ask Sean Lennon, Jakob Dylan, or Jason Bonham: it's never easy to be the offspring of a musical legend. Each of those gentlemen had to struggle to escape his respective father's shadow, but it could have been worse. They could have had to carry the legacy of an entire genre on their backs. Such has been the fate of the children and grandchildren of Hank Williams.
Williams - who died on New Year's Day 1953 at the age of 29 - was an icon of such singular magnitude in the realm of country music that he transcends any sort of equivalent in other musical styles. Elvis might come close, but his following is more of a cult now than it is the towering, ornate Church of Hank that lives on in country music to this day.
The Country Music Hall of Fame in Nashville has explored the life and music of Hank Williams before, but this time it's getting the whole Williams clan involved. On March 28 of next year, the museum will debut an exhibit entitled Family Tradition: The Hank Williams Legacy. The display, slated for an almost two-year run, features all the trappings of an archival exhibit, including artifacts, instruments, song manuscripts, photos and more. But as its title suggests, the exhibition will explore the Williams bloodline in detail, with testimonials from Hank Williams Jr., Jett Williams, Hank Williams III, Hilary Williams (all singers themselves) and other members of Hank's brood.
Museum Director Kyle Young had this to say via a press release: "As his heirs speak frankly about their ancestor's legacy and his impact on their lives, the Family Tradition story will take our visitors on a voyage to the spiritual and emotional core of the Williams family."
The exhibit will also play host to panel discussions, musical performances and films throughout its run at the Hall of Fame. It's an all-encompassing celebration of one of America's most influential songwriters and the legacy he left behind.
Related Links:
HankWilliams.com
HankJr.com
Hank Williams - "Cold Cold Heart" (YouTube)
Got news tips for Paste? Email news@pastemagazine.com.
Others Tagged With