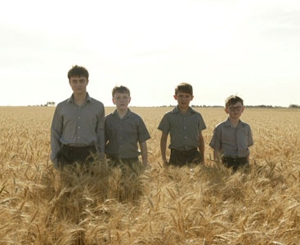 Director: Rod Hardy
Writers: Michael Noonan (novel) Marc Rosenberg (screenplay)
Cinematographer: David Connell
Starring: Daniel Radcliffe, Lee Cormie, Teresa Palmer, Victoria Hill
Studio/Running Time:Warner Independent Pictures, 105 min.

The coming-of-age premise in storytelling will never die, no matter how much some may despise it. We all come into the world. We all grow older. And we all pass through that awkward phase of cracked voices and foreign hairs known as puberty. December Boys, with its echoes of 'tween angst and youthful transgression throughout, breaks no new ground in this already well-trodden path.
Boasting a quartet of charlatan Aussie orphans as on-screen tour guides, the film guides us through a fantastic sight-seeing trip of the southern Australian coast, a temporary summer refuge complete with a seaside foster family for the boys. Nestled into the aptly-titled Hope Cove, the group's own hopes reemerge as the frog-eyed Misty (Lee Cormie, reminiscent of a slimmed-down version of Piggy from Lord of the Flies) discovers that a barren couple wants to adopt one of the boys. Outward displays of indiscretion and boyish impudence morph into a gang of spit-shined Alfalfa look-alikes as competition for the coveted opening grows, and brother is pitted against brother in a race to gain a family.
The lone exception to this familial contest is the older and bristlier Maps, a perfect casting for actor Daniel Radcliffe, especially if he looking to leave behind his youthful, wizardly typecast. Much of the film devotes itself to Maps' transition from boy to man, foiling his feelings of desire, loss and reconciliation against the greater, unknown circumstances of how the boys became orphaned, and what that means to them.
Out of all of these, the most interesting character throughout is found in the backdrop – a drab, expansive outback with craggy coastlines and burnt plains. David Connell's camera work outshines sentiment (and the film's acting talent), rather than highlighting it. After taking in such beautiful landscapes, we can't help but find it unfortunate that the intended focus of the film doesn't stand up for itself.
View the trailer for December Boys below:
Others Tagged With