Bishop Allen: The Broken String
[Dead Oceans]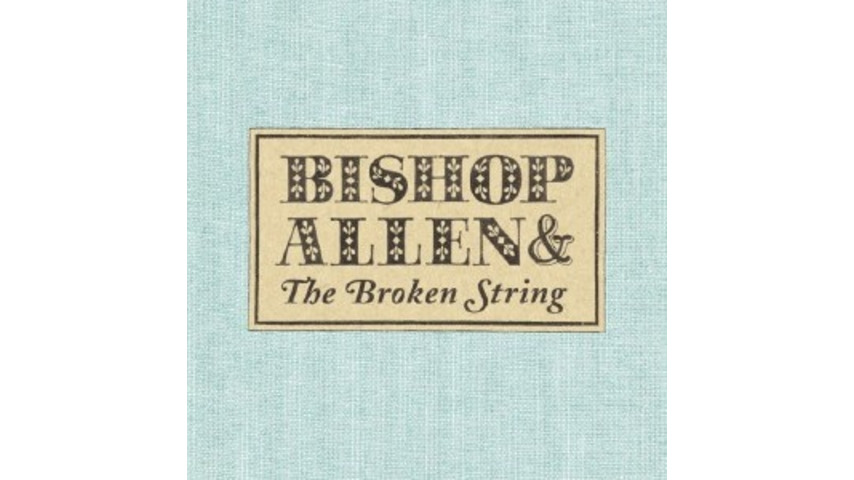 Much like Nike's slogan come to life, Bishop Allen pushes forward unabated
There's a "DIY ethic" folks love clamoring on about endlessly when discussing independent music, and though the term has been bastardized beyond belief since its first utterance, there's still some truth to the philosophy in certain situations. Case in point, Bishop Allen. In 2006, the Brooklyn indie-pop band released 12 EPs (one for each month), and over the course of those 48 songs, a narration developed detailing what was a fairly exciting year for the group. All of this was done without a label, following a charming self-released full-length debut, while self-booking tours and attracting the attention of The Wall Street Journal and National Public Radio amongst many others.
Perhaps this record is the payoff, then. Signing to Secretly Canadian/Jagjaguwar sister label, Dead Oceans, Bishop Allen has delivered an album worthy of its integrity-laden new home. These Brooklynites realize it's the details that count: The barely-audible banjo plucks in "The News From Your Bed," the xylophone seduction in the background of "The Chinatown Bus," and all the other myriad instrumental minutiae sprinkled throughout The Broken String indicate a band afflicted with some sort of meticulous "everything in its place" syndrome.
Fleshed out in a seriously optimistic fashion, and with this fastidiousness on its side, The Broken String carries itself with Kinksian brilliance. Whereas Ray Davies and Co. once offhandedly, lightheartedly asked, "Why not come dancing? It's only natural," Bishop Allen operates within a similar pop-rock vein, proclaiming with sincerity, "If you feel like dancing, dance with me."
With the support of an established record-label family, and with accomplished indie rockers and underground filmmakers collaborating so often these days (three members of Bishop Allen have found acting work in small-budget movies), Bishop Allen seems primed for the Big Year. But it's not as if these earnest songwriters need a massive breakout to continue making rewarding music. They've been doing it on their own just fine.
Others Tagged With