The National mesmerizes with new video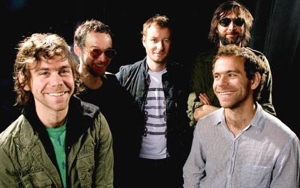 The new video for the National's "Apartment Story" (courtesy of Stereogum) confirms what fans of the Brooklyn quintet already knew - the National is an utterly irresistible force of nature. Go on, just try to have a cocktail discussion while Matt Berninger and the Four Brothers are playing. Even as you try to focus on your companion's story about her semester abroad in New Zealand, the beat will work its way into your head by degrees. Soon, your toe starts tapping. Your head starts nodding. Now you've abandoned all pretensions of social nicety. You're on the floor, gyrating awkwardly to the pulse.
The message is clear: obey the National as you would obey your TV. Go see your indie overlords, on tour now.
They'll be waiting.
Related Links:
Paste: Boxer Review
Paste: 1,000 Words - The National
The National on MySpace
Got news tips for Paste? Email news@pastemagazine.com.
Others Tagged With