Wayne Coyne talks touring, sex and UFOs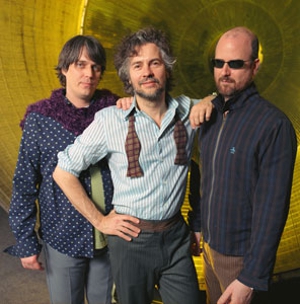 The Flaming Lips kick off a series of North American shows tonight in Chicago (dates below). And within the confines of a news section where tour dates are listed relentlessly, dozens at a time, day after day, the Oklahoma band's schedule this time out looks rather meager. But you'd be incorrect to think Wayne Coyne, Steven Drozd and Michael Ivins are anything but busy. Between contributing songs to multiple films, planning their own movie, preparing for the 10th anniversary of their most unique album and hosting a Halloween parade, the Fearless Freaks don't actually have time to be afraid. Coyne hopped on the phone with Paste last week to attempt to make some sense of it all.
Paste: How are you?
Wayne Coyne: I'm good, where are you calling from?
P: I am calling from Atlanta, Ga. Where are you at right now?
Coyne: Oklahoma City, sitting here in my kitchen drinking a Diet Coke Plus with vitamins and minerals in it. Have you had one of those?
P: I have not. They actually have vitamins in them?
Coyne: That's what they say. People say it's probably not enough to really matter, but if you ask me - Diet Coke with vitamins and minerals...that sounds like we live in good times. I'm a believer.
P: You sound refreshed.
Coyne: Well, we've been playing shows here and there, I've been putting together a presentation for the ten-year anniversary of Zaireeka, I've done two t-shirt designs and we're getting ready to go on tour. If I sound enthusiastic, it's because I drank a lot of coffee and a couple Diet Cokes. I'm fine, though.
P: That's good. You guys have been a band for over 20 years, and your first proper live release, the UFOs at the Zoo DVD, came out just recently. Why now?
Coyne: I would say it accidentally became our first-ever authorized live DVD. I think we felt some urgency, little by little, with all the stuff that appeared on YouTube. We thought, "We should just do one." And once we started doing it, I really liked the idea that it could be a special thing. I always had a real disconnect with being there at the show and just watching it on TV. But now I don't. Now I feel like there are two different things and you can do with one what you can't with the other.
P: You've piqued my interest with the tenth anniversary of Zaireeka. What all is going to be involved with that?
Coyne: Sadly, that's getting put in the middle of so many other things that we're not going to get to participate that much. I'm making a presentation that they're going to play at a big party up in Seattle. You're familiar with Zaireeka - it has the four discs that play separately. There's talk of us secretly leaking a fifth disc that will accompany those. But I don't know if that's going to happen this year or next year. We're going to be playing shows all through September into the beginning of October, and then we have a big Halloween parade that we're a part of here. Sometimes I wonder if there are just too many things to keep interesting at the same time.
P: Now you have to tell me about the Halloween parade.
Coyne: We've been pushing the mayor and his staff to put together a Halloween parade in downtown Oklahoma City for the past couple of years. Earlier in the year, the Flaming Lips got their own alley that runs through the art district of downtown. We thought, "Well, let's push for this parade," and they gave us the Saturday night before Halloween, a little area of downtown and a parade license. The local arts paper and us are putting on this thing, and I don't really know what I'm going to do, to tell you the truth. I've speculated that I'm going to try to have this procession. I'm calling it The March of a Thousand Flaming Skeletons, and I'm trying to get Flaming Lips fans from all over the world. People who have had recent deaths in their family, or people who have a death that's kind of haunting them, they can use this parade as a way of breaking through some kind of psychological thing. I know that sounds portentous, but I'm trying to give it a bigger theme than "dress up in a dumb skeleton costume," you know? We'll give everybody these big torches. It has an element of danger and an element of excitement. And I'm the grand marshal. When we did the Rose Bowl parade this year, George Lucas was the grand marshal right behind us. So I'm going to be the grand marshal at this parade. I think I'm going to be in the space bubble, surrounded by like 500 butterflies and aliens and shit. It sounds like it'll be exciting.
P: It makes me wonder if it's the first parade that a rock band has had full control over.
Coyne: It reminds me a little bit of when Kiss did their football halftime thing back in Indiana in the '70s. But, I agree. When we first were talking about it, we never thought it would happen. It's like a lot of things. It was probably like when the Soviet Union said they wanted to be free. You demand it, and then the minute it happens, you're like, "Oh, f—, what do we do?" We wanted to have total freedom to do whatever we want. And now that we have total freedom, it better be something. So, what can we get away with without killing each other?
P: Speaking of getting away with anything you want, you guys are known for your birthday party-esque shows, but I've been reading criticism about the show being a little too similar now that you've been doing it for so long. Are you planning on pulling out any new tricks on this tour?
Coyne: I can understand where if people have seen us 10 times, it's like any band. The truth is, bands play the same thing. I don't know... I've always been the first to tell people that I'm really not that great of a musician. Me and Michael [Ivins] especially, we do the best we can to fumble through the shows and make it as professional as we can. We're always adding stuff, but we're always in a sense playing the same songs. We're able to add a couple new hits and a couple strange diversions, but... I remember when I saw The Who in 1976. The next day at school, the kid next to me said, "They opened up with 'Can't Explain' again. They've been playing 'Can't Explain' for 12 years now." I was there, and I thought it was the greatest thing ever. There's only so much we can put on an audience at one time.
On the other side of that, I saw Hüsker Dü when Candy Apple Grey came out, and they played nothing but the new record. I was like, "F—, I wanna hear the hits." I understand that there's an element for some people who have seen the show before. I mean, we're always inserting new things, and there's always the thrill of experiencing this thing again. It's like having sex with your wife: You've done it before, you've done it a million times. It doesn't mean it isn't wonderful.
P: Have you guys had any time to start thinking about or writing new music?
Coyne: I think there is always with any intense artist, and I don't mean that in a pretentious way, you know you're creating shit in your mind. There's always this dilemma of when you'll make another record. In our case, I'm always doing my art, whether it's on the stage or posters or t-shirts or whatever. We've done a song for a cartoon, a song for that Dane Cook movie, two songs for the new Farrelly Brothers movie, a Dustin Hoffman movie that we're going to have maybe three songs in. There's a lot of stuff we've done that isn't necessarily the visionary art like a theme album. We have an idea of some things we're going to start to piece together, but I wouldn't think we'll do anything until at least maybe even next summer. We have a lot of work still to do on Christmas on Mars, and that'll probably be finished by next spring, so until all that is finished, we wouldn't consciously start on another record. Even saying that now, there will be another 20 things that will come up. But I know we have some sonic ideas and a couple songs that seem good and powerful.
P: So you're saying Christmas on Mars for the spring? Because it still says on your website that the film will be ready for Christmas 2003.
Coyne: I know. I think at some point we just gave up. I know, I know. In the beginning, when we started to make it in 2001, in my mind, I really thought it would take us about three years. But I'm greatly relieved that it took longer, because it's so much better. Everything about it, especially in the last couple years, improved drastically, from the acting to the storytelling. I knew in the beginning it would take a couple years. But even when you tell people that this thing you're working on isn't even going to be realized for three years, they just don't believe you. "That's too long, dude." So I think we were always lying a little bit, like, "Hey, it's coming. Right away." But I have to say when Yoshimi came out, I never expected that the whole world would like it as much as they did. We really have not even stopped since then. Ever since then, when we've worked on Christmas on Mars, it's always been in between a hundred other things.
See, I never really thought we'd have any real success. I really thought The Soft Bulletin would be our greatest achievement and that we'd live in obscurity after that. I thought we'd make movies and talk at South by Soutwest once in a while. All this just happened.
P: So, should I believe you, then, that it's coming out in the spring? Or are you just lying to me like the others?
Coyne: Well, I wouldn't know if it will be coming out on DVD, but I would think at least by the spring it would be starting to circulate a little here and there. That it would be a finished thing. It doesn't mean that I wouldn't be able to change it if it didn't play right. Because, yeah, we have to finish this thing. I say that with some disgust. But no, it's going to be great, but it's been so much a part of my life for six years that it will be very strange when it finally exists. It's like this tumor that has taken over my entire body, and removing the tumor means that I'll be removed with it almost.
P: Well, I'm looking forward to it, even if it does feel like a tumor.
Coyne: Hopefully it won't feel like a tumor to anyone else!
P: Before I let you go, I have to ask about one other project. I've been reading reports of Yoshimi getting turned into a Broadway musical. Do you know where that stands?
Coyne: Well, again, if I think about how Christmas on Mars is a big project, this is, indeed, a big project. We started talking with Des McAnuff, I think, almost three years ago now. He approached us after hearing it, and he's a director who's done Tommy on Broadway, he did Jersey Boys last year, a lot of other successful, long-running Broadway things. He showed a lot of curiosity, then we met with him several times and built up production ideas. I would think that that will definitely happen, but not at least for a couple years, just knowing the way his productions work, and his schedule and all that. But it sounds exciting. He's got Aaron Sorkin, the writer of The West Wing, who's very excited about working on it with us. It feels like it's growing. The idea is that he'd use Yoshimi Battles the Pink Robots as its main theme, and use songs from The Soft Bulletin and At War With the Mystics to fill in gaps of the story however we felt like we needed to.
P: And in the meantime, more people are hearing Yoshimi every year, so maybe it will generate more interest.
Coyne: Oh yeah, exactly. Of all the records we've done, Yoshimi Battles the Pink Robots, and especially the song "Do You Realize?" - they follow us everywhere we go. Every time we play, I talk to someone who's used [the song] at their wedding or their funeral or whatever. So I can see that some of these things take on a life of their own, and if you're lucky you just become a little bit of a slave to it and let it do whatever it wants with you.
September
7 - Chicago, Ill. @ Aragon Ballroom
8 - Madison, Wis. @ Willow Island @ Alliant Energy Center
9 - Maplewood, Ind. @ Myth
12 - Kansas City, Mo. @ Uptown Theatre
15 - Morrison, Colo. @ Red Rocks Amphitheatre
16 - Las Vegas, Nev. @ Skin Pool @ Palms Hotel
18 - Vancouver, B.C. @ Orpheum Theatre
19 - Portland, Ore. @ Roseland Theater
20 - Seattle, Wash. @ Paramount Theatre
24 - San Antonio, Texas @ Sunset Station Lonestar Pavillion #
25 - Austin, Texas @ La Zona Rosa #
28 - St. Louis, Mo. @ The Pageant #
30 - Cleveland, Ohio @ Agora Theater #

October
1 - Detroit, Mich. @ Clutch Cargos #
3 - Charlotte, N.C. @ Amos' Southend #
13 - Atlanta, Ga. @ Echo Project festival

# Birds of Avalon opens
Related links:
Paste: The Flaming Lips Demystified: Working Like Mad to Generate Madness
FlamingLips.com
The Flaming Lips on MySpace
Got news tips for Paste? Email news@pastemagazine.com.
Others Tagged With