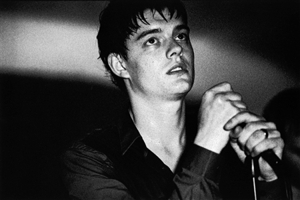 Director: Anton Corbijn
Writers: Matt Greenhalgh, Deborah Curtis
Cinematographer: Martin Ruhe
Starring: Sam Riley, Samantha Morton, Craig Parkinson
Studio/Running Time: The Weinstein Company, 121 mins.
It's interesting that, despite the myriad differences in the individuals that are covered, the recent trend of music biopics all seem largely the same story. Perhaps this is because these individuals do in fact deal with a lot of the same problems and pressures, since they do work in the same business, but ultimately there must be something to separate these journeys from each other.
What separated Ian Curtis from his peers, at least what seems to do this for Anton Corbijn, is his epilepsy and the way it took away his feeling of control. Curtis, played by the frighteningly spot-on newcomer Sam Riley, becomes the singer to Joy Division as the creative outlet for his writing that he's always lacked. The music becomes more than that, soon, it becomes Curtis' life and the group seems on the cusp of something larger. An affair brings his family into turmoil and drugs, needed to treat Curtis' epilepsy, draw him into a spiral of unhappiness, feeling that the world is turning around him and it's not too much of a spoiler to say that the film ends with his suicide.
The film tells this story well, and Riley is both charismatic and repulsive in the lead role. While his actions towards his family and later the band members make its dark ending clear, even without knowing the man's history, it's also obvious why everyone was attracted to this odd man and his bleak music. Corbijn has an eye for performances, and though Samantha Morton as Deborah Curtis is slighted a bit in her relegation to nothing more than the foil of domestic life to the glamor of the road, the ensemble works well to be interesting but keep the focus on Curtis.
Like Joy Division's sound, the film is dark but works in degrees of darkness and the highly exposed black and white Corbijn and Martin Ruhe shot the film in couldn't be more fitting. Control strips away a lot of Corbijn's excesses and the stylization of his videos, instead feeling vaguely documentary at times.
Problems arise, then, due to the form of the story Corbijn sets out to tell in the first place. The genre of music biopics has lead to mean showing the most embarrassing moments in an artist's life and displaying them for two hours to an audience. The version of Curtis' life story that gets told is done artfully but the topic itself may not have warranted a feature in this vein. Elements come together but the end result is disappointing in that it tells the same story as before, only prettier. Control does justice to Curtis' legacy but fails to make any further grasps for significance.
View the trailer for Control below:
Others Tagged With