Doris Lessing wins '07 Nobel Prize for Literature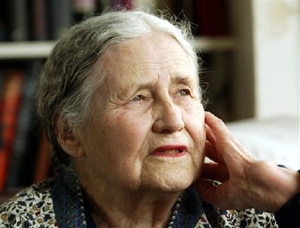 The young lions of literature will have to wait for their turn another year. As will the middle-aged lions, for that matter. Doris Lessing, at the spry age of 87, beat out all of them, and became the eldest ever recipient of the Nobel Prize for literature. She's only the second woman to win the award in the past decade, joining Austria's Elfriede Jelinek, who captured the honor in 2004.
Lessing, of the U.K., stands to many as one of the greats of feminist literature, although she herself has long felt uneasy with the term. Her 1962 novel The Golden Notebook is widely considered her classic work.
"The burgeoning feminist movement saw it as a pioneering work and it belongs to the handful of books that inform the 20th century view of the male-female relationship," said the Swedish academy of The Golden Notebook in announcing the award.
Many considered it a surprise decision, including Lessing herself, evidently. American literary critic Harold Bloom was particularly shocked by the announcement. He derided the academy's selection as "pure political correctness."
"Although Ms. Lessing at the beginning of her writing career had a few admirable qualities, I find her work for the past 15 years quite unreadable ... fourth-rate science fiction," Bloom told the Associated Press.
Alas, you can't please everyone.
Related links:
DorisLessing.org
YouTube: This year's Nobel Prize announcement
Lessing biography at ContemporaryWriters.com
Got news tips for Paste? Email news@pastemagazine.com.
Others Tagged With