Jason Molina tours solo; Sojourner soon back on sale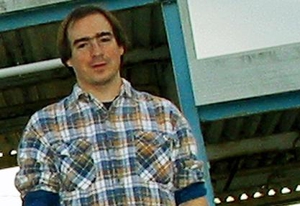 In Magnolia Electric Co.'s Sojourner box set tour documentary, The Road Becomes What You Leave, the band and the film's producers Todd Chandler and Tim Sutton tried to capture the "loneliness and isolation one can feel even when traveling in a pack." After eight months of gigs in 2007, frontman Jason Molina has apparently yet to go stir crazy from the introspection that accompanies constantly gazing out car windows at abandoned gas stations and fallow fields, for the artist formerly known as Songs: Ohia has planned a month or so worth of European solo dates through the beginning of December.
And speaking of that box set, wood-packaged and filled with four CDs, a DVD and bonus knickknacks, it'll be available to order again through Secretly Canadian on Oct. 30. Do be mindful that there is a limited supply. The casing is the only part that grows on trees.
Imagine the scenery on the following dates:
November
12 - Geneve, Switzerland @ Theatre l'Usine
13 - Zurich, Switzerland @ El Lokal
14 - Milan, Italy @ Magnolia
15 - Bari, Italy @ Time Zones
16 - Ravenna, Italy @ Bronson
17 - Rome, Italy @ Init Club
18 - Verona, Italy @ Emporio Malkovich
20 - St. Gallen, Switzerland @ Palace
21 - Paris, France @ Mains D'Oeuvres
22 - Den Bosch, The Netherlands @ W2
23 - Den Haag, The Netherlands @ Crossing Border Festival
28 - Cork, Ireland - Cyprus Avenue
29 - Galway, Ireland @ Rosin Dubh
30 - Dublin, Ireland @ Crawdaddy
December
3 - Manchester, UK @ The Mint Lounge
4 - Newcastle, UK @ The Cluny
Related links:
MagnoliaElectricCo.com
Magnolia Electric Co. on MySpace
SecretlyCanadian.com
Got news tips for Paste? Email news@pastemagazine.com.