Lost in Translation composer turns to horror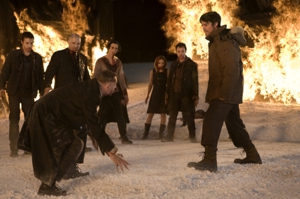 Composing for film is an odd world. On the one hand there's the fact that every studio seems to wish their composers were John Williams, resulting in countless knock-offs of a style that no one except Williams can write well. But then there are those few composers who attempt something different, like Brian Reitzell. Reitzall has collaborated with Sofia Coppola on all of her films and, except in the case of Lost in Translation, has probably been more successful than the director. Now he's working with David Slade (Hard Candy) on the upcoming comic adaptation 30 Days of Night, heading to theaters this Friday, Oct. 19.
"I was trying to figure out the different sounds and colors and instruments to use," said Reitzell, to explain why he decided to use a pottery wheel for the film's score. "I thought if someone came at me with an ax or was trying to kill me or eat me, that was going to be such a horrific experience and was going to be totally new and unfamiliar, so I didn't think what I was going to hear was something like an orchestra."
After the release of the 30 Days of Night soundtrack on Oct. 30 (Oct. 16 digital), Reitzall is reuniting with Air's Jean-Benoit Dunckel and Nicolas Godin. Their project will be another film score, except this time without a film.
"It's probably a sci-fi- type film, but it's very emotional, maybe someone trapped in a spaceship kind of thing," said Reitzall. "We're conceptualizing it now. It might be that we take a book or take some images and just start to score to those images and then a film will find us."
Related links:
30 Days of Night on IMDB
30 Days of Night website
Brian Reitzall on IMDB
Got news tips for Paste? Email news@pastemagazine.com.
Others Tagged With