Michel Gondry working on animated feature with son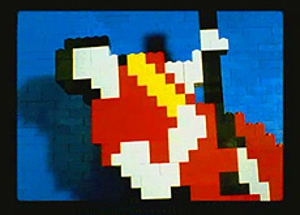 Michel Gondry, one of the lights of the music video world but probably best-known for his feature Eternal Sunshine of the Spotless Mind, looks to be moving into unfamiliar territory. Well, kind of. He told the MTV Movies Blog, "I am working on an animated film with my son. It's going to be quite amazing."
Stop-motion has long been a tool used by Gondry, but this will be the first time he's done an entire film that way. For those who're less familiar with his most-recent film, The Science of Sleep, you might remember his stop-motion work on the White Stripes' "Fell in Love with a Girl." "We're translating our relationship into a futuristic story with a dictator and a rebel. He's the dictator in the story [and] it will be based on [his] art," Gondry said.
The only downside of this is that it means that Gondry's long delayed project with Dan Clowes, Masters of Time and Space, is at the very least more delayed and possibly dead as a result. Stop motion is a pretty time-consuming venture, with Nick Park's films (Wallace and Gromit) taking about five years a piece. It's also hard not to wonder if Gondry's rivalry with his friend and collaborator Spike Jonze has caused any of this, since Jonze has been at work on an adaptation of the children's book Where the Wild Things Are for years now which is set for release late summer 2008.
Related links:
Paste: Michel Gondry's Science of Sleep
Trailer for Gondry's upcoming Be Kind, Rewind
Director File's fansite, for the latest news on Gondry's works
Got news tips for Paste? Email news@pastemagazine.com.
Others Tagged With