Yoko Ono unveils Icelandic tower in honor of John Lennon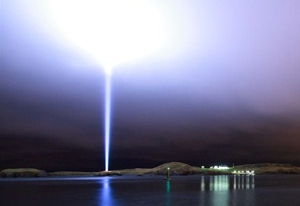 Occasionally, rock legends die before their time, but the devout always manage to find ways to help their memories live on. So is the case with the ever faithful Yoko Ono who has loved her late husband John Lennon with the same passion that she possessed before he departed. Now, Ono has found a way to make the adoration that she and his fans hold for him eternal.
To commemorate Lennon, Ono has partnered up with the city of Reykjavík, Iceland to construct the Imagine Peace Tower. The tower is actually a form of a phantom lighthouse in which the visual aspect of the structure is created through light bouncing off of glass prisms. Because Iceland's weather pattern is so unique, the image of the light being projected into the sky will vary with the country's external conditions.
The Imagine Peace Tower will be unveiled today (Oct. 9), which would have been John Lennon's 67th birthday. Those who are unable to attend the unveiling of the memorial piece can go on to the ImaginePeace.com to witness the event. The tower will be lit from Lennon's birthday until the anniversary of his death (Dec. 8), as well as New Year's, the first week of spring, and select other dates that Ono has worked out with the city.
If you want to be a little bit more personally invested in the tower then you can (literally) send your wishes to Iceland. Yoko Ono has been encouraging fans to make wish trees in which people tie pieces of paper with their wishes onto the branches. When your tree gets full of wishes you can send it to Reykjavík to be buried around the lighthouse.
Related links:
ImaginePeace.com
JohnLennon.com
YouTube: John Lennon - "Imagine"
Got news tips for Paste? Email news@pastemagazine.com.
Others Tagged With