Elvis Costello hates Britain, loves Hillary Clinton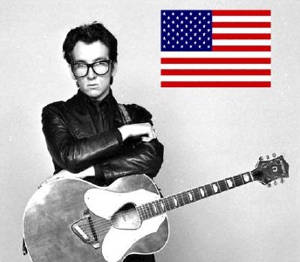 It was bound to happen eventually. Elvis Costello, after all, took his stage name from two American icons. He wrote a song called "Crawling to the U.S.A.," and proclaimed himself King of America over two hundred years after we cast off the yoke of monarchical rule. Mr. Costello has been making eyes at our nation for years, and we never even realized it.
Earlier this week, the veteran songwriter announced his breakup with his former mistress, England. Referring to a 2005 Glastonbury Festival set that he termed "fucking dreadful," Costello told Mojo Magazine that he's done with the motherland.
"I don't care if I ever play in England again," he said. "That gig made up my mind that I wouldn't come back. I don't get along with it. We lost touch. It's 25 years since I lived there. I don't dig it, they don't dig me."
Now he's all ours. As if to confirm his solidarity with the Stars and Stripes, Costello showed up at a fund raising birthday bash for presidential candidate Hillary Clinton, and then proceeded to go all Marilyn Monroe on her. The video evidence is below:
Wow. How long before he applies for citizenship?
Related links:
ElvisCostello.com
Paste: The Life and Music of Elvis Costello
Terence Blacker: Elvis Costello is right about England
San Francisco Chronicle: Costello, band regroup for good cause
Got news tips for Paste? Email news@pastemagazine.com.
Others Tagged With