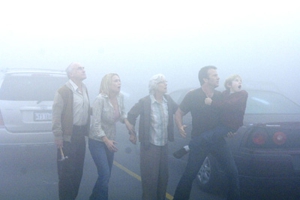 Director: Frank Darabont
Writers: Frank Darabont, Stephen King (novel)
Cinematographer: Ronn Schmidt
Starring: Marcia Gay Harden, Thomas Jane, Toby Jones, Andre Braugher, Laurie Holden
Studio/Run Time: Dimension Films, 127 min.
With about a hundred film credits to his name, the works of Stephen King continue to fill movie theaters. But only a handful of the projects can really be considered "great," and two of those were co-written and directed by the same person: Frank Darabont. His work on The Shawshank Redemption and The Green Mile garnered each film an Oscar nomination for Best Picture. The Mist may not rise to such lofty heights, but Darabont proves once again that he's got King's number.
The film features a group of shoppers trapped inside a small town grocery store, with something from a strange mist killing anyone who ventures outside. Thomas Jane plays the typical King hero as movie poster artist David Drayton. Marcia Gay Harden plays the villain in the guise of the town's local religious-extremist-wacko Mrs. Carmody, who uses the fear of the unknown to build what David calls her "congregation."
Darabont employs a bevy of terrific effects to bring flying pterodactyl-like creatures, giant, lethal insects and very creepy acid-web shooting spiders to life. But he also relies on man's humanity, or lack thereof, which always makes King's stories shine above the typical horror fare. When it comes time for David and some others to make a run for it, they do so more out of fear of their fellow man rather than the creatures outside.
Harden does a fine job of keeping her potentially hysterical character reined in. The journey of her "becoming" as the store's savior is a wonder to watch. And Toby Jones (Truman in the "other" Capote movie Infamous) is excellent as the surprisingly courageous grocery clerk. But it's the story of the store's inhabitants as a whole versus the mist's unearthly realm that creates a tense and visually exciting standoff, eventually leading to an ending that King never wrote. Darabont's skills go beyond interpretation, as he creates a work not just fit for a King, but fit for the screen.
View the trailer for The Mist below:
Others Tagged With