Woody Guthrie lyrics become new songs at celebration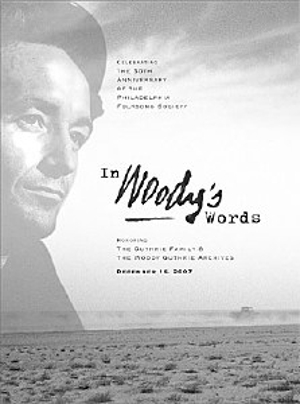 Woody Guthrie would be a crazy blog sensation if his career began anew today. Thankfully, Guthrie's music continues to resonate because it stems from a time before music became a commodity. So while we're busy celebrating Bob Dylan's career yet again or pondering Bruce Springsteen's relevance to indie culture, perhaps it's time we looked back to the songwriter who inspired them both.
To celebrate its 50th anniversary, the Philadelphia Folksong Society aims to do just that. Bringing together previously unheard Guthrie lyrics with modern-day folkies, the society will host "In Woody's Words" on Dec. 16 at Philadelphia's World Cafe Live. Artists such as Chris Smither, John Gorka, Jonatha Brooke, Tom Paxton, Sara Lee Guthrie & Johnnie Irion and Cathy Fink & Marcy Marxer will marry those old Guthrie words with their own melodies.
Woody's daughter Nora Guthrie will preside over the event and present a film featuring other Guthrie reinterpretations from additional artists, including Wilco and Billy Bragg.
"The wonderful thing about working with the new lyrics from the archives is that I keep realizing that there is a song for everyone," Nora said. "Somewhere, in the pile of 2,500 lyrics, there's something that strikes a chord for each musician."
"In Woody's Words" is an invitation-only luncheon, with a very limited number of tickets available to the public. Those interested in attending can contact Philadelphia Folksong executive director Lauri Barish at (215) 247-1300 or lbarish@pfs.org.
Related links:
Philadelphia Folksong Society online
WoodyGuthrie.org
Woody Guthrie at the Library of Congress
Got news tips for Paste? Email news@pastemagazine.com.
Others Tagged With