Arrested Development...the movie?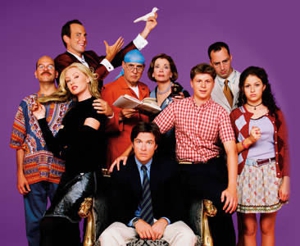 It's too early to say anything definitively at this point, but there have been a lot of recent comments cropping up by the ex-cast and crew of Arrested Development about a possible big-screen reunion.
Rumors about this have been around for months, but the news now seems more concrete than just the hopeful thoughts of fans. Journalists have been asking Jason Bateman and Michael Cera about the possibility of this happening while the two actors made their press rounds on Juno. According to Reelz Channel, Bateman says a movies is "certainly on the table," a quote that comes with certain authority considering he had met with series creator Mitchell Hurwitz the previous weekend. Cera likewise said that he'd be interested in a new AD project.
Keith Olbermann also passed along info that Hurwitz told him the film is "something [they're] very interested in doing, but only after the writers' strike, and only if the powers that be approve." This is especially promising because ultimately it was Hurwitz who shut the show down after Showtime offered to continue it. Two other canceled Fox programs, Firefly and Futurama, made the jump to features, so this seems like more than just idle speculation. Now we have even one more reason to hope the writer's strike ends soon.
Thanks to SpoutBlog for the heads-up on this.
Related links:
Paste: Juno premier reunites AD cast
Paste: Best films of 2007
Paste: Arrested Development: Season Two
Got news tips for Paste? Email news@pastemagazine.com.
Others Tagged With