Director Chris Dortch talks ATL music documentary We Fun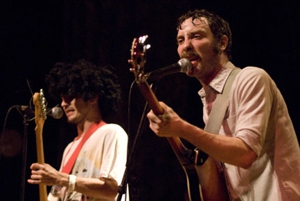 [Above: Cole Alexander and Jared Swilley of Black Lips]
More documentaries should open this way. Jared Swilley, the immaculately mustached bassist/vocalist of Black Lips, reclines in a small bed, beer in hand. Snuggled beside him, his head obscured by a messy pink wig, lies BBQ of the King Khan & BBQ Show. Sprawled out atop the both of them is King Khan himself. Sitting offscreen, Atlanta performer Jessica Juggz is leading a conversation about tea tree oil.
Suddenly, Swilley sits up, inspired.
"Can this be the beginning?" he asks, looking directly into the camera and still cradling his can of beer. "Hello everybody, welcome to Atlanta, where the players play, and the non-players lose."
Everyone laughs.
"You're such a motherfucker," comes Juggs' voice from off-camera.
These, then, are the stars of We Fun, director Chris Dortch's upcoming documentary on Atlanta's underground music scene: the non-players. We're talking about scrappy gangs of would-be rock heroes, from nationally-hyped acts like Swilley's Black Lips, Deerhunter and Mastodon to local favorites The Selmanaires, Anna Kramer and The Coathangers.
Dortch's film focuses on the communal aspects of Atlanta's rock circuit, in a fashion similar to Tony Gayton's 1987 documentary Athens, Ga.: Inside/Out. But in comparison to Athens' arty, college-town vibe, wily, urban Atlanta is a good stand-in for Sparta.
"People keep bringing up Dig! to me and what a character Anton Newcombe of the Jonestown Massacre is," Dortch said in a phone interview with Paste. "But in my mind, we've got like 90 Antons floating around here [in Atlanta]. And there's this legitimate love and camaraderie between them that you don't find in other cities. Like Nashville. I'm a Nashville-based filmmaker, and Nashville doesn't have anything like that."
Aiding Dortch are producers Matt Robison (behind the cleanly titled Silver Jews documentary Silver Jew) and Bill Cody, the man who produced Inside/Out twenty years ago. The three filmmakers came together at this past year's SXSW Festival, which, for all of its excess, is great for creative networking. They connected over their mutual music and movie crushes, and that was that. When Dortch got the idea to document the ATL music landscape, Robison and Cody were the first ones he contacted.
"When I approached Bill about being a part of this film, he was on board right away," Dortch said. "He said that people had been after him for years to make a sort of a follow-up to Athens, but that the time had never been right... until now."
Part of what makes the time so ripe is the vibrant and twisted new breed of performers that has boiled up through Atlanta's dive bars and rock clubs. Dortch had the distinct pleasure of filming Jessica Juggs in action as she "began shooting fireballs out of an unmentionable bodily orifice with a butane tank and a cigarette lighter."
"There was also a moment where I had to ask myself if I was willing to take a fireball to the face to get this film made the right way," Dortch added. "The answer to that question? A resounding yes."
You can check out a sequence from that fiery show and other teaser clips at the film's MySpace. Dortch and his crew have been shooting for about six months, with another six months of filming to go. Dortch hopes to have a completed film by mid-to-late 2008, and ideally We Fun would make an Atlanta premiere shortly thereafter.
Then, at long last, the non-players can have their day in the sun.
Related links:
Paste: Black Lips star as renegade rockers in upcoming film
Paste Band of the Week: Deerhunter
Paste: Metal of Honor - Mastodon and Saosin
YouTube: Athens, Ga.: Inside/Out
Got news tips for Paste? Email news@pastemagazine.com.