Jackson 5 to reunite for New Year's Eve show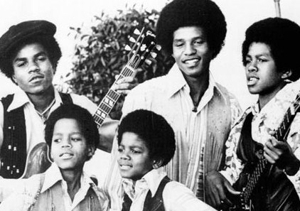 The possibility of a Jackson 5 reunion show has been played out like the amorous storyline in an ABC drama. First the Jacksons spark up interest with little rumors started by their old promoter Leonard Rowe. Then, they start to flirt a little more with Jermaine Jackson slightly confirming the group's feelings towards reuniting. But, the question never really gets answered, and we are still left anxiously waiting to find out if they'll reunite.
Luckily, we can go ahead and cue the elevator make-out scene of this news story because it looks like this family get together is actually going to happen. Producer Jermaine Dupri (a.k.a. Janet Jackson's main squeeze) announced on radio station V-103 that the iconic pop group is set to perform at Studio 72 in Atlanta on New Years Eve. The reunion will be in celebration of Janet and Dupri's engagement, and the groom-to-be has stated to the radio station that "it's going to be the biggest party this town has ever seen."
All members of the Jackson 5 (yes, even Michael) are expected to show for the long-awaited event. Jermaine Jackson has stated that the group owes this reunion to "the fans and to the public," but there is no word yet on admission to the event or if tickets will even be sold for this commemorative night.
Related links:
Jackson5ABC.com (Fan site)
MichaelJackson.com
Paste: Jackson 5, Diana Ross, others go Latin
Got news tips for Paste? Email news@pastemagazine.com.
Others Tagged With