Band of the Week: Mahjongg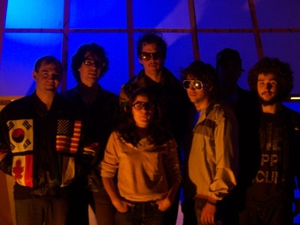 Hometown: Chicago, Ill.
Fun Fact: With multiple members holding college degrees in math, Mahjongg has composed music in every time signature that is a prime number, up to 23.
Why It's Worth Watching: The post-post-rockers unite organic and cutting-edge technological elements to create eminently danceable sounds that are unlike anything else.
For Fans Of: Can, Gang of Four, Remain in Light-era Talking Heads, Battles
The back cover of Mahjongg's latest album, Kontpab, doesn't deliver much immediate information. There is no tracklisting, no band member names, not even a copyright date—just a monochrome graphic that resembles TV static.
But a closer look (a much closer look) and a moment of reflection reveal that the "static" is actually an autostereogram, also known as a Magic Eye. The densely constructed party jams nurtured to life by Mahjongg within Kontpab offer a similar experience for the ears, where hidden delights lie in wait for curious listeners to discover.
With Kontpab, Mahjongg has created not just an album but a religious movement of sorts. The title, a mash-up of Karlheinz Stockhausen's "Kontra-Punkte" and Pablum ("the breakfast cereal from the '30s that tastes like shit," multi-instrumentalist and founding member Hunter Husar points out), doesn't just mean "counterpoint crap...a lot of disposable nonsense," as Husar puts it. Kontpab also refers to a deity invented by the band, "our god of love, or whatever."
Despite these dubious religious leanings, Mahjongg's recording routine is the epitome of a secular democracy; everyone tosses a little something into the sonic stone soup. "We just don't feel the need to stress us as individuals. We never really have," Husar says. "We're all the lead, we're all the back-ups. The way the songs are written, they're usually started by one person who comes up with an idea and we expand on it when we get together. We like to give ourselves the freedom to change, to keep things a little confusing."
Change is one of the only constants for Mahjongg, starting with Husar's 2003 relocation to Chicago from the far-smaller city of Columbia, where he'd snagged a math degree—and fellow Mahjongg players Josh Johannpeter and Jeff Carrillo—at the University of Missouri.
After Mahjongg's 2004 debut release, the Machinegong EP, Husar convinced Johannpeter and Carrillo to join him in Chicago. The band quickly grew notorious for its raucous, frisky live shows that involved frequent instrument-swapping and drums for days—a set-up that allows Mahjongg to re-create the tribal elements sprinkled throughout its rhythmic, kitchen-sink music.
Machinegong was followed by its rhyming, full-length descendent, RaYDONcoNG 2005, a funky experiment in sonic textures that garnered accolades from K Records founder Calvin Johnson. He would go on to sign the band to his label, which released Kontpab. Between RaYDONcoNG and Kontpab, Mahjongg shed two members and added two more, simultaneously exploding minds at Chicago gatherings with side project Waterbabies.
The men of Mahjongg, furniture movers by day, should have no trouble hauling mountains of gear on their current tour—they're toting two drum kits, guitar, bass, keyboards, other assorted percussive instruments and a computer that connects them all, plus a 2,000-watt subwoofer "that'll make your teeth fall out," Husar claims.
"When we practiced the other day, it made all the lights break," he says. "It was amazing, a really spiritual moment. We tear it up in Chicago; it's a constant party. We'd like to bring a little bit of that elsewhere and share what we do here. We're dancin' around, we're singing, lots of drumming, havin' a great old time. It's loud. It's very loud."
Read about Paste's February 4 to Watch artists:
The Whigs
Lightspeed Champion
The Bridges
Doug Burr
Others Tagged With