Green Owl Comp features Deerhoof, Feist, Of Montreal, more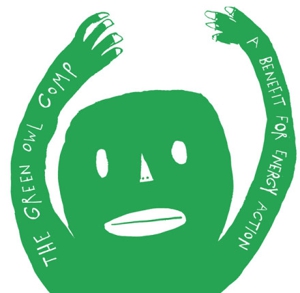 Green Owl Records wants you to help clean up the environment. And really, how can you resist? Just look at that cute, green face above!
But perhaps you need a little more urging, because a crudely drawn image of a green figure with claw-like hands may not be convincing enough. What if Green Owl Records threw in a two-CD/one-DVD collection that includes rare and unreleased tracks from your favorite artists? Then would you help clean up our polluted world?
You probably would, given that the compilation, informatively titled Green Owl Comp: A Benefit for the Energy Action Coalition features contributions from Paste-approved artists like Feist, Of Montreal, Bloc Party, and Pete Yorn. The money that you give to Green Owl Records starting April 8 (when the compilation goes onsale through the label's website) will go to the Energy Action Coalition, which encourages youth involvement in clean energy movements.
Between the music, videos and that cute green guy, the perks of environmentalism have never been greater.
Green Owl Comp tracklist:
CD 1:
1. The Appletrees: "Look Up to the Sky"
2. Feist: "Honey Honey" (BBC Session)
3. Harper Simon: "Henrieta"
4. Young Love: "Underground"
5. Muse: "Knights of Cydonia" (live)
6. The Exit: "Hey Man"
7. Of Montreal: "Feminine Effects"
8. Pete Yorn: "Old Boy"
9. London Souls: "Someday"
10. Citizens Band: "Fortune Teller"
11. Violens: "Trance Like Turn"
12. Bloc Party: "The Prayer" (Hadouken remix)
13. School of Seven Bells: "Trance Figure"
14. Deerhoof: "+81" (BBC Session)
15. Juliana Hatfield: "Back to Freedom"
16. Satori: "Intimate Revolution"
CD2:
1. The Bad Plus: "Casa Particular"
2. Carina Round: "Hookah"
3. Asobi Seksu: "Strawberries"(CSS Remix)
4. Dragons of Zynth: "Xerathyn"
5. Earl Greyhound: "This Tree"
6. The Appletrees: "Messin Around"
7. A Place to Bury Strangers: "Never Going Down"
8. State Radio: "Camilo"
DVD:
1. The Appletrees: "Messin Around"
2. Young Love: "Underground"
3. The Exit: "Hey Man"
4. Satori: "A Clear View"
5. Violens: "Trance Like Turn"
6. Rebecca Schiffman: "Penguins and Igloos"
7. Interview with Billy Parish

Related links:
GreenOwlRecords.com
Green Owl Records on MySpace
EnergyAction.net
Got news tips for Paste? E-mail news@pastemagazine.com.
Others Tagged With